If you are planning to enjoy your online roulette gameplay session, choosing a proper banking method is a-must. Below, you will find all the advantages and disadvantages of the mobile e-wallet service MuchBetter, as well as an overview of how to use it, make deposits and withdrawals, as well as the fees incurred, security used and platform compatibility available:
Online gambling has grown by and large since the early days of scarce choices and disreputable operators, and nowadays features a range of services to each player's tastes. Global expansion is no longer an issue thanks to the accessibility provided by the Internet, and this goes for online banking and payment processing services just as much as for online casino establishments.
MuchBetter is a good example…
…of the modern-day online payment solutions known as e-wallets that have largely contributed to the success of this iGaming business. This e-wallet specifically has been issued by the long-standing company MIR Limited UK Ltd., confirming the highly regulated status of online payment processing in the country. Nevertheless, MuchBetter customers from countries around the world are able to make use of the benefits wherever they play. So, if you are looking to make use of the conveniences for your next roulette online action, make sure to get the gist on the top gaming e-wallet for players and gambling enthusiasts everywhere!
Advantages of Using MuchBetter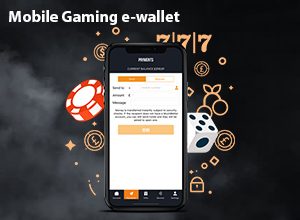 The gaming e-wallet…
…is convenience all around, starting with the fact that it is specifically designed as a mobile app. Smartphones have taken the world by a storm and are nowadays considered to be an indispensible part of everyday life. Therefore, having an inherent e-wallet for this device is bound to make the online payment experience all the more advantageous.
The fact that the e-wallet is particularly designed to fit the needs of online casino players and gamblers alike is yet another added perk. While most e-wallets tend to cover a wider market segment in order to get bigger customer base, this provider focuses on the gaming industry's mobile users exclusively, bringing them the best service for the least hassle.
Speaking of which…
…security is a particularly crucial matter when it comes to online gambling transactions alone. Add mobile payments to the mix, and people are bound to be more reluctant to share funds via their portable device – but worry not! MuchBetter is licensed and regulated as an electronic money institution, and approved by the UK FCA, one of the most stringent authoritative bodies in the world of financial regulative. And with the numerous added features – phone number ID, Touch ID, dynamic security codes and verification requirements – it just gets better and better.
Don't be put off by all the heavy artillery that MuchBetter employs to protect its users from unwanted intrusion. Another major advantage for their whole user pool is the app's intuitive dashboard design. All the functionalities are available straightforwardly, and operations are performed without added complications, entangled passwords or long procedures.
The manner of performing operations, more specifically the speed, is yet another advantage. Transactions can be processed to and from the e-wallet with a range of banking institutions, credit and debit card companies, as well as money transfer, prepaid card or other e-wallet services alternatively.
Disadvantages of Using MuchBetter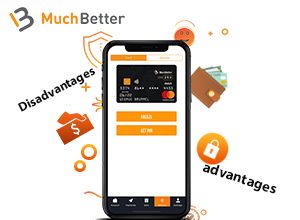 Just because the nature of the service is largely convenient for some portion of the user pool doesn't mean that the rest agree with this. In fact, some feel more comfortable to switch between platforms and devices depending on their need, so the focus on 'mobile only' may well be a disadvantage in such cases.
What is more…
…as our sister site Latest Casino Bonuses has pointed out, the inconvenience of geo-restrictions can also be a turnoff for some potential users. These limits may additionally differ for the e-wallet and specific services respectively, including MuchBetter's prepaid MasterCard use, online casino eligibility and the likes.
While this only further confirms…
…the measures that MuchBetter goes to in order to maintain compliance with regulations in specific jurisdictions, the potential user pool from the more restrictive lot is bound to express their dissatisfaction.
How to Use MuchBetter at Online Casinos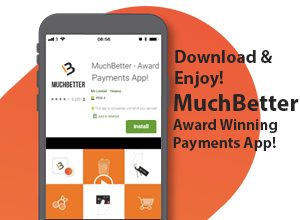 Since the service was originally invented to fund your online roulette gameplay and other online gambling needs, you will be introduced with the process of how to use it at online casinos straight from the start. Before heading out to the official site of the service, it definitely helps to have some idea of what you are supposed to do and expect.
MuchBetter is a bit different…
…from the other e-wallets, and this is evident straight from the start – in order to sign up for the service, users are required to download the app software. If you are looking for more diversity, like desktop access or an instant-website version, you may see this as a shortcoming. Otherwise, simply choose the version of the app that suits your device's operative system best – Android or Apple – and install it.
If you haven't set up your account yet…
…you can do so by clicking to 'sign up' – this will take you just a couple of minutes and won't require much personal information aside from name, address, email address and phone number. From thence on, users simply log in using their provided phone number and the PIN they've created themselves and use the app at all times.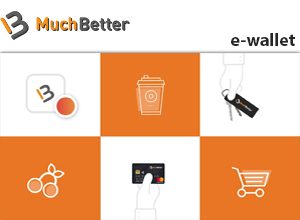 However, before you get to use it for online casino deposits and withdrawals, there is yet another consideration – funding your mobile gaming e-wallet. This is another convenience that you can expect to benefit from, since MuchBetter can be funded via international credit and debit cards, banks, e-wallets and other payment methods alike.
Having entered enough funds…
…in your e-wallet account, all you have to do is head to the casino of your choice, log in and look for the MuchBetter logo at the Banking page. Choose this service from the list of payment methods and specify the amount that you would like to deposit. To complete the transaction, you will additionally need to provide the phone number you are using for the e-wallet. As soon as this is completed, you will be notified for the request to have your account credited; just confirm the request and the funds will be instantly debited to your online casino player account.
One of the best parts of this service…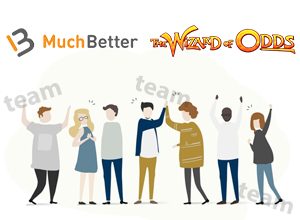 …as the team at Wizard of Odds confirms, is the fact that players can additionally use the same banking method to process cashouts, considering that they have managed to hit a win during their gameplay. The process of requesting withdrawals is all the more simple – just head back to the Banking page, choose this method and specify the amount you'd like to cash out. Enter your phone number and that's it, now you'll simply wait to have the request approved by the casino, just as a precaution.
Once you get the money to your account, you can use them for any online or land-based shopping needs. And with the added option of getting a prepaid MasterCard or wireless wearable device, this is made all the more convenient.
Fees for Using MuchBetter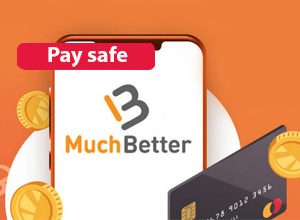 The fees imposed by MuchBetter are still far lower than the ones that similar providers choose to charge for their services. Still, considering the fact that online roulette players and gambling enthusiasts alike are looking to make the most of their bankroll to the dime, learning the exact fee charges is a crucial point of interest.
In this line of thought…
…it is important to emphasize that most of the operations where you can use your MuchBetter e-wallet account or prepaid card are available free of charge. Currency conversion is set at 0.99% for USD/EUR/GBP and FX rates for all other currencies, in both cases. ATM withdrawals are additionally available through the card, and they are subject to 0.99% fee.
The process of funding your MuchBetter e-wallet account is a different story – for those eligible to use several methods, it is best to consider the fees per method. As it stands, free funding options are bank transfers, SEPA, Interac e-Transfer and Boleto, as well as a couple more depending on your country of origin. Most of the other options come with a minor 0.99% fee, but there are some that charge 1.50% – Przelewy24 and Multibanco, 3.00% – UnionPay, 3.50% – Interac Online, 5.00% – QIWI, Yandex, or even 7.00% – AstroPay, OXXO, ITAU and 8.00% – CARRULA, CABAL, Banco Occidente, ARGENCARD and BANAMEX among others.
Security of MuchBetter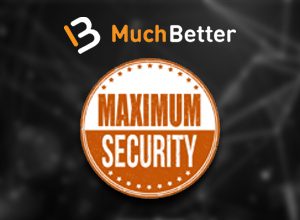 As mentioned earlier in the 'advantages' section, there is no denying the fact that MuchBetter's security is one of its leading advantages. The company owning the service is a reputable and long-standing service provider, and the same can now be said of the e-wallet, especially after winning multiple awards and recognitions in the past couple of years.
Security is guaranteed…
…through their high-end encryption, international safety protocol compliance, and license to operate by the UK FCA. This registered Electronic Money service is boosted even further by its ability to use Touch ID, if the device has the function, and perform device pairing in cases when you are looking to use it on multiple devices securely. Dynamic security codes are also an added convenience of the service's safety measures – the CVV code for the prepaid card varies in order to prevent one scamming website abuse the entire card balance due to innocent users paying with it.
MuchBetter Rewards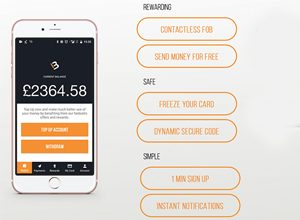 The rewards program at MuchBetter…
…is quite well developed and thought-out that it deserves a mention or two of its own. After all, the service informs users straight from the start that they will benefit both from the online gaming bonuses and rewards, and the service's specific program.
The latter is structured to reward players for each deposit and transaction they perform through this e-wallet. Starting off, individuals get a Point for every $10 they spend on any particular site. At this rate, points are additionally accumulated whenever you deposit funds to your e-wallet, send them to other users, friends or family, or use them for gifts.
While the official gift section…
…still needs some smoothing out, these Points can yet be used for the simple and rewarding Monday draw every week, giving out cash prizes to hundreds of users depending on the points they have collected, i.e. the traffic they've produced via the service. These cash prizes can range from a £2.50 coffee-break reward, since the banking method provider wants its users to start the week off with a coffee at their expense, or up to £100.
Aside from the regular draw, their Rewards program additionally includes a Mega Draw once a year, with additional attractive rewards and a main prize that gets the users' jaws crack wide open – all covered VIP trip to Las Vegas!
Conclusion
Just the last bit regarding the Rewards Program is enough to tell potential users that they aren't dealing with a regular payment processor looking to take funds from point A to point B and charge you for it. MuchBetter is so much better in many different aspects of the service, and these rewards are only the cherry on top.
The mobile gaming e-wallet…
…is convenient for users from different parts of the world, as long as they prefer keeping their online banking with them on their phone at all times. What is more, the security measures it is equipped with are promising of satisfactory service. And with the multiple transaction options, wide availability across the dedicated online gaming market, online roulette players are bound to get a swing and a hit out of it.