European Roulette is a famous version of the casino game and it is played on a 37-number wheel, featuring one zero. There's nothing fancy about this game, this is a classic.
Roulette is an entertaining game of chance which captivates the imagination of every avid gambler and its European form is particularly generous to those who know the ins and outs and are not afraid of risky bets. The casino game is widely spread in casinos all across Europe, but it can also be found in some of the largest establishments in Las Vegas. It has been recreated numerous times by most gaming studios and different versions of it are hosted in hundreds of web-based casinos. Whether in land-based casinos or in online gaming rooms, it is the most preferred variation of the popular game.
The European-style roulette is easy to play and provides punters with better odds of winning. The rules (as outlined below) are straight-forward, and as such, beginners should first accustom themselves to this game before trying any other types of roulette, especially with a relatively low house advantage of 2.70%. Along with the standard inside and outside bets, it often features special options that allow you to place bets on large groups of numbers. But these are just a small part of the advantages the European type of roulette comes with. More importantly, it is the ultimate form of gambling, as it perfectly combines the entertainment aspect with the inevitable risk and the exclusivity of casino play, in general. And when played the right way, it can bring punters enticing rewards and plenty of adrenaline and excitement.

Sign Up BONUS
100% up to
$1,000
Bovada Casino
Why Bovada Casino is ranked #1:
Up to $3000 welcome bonus upon first three deposits
Well-established US-friendly brand
Top quality casino games
Extra bonuses for Bitcoin depositors

ACCEPTED
PLAYERS FROM UNITED STATES: VIRGINIA ARE ACCEPTED AT THIS CASINO

Cashback BONUS
25% up to
∞
Fair Go Casino
Why Fair Go Casino is ranked #2:
Well-established brand
Prompt payments
24/7 customer support
Wide range of casino games

ACCEPTED
PLAYERS FROM UNITED STATES: VIRGINIA ARE ACCEPTED AT THIS CASINO

2nd Deposit BONUS
25% up to
€100
EmuCasino
Why EmuCasino is ranked #3:
Up to $300 bonus upon first three deposits
Great loyalty program
Superb loyalty program
Great selection of table games

ACCEPTED
PLAYERS FROM UNITED STATES: VIRGINIA ARE ACCEPTED AT THIS CASINO

Sign Up BONUS
250% up to
∞
BoVegas Casino
Why BoVegas Casino is ranked #4:
Accepts players from all over the world
Great daily bonuses
Fair bonus rules and requirements
Award-winning customer care team

ACCEPTED
PLAYERS FROM UNITED STATES: VIRGINIA ARE ACCEPTED AT THIS CASINO
European Roulette – A Classic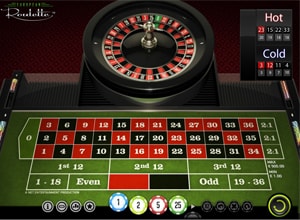 European roulette is one of the simplest and purest versions of roulette and should be the starting game for any new player. Its roots can be found in the 17th century France or Italy, depending on which legend we choose to believe. According to some historians, the roulette wheel was invented by one of the most influential scientists in France during that time, the mathematician, physicist, and theologian, Blaise Pascal. In its present form, roulette has existed since the end of the 17th century although it was not until the 18th century that it spread on a global scale. In the following decades, it gained popularity due to the better odds than American roulette and has since become the most popular version of roulette in the world.
The roulette wheel has 37 numbered pockets – 18 red, 18 black and one zero slot, which gives it a house advantage of 2.70%. In contrast, the American-style game comes with doubled house edge due to its additional double zero pocket. Punters bet by placing their chips on the table layout which includes a simple numbered grid with three columns, as well as outside fields for the so-called outside bets. Unlike the traditional green roulette table you will see in most land-based casinos, the appearance of the online versions can often be customized and adjusted to the tastes of every individual player.
It is even more important for players to understand how the online version differs from the mechanical one. Unlike the classic game with a wheel spun by a dealer, the European roulette offered by web-based casinos is guaranteed to provide random results on every spin. A special piece of software is installed (you have probably heard of RNG) so that the game cannot be predicted or manipulated in any way. Many online roulette games are essentially a form of European roulette, just with added features and improved visuals.
How to Play European Roulette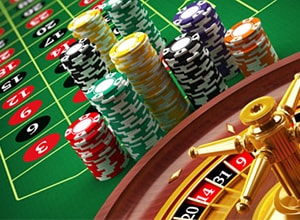 Although roulette is based on pure chance and there is no skill involved, players need to know the rules of the game in order to make informed decisions while placing their bets. In fact, the way you bet is essential if you want to generate some profits from playing European roulette. You can follow one of the numerous betting systems that exist today or come up with your own strategy on playing roulette. Before that, however, you will need to know the basics of the game. And once you are prolific in this type of roulette or at least have some experience with it, you will be able to easily get accustomed to all other versions on offer today.
Basic Rules
Following the standard rules of roulette, the European version of the game has a 37-pocket wheel. Punters place their bets on the table and then, the wheel starts spinning. The aim is to guess in which pocket the ball will land after the wheel stops moving. The game offers a wide variety of betting options, so players can bet on a single number, on colour, on odd or even numbers, or on entire sections of the wheel. The payouts for each bet are based on its probability.
To begin the game, select the amount you wish to bet by clicking on one of the chips. Then click on the area where you would like to place the bet just like you would in a casino. Some online casinos will give you information about the bet, such as the payout. The minimum/maximum amount you can wager will vary, depending on the game you are playing. This is referred to as table limits and often, the limits are mentioned in the title of the game. In some cases, the table limits depend on your user account and whether you are a VIP member of the casino.
If you need to remove your bet, shift-click on it and this will remove the amount equal to the chip that has been selected. Alternatively, use the button Clear Bets to remove all bets from the table. Once you are happy, click 'Spin'. The wheel will start spinning and when it stops, the position of the ball will determine whether your bet is winning or losing. The winning bets will remain on the table and you can then keep or remove as necessary. Some casinos have the option to have all bets returned to you after each spin.
There is nothing fancy about European roulette. The focus here is solely on the game, so do not expect fancy graphics or unnecessary statistics like hot or cold numbers. This is just pure roulette, but if you are someone who is looking for additional features, then be sure to check out other roulette games.
Bets
There are different bets you can place in roulette and while some of them offer great payouts, others pay evenly. This depends on how rare or frequent a certain type of bet is. For example, the odds of hitting any particular number in European roulette are 36:1, while the payout for it is 35 to 1. There are two basic types of bets – inside and outside bets.
The inside bets are all bets you can make by placing your chips onto the table layout and directly on the numbers. They include straight bets on individual numbers, split bets on two adjacent numbers, street bets on three numbers in a line, corner bets on four neighbouring numbers, and six line bets which allow you to wager on a section of six consecutive numbers.
There are several outside bets and they include red or black, high or low (1-18 or 19-36), odd or even. You can also place a bet on the first, second or third dozen of numbers, or alternatively, on one of the three columns of the table layout. When you choose your preferred bet, you simply place your chips on its respective field, which is placed outside the main grid where the numbers from 1 to 36 are positioned.
Straight Bet – Placing a bet on an individual number. Payout is 35:1.
Split Bet – Placing a bet on two adjacent numbers. Payout is 17:1.
Street Bet – Placing a bet on three numbers in a line. Payout is 11:1.
Corner Bet – Placing a bet on four neighbouring numbers. Payout is 8:1.
Six Line Bet – Placing a bet on six consecutive numbers. Payout is 5:1.
Columns Bet – Placing a bet on the 1st, 2nd or 3rd Columns. Payout is 2:1.
Dozens Bet – Placing a bet on the 1st, 2nd or 3rd Dozen. Payout is 2:1.
High or Low Bet – Placing a bet on High or Low numbers. Payout is 1:1.
Even or Odd Bet – Placing a bet on Odd or Even numbers. Payout is 1:1.
Red or Black Bet – Placing a bet on Red or Black numbers. Payout is 1:1.
Special Bets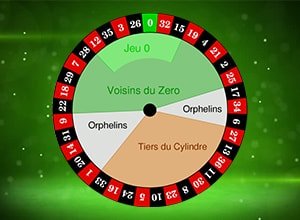 Unlike the inside and outside bets, which are based on the position of the numbers on the table layout, the special bets include bets, based on the sequence of the numbers on the roulette wheel itself. Once you open European roulette in your preferred online casino, you will immediately notice that the numbers are positioned randomly on the wheel – reds are always preceded and followed by blacks (or vice versa, if you prefer), low numbers stand next to high numbers, odd and even numbers are also positioned next to each other. This means that their sequence on the wheel is not connected with their positioning on the table. Interestingly, most European-style roulette games offer players to bet on certain sections of the wheel – as does French-style roulette, in fact.
Normally, there will be four or five types of special bets that correspond to these sections of the wheel. Their names are in French, although not all of them can be found in France. They include Voisins du Zéro or "neighbours of zero", which is a bet on 17 numbers surrounding the zero pocket, Jeu Zéro ("zero game"), which covers the 7 numbers around the zero, including it, and Tiers du Cylindre, which translates as "a third of the wheel". It covers another large section of the wheel or to be exact, the 12 numbers just opposite Voisins du Zéro. The 8-number Les Orphelins or the "orphans" includes 2 sections of the wheel which are between the larger Voisins du Zéro and Tiers du Cylindre.
There is also the option of placing neighbour bets – these are bets that include 3 to 9 numbers positioned next to each other on the wheel. You can choose how many numbers to include in this bet.
Most of these special bets are often featured in European and French roulette, but there may be some additional options, depending on the particular game you play. In some roulette games, mostly French-style ones and sometimes, in European versions, you will see a second layout for placing chips. It is called "racetrack" due to its shape and it is designed specifically for the French-sounding special bets. In some European-style games, the racetrack is available as an additional option and can be enabled or disabled by the player.
Special Rules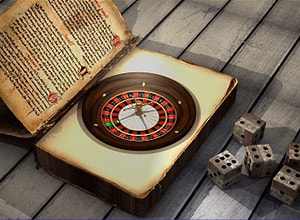 Most of the pockets on the roulette wheel are either red or black. But there is also a zero pocket, which is in green and is neither high/low, nor odd/even. In fact, the zero does not fall into many bets, so players rarely bet on it. However, it is just a number on the wheel and like the rest of the 36 numbers, it has its odds and payout. Most European and French-style roulette games allow players to cut their losses should the ball lands on the zero pocket.
There are two special rules for this possible outcome and their names are also in French, the La Partage rule and the En Prison rule. Both apply only to instances when you place your chips on even-money bets and the zero hits. According to the La Partage rule (which roughly translates as "sharing"), you lose only half of the stakes when the ball falls on the zero. The En Prison rule is a variation of La Partage and it is featured in most European roulette games. It gives you the option to keep half of your losing bet or to leave it on the table for the second spin. If you win, you receive the entire amount of what you originally wagered, but if you lose, you lose everything.
Of course, these rules apply only to even-money bets such as red/black, high/low, or even/odd. On them, the house edge is reduced to 1.35% and while this percentage may not be relevant to most bets, it is certainly very useful that one time when the ball does hit the zero and you are about to lose badly.
Winning Odds Calculator for European Roulette
Whenever you want to compare your choices with European roulette chances, you can use this custom-made calculator. Click on any field at the betting layout, place your 'bet,' and the icon with your chip appears. Our app does the rest and calculates your winning odds, including the house edge. Furthermore, it'll display the name of bet you made on the top left line, so you can use it to learn all betting systems better.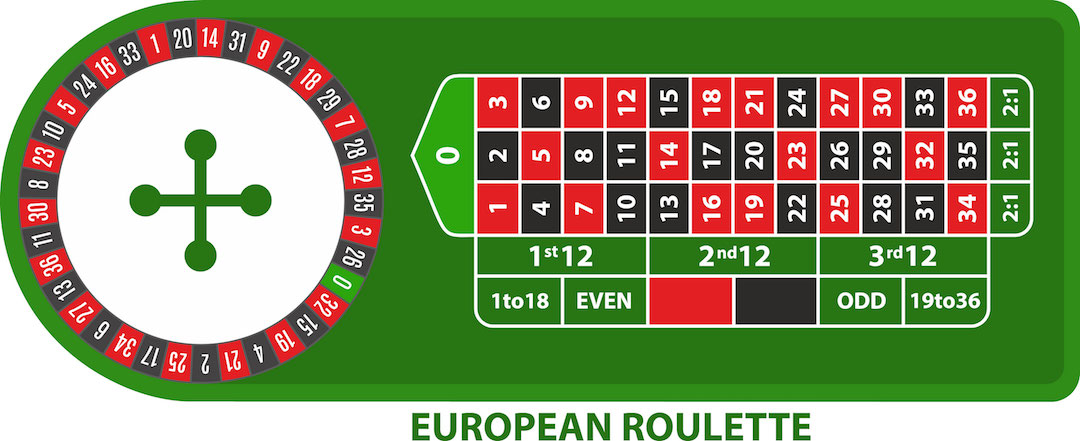 Place your bet
Chance of Winning
House Edge