Betfred may be more famous as a high street brand, but that has its benefits. You get high security and brilliant customer support. They've really shown that they can be just as successful online as they have been in the real world.



NOT ACCEPTED
PLAYERS FROM UNITED STATES: VIRGINIA ARE NOT ACCEPTED AT THIS CASINO
Betfred began in 1967 when brothers Fred and Peter Done established their first betting shop in Salford. By the year 2000, they owned 200 stores across the UK, and in 2004 they expanded their business to the online market. Since then, Betfred has grown into one of the largest UK bookmakers, with over 1000 stores.
Betfred Casino Full Review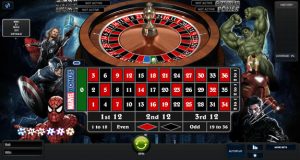 The website is fairly well laid out, although you might say it's a bit cluttered with all the offers screaming in your face. Can't complain though, because they do have some fantastic offers.
The games are very good, and use the Playtech platform. What this means is you get great quality in terms of visuals and ease of playing. Both the live and virtual games are very enjoyable to play.
They've got a very large selection of games on offer, which should satisfy anyone who comes to Betfred Casino. And if you're not sure, you can always try out the roulette games for free before you begin to spend your money.
Roulette Games Available at Betfred Casino
Read our roulette game reviews by clicking on the title of each game.
European Roulette
Most common version of roulette, which uses a 37-number wheel with one zero.
Live Roulette
Real dealers spin real wheels, providing you with the most realistic roulette you can experience.
American Roulette
Same rules as european roulette, but with a 38-number wheel and two zeros.
French Roulette
Similar to European Roulette, but with additional rules and betting options.
Premium Pro Roulette
Same rules as their non-premium/premier counterparts, but with greater customization intended to make the game more realistic.
Roulette Pro
Same rules as their non-pro counterparts, but with additional game features.
Marvel Roulette
An additional betting option offers up to 99 times your stake each spin, and a multi-level Marvel Mystery Jackpot which could be activated at any time taking you through to a jackpot game, giving you the chance to win up to £1million!
3D Roulette
The same rules apply as european roulette, only now you get fantastic, cutting-edge 3D graphics.
Pinball Roulette
Uses a pinball machine rather than a roulette wheel, with a bonus round offering the chance to double or nothing.
Conclusion
Overall I think Betfred have done an amazing job with their online casino. Their huge variety of games, each offering a fantastic playing experience, along with great security, customer support and the ability to play both virtual and live roulette on your mobile make Betfred Casino really stand out from the crowd.