Premier Roulette Diamond Edition is one of a kind in terms of vivid colours, high-quality graphics and 3D animations, authentic sounds and impeccable gaming experience.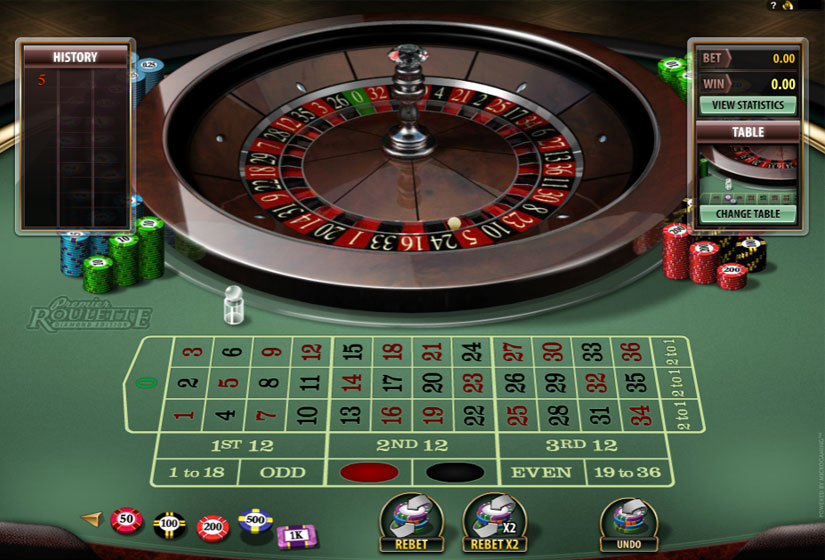 Are you fed up with traditional roulette? Do you want to spice things up and engage in endless hours of fun and enjoy top-notch gaming experience? If the answer to these questions is yes, then Premier Roulette Diamond Edition might be just the one for you. The company that developed it is the renowned Microgaming – a company, which really knows how to meet the needs of various players.
In addition, it is fully mobile-compatible, which makes it very suitable for players with a busier schedule. So, if you are looking for a premium-quality European roulette variant with lots of customisation options and superior gameplay, then this Microgaming product is perfectly suitable for you. It is played in accordance with the European format of roulette so it is pretty favourable to players due to 97.30% RTP.

Sign Up BONUS
100% up to
$1,000
Bovada Casino
Why Bovada Casino is ranked #1:
Up to $3000 welcome bonus upon first three deposits
Well-established US-friendly brand
Top quality casino games
Extra bonuses for Bitcoin depositors

ACCEPTED
PLAYERS FROM UNITED STATES: VIRGINIA ARE ACCEPTED AT THIS CASINO

Cashback BONUS
25% up to
∞
Fair Go Casino
Why Fair Go Casino is ranked #2:
Well-established brand
Prompt payments
24/7 customer support
Wide range of casino games

ACCEPTED
PLAYERS FROM UNITED STATES: VIRGINIA ARE ACCEPTED AT THIS CASINO

2nd Deposit BONUS
25% up to
€100
EmuCasino
Why EmuCasino is ranked #3:
Up to $300 bonus upon first three deposits
Great loyalty program
Superb loyalty program
Great selection of table games

ACCEPTED
PLAYERS FROM UNITED STATES: VIRGINIA ARE ACCEPTED AT THIS CASINO
Specific Rules and Table Limits
The game uses the rules of European roulette. It utilises a single-zero format and the table layout has 37 virtual pockets – one for the 0 and the others for the numbers from 1 to 36. As we all know, the aim of the game is to predict which pocket the little white ball would land in. Premier Roulette Diamond has a 2.70% house edge, which makes it quite profitable.
The table minimum is £0.25 and the maximum is £1,000. There are quite a lot of chip denominations at the disposal of players, each one with a different credit value as follows – £0.25, £0.50, £1, £2, £5, £10, £20, £50, £100, £200, £500, and £1,000. In the version of the game available in the downloadable software client, the chip value can be adjusted with the "+" and "-" buttons, which are situated at the bottom of the screen.
The different payouts and bet limits may vary in different online and land-based casinos because the software is customisable. Therefore, players should thoroughly consult them before initiating a game. Roulette fans can place all the inside and outside bets and more advanced gamblers can use the racetrack to place Tiers du Cylindre, Orphelins and Voisins du Zero wagers.
| Type of Bet | Bet Payout | Bet Limits |
| --- | --- | --- |
| Straight Up Bet | 35:1 | £0.25 – £125 |
| Split Bet | 17:1 | £0.25 – £250 |
| Street Bet | 11:1 | £0.25 – £375 |
| Corner Bet | 8:1 | £0.25 – £500 |
| Line Bet | 5:1 | £0.25 – £625 |
| Columns Bet | 2:1 | £0.25 – £875 |
| Dozens Bet | 2:1 | £0.25 – £875 |
| 1-18/19-36 Bet | 1:1 | £0.25 – £1000 |
| Odd/Even Bet | 1:1 | £0.25 – £1000 |
| Black/Red Bet | 1:1 | £0.25 – £1000 |
Gaming Experience
The name indeed says it all. This Microgaming product really 'shines like a diamond'. The main aim of the game is to deliver impeccable gaming experience thanks to its superior graphics, 3D animations, special features and user-friendly interface. In order to meet the needs of the fussiest players, it offers many customisation options.
The more advanced players can enable Expert Mode. This option will alter a bit the overall table layout and will display a racetrack, which can be used for placing various bets in accordance with the players' needs. In addition, the Expert Mode offers some special features that will be appreciated by seasoned online gamblers.
In order to ease roulette fans, the game can be played instantly in a browser but it can also be downloaded. The first option is possible only if players have enabled the Flash Player extension. Despite the fact that the game has a lot of options, the screen is not cluttered at all. All of the options are organised in such a manner that they prevent online gamblers from distractions. The superior animations are running smoothly with no lags, which will definitely ensure lots of trouble-free gaming sessions.
Special Features
Premier Roulette Diamond Edition will definitely not disappoint in terms of special features and options. Microgaming's premium product is polished to the smallest detail so that it could really stand out among other roulette variations. The diamond on top of the turret is very realistic and really adds shine to the beautifully designed game.
Roulette fans could choose between three different table layout colours – blue, red and green. Each of the three colours changes the roulette wheel appearance, too. The veteran players who place the same wagers in each round can save up to 6 favourite bets in the Save Layout section. There are six different layout colours to pick from apart from the classic green felt.
Players, who want to sit back, relax and watch each round without touching a button can switch on Autoplay. Roulette fans can adjust the number of auto spins – ranging from 5 to 500. What's more, it can be pre-set to stop on any win or if the winnings exceed a certain amount of credits. Of course, the Autoplay can also be stopped at any time.
Roulette fans who are keen on a more dynamic and fast-paced gameplay will certainly love the addition of Turbo Mode. It will remove all spinning animations and the outcome will be instantly shown after all bets are placed.
The history panel shows the result of the last 10 rounds. The game statistics menu shows as a percentage chart the coverage of all the inside and outside bets.
The Live Dealer Voices function contributes even more to the atmosphere, typical of a land-based casino.
Conclusion
Premier Roulette Diamond Edition is yet another example of the fact that Microgaming is one of the leading software developers on the market. It is indeed the diamond in its vast game collection. Roulette fans will certainly fall for its superb graphics and 3D animations, realistic design, customisable options, easy-to-navigate menus and full mobile compatibility.
It definitely stands out among other roulette variations and has much to offer even to the most pretentious players. Novice online gamblers will be pleased to dive into endless hours of playing roulette because of its easy and straightforward rules.
In addition, the low house edge – 2.70% makes it quite profitable if you are lucky enough. The game offers to veteran players lots of bet options, which they will certainly appreciate. Premier Roulette Diamond Edition is a really interesting and beautifully designed game. Therefore, if you look forward to spending endless hours of playing roulette, search no more and give it a try.