The overall quality of this version of European Roulette is way above average because of the sleek interface, the special features, and the trouble-free online gambling experience.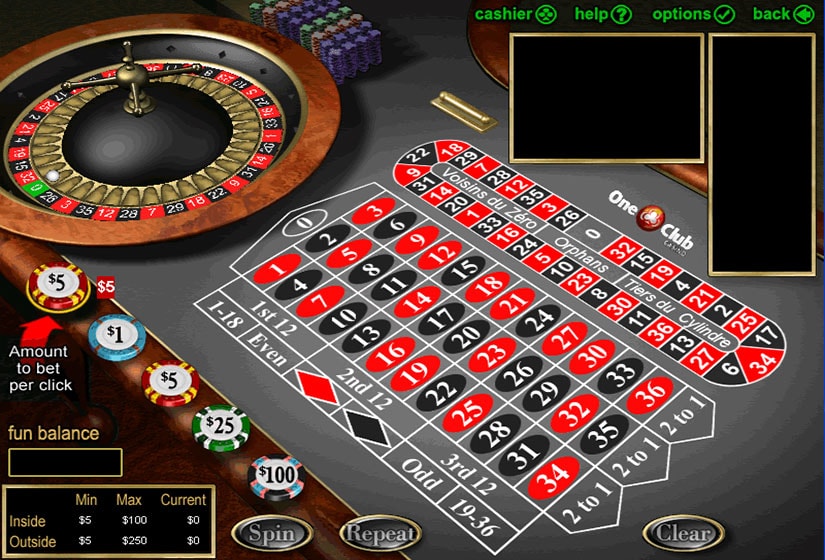 RealTime Gaming is a company, which has always been doing its best to satisfy its customers by developing online software that could meet even the highest standards. If you are looking for a pretty straightforward online casino game with appealing design and intuitive interface, then RealTime Gaming might be able to offer something. European Roulette is the perfect match for those who are looking for a simple roulette game with more than a decent payout.
The graphics are not breathtaking but are better than the ones in similar basic variants. It is suitable for both beginner players due to the availability of Practice Mode and for seasoned players because of the wide range of betting options. In addition, the game is fully mobile-compatible, which makes it very convenient for busier people.

Sign Up BONUS
100% up to
$1,000
Bovada Casino
Why Bovada Casino is ranked #1:
Up to $3000 welcome bonus upon first three deposits
Well-established US-friendly brand
Top quality casino games
Extra bonuses for Bitcoin depositors

ACCEPTED
PLAYERS FROM UNITED STATES: VIRGINIA ARE ACCEPTED AT THIS CASINO

Cashback BONUS
25% up to
∞
Fair Go Casino
Why Fair Go Casino is ranked #2:
Well-established brand
Prompt payments
24/7 customer support
Wide range of casino games

ACCEPTED
PLAYERS FROM UNITED STATES: VIRGINIA ARE ACCEPTED AT THIS CASINO

2nd Deposit BONUS
25% up to
€100
EmuCasino
Why EmuCasino is ranked #3:
Up to $300 bonus upon first three deposits
Great loyalty program
Superb loyalty program
Great selection of table games

ACCEPTED
PLAYERS FROM UNITED STATES: VIRGINIA ARE ACCEPTED AT THIS CASINO

Sign Up BONUS
250% up to
∞
BoVegas Casino
Why BoVegas Casino is ranked #4:
Accepts players from all over the world
Great daily bonuses
Fair bonus rules and requirements
Award-winning customer care team

ACCEPTED
PLAYERS FROM UNITED STATES: VIRGINIA ARE ACCEPTED AT THIS CASINO
Specific Rules and Table Limits
As the name suggests, the game is played in accordance with the European rules of roulette. This means that there is a total of 36 virtual numbered divisions and only one green sector, which is home to the 0. Due to the popularity of the game, everyone knows that the aim of the player is to predict which virtual pocket the little white ball will land in. The house edge is 2.70%, which makes the game more favourable to players.
The minimum you can bet is £1 whereas the maximum is £250. Both outside and inside wagers share the same minimum – £1 and different maximums as follows: £100 and £250. The payouts are the standard ones found in any other game of European roulette.
But there can be variations in the table limits, payouts, and the minimum and maximum amounts allowed for different bet types due to the highly customisable software. Therefore, roulette fans should properly check the respective information section before starting a game.
| Type of Bet | Bet Payout | Bet Limits |
| --- | --- | --- |
| Straight Up Bet | 35:1 | £1 – £20 |
| Split Bet | 17:1 | £1 – £40 |
| Street Bet | 11:1 | £1 – £60 |
| Corner Bet | 8:1 | £1 – £80 |
| Line Bet | 5:1 | £1 – £100 |
| Columns Bet | 2:1 | £1 – £100 |
| Dozens Bet | 2:1 | £1 – £100 |
| 1-18/19-36 Bet | 1:1 | £1 – £250 |
| Odd/Even Bet | 1:1 | £1 – £250 |
| Black/Red Bet | 1:1 | £1 – £250 |
Gaming Experience
RealTime Gaming's European Roulette has not gained popularity by accident. Although it does not offer superb graphics and animations, it really shines in terms of user-friendly interface, easy-to-navigate menus, solid and trouble-free gaming experience.
The design of the game is neat and everything is organised in such a manner that it does not distract gamblers. The Spin, Repeat, Remove and Clear All buttons are exactly where they are supposed to be – at the bottom. They are easily accessible and are constantly at the disposal of players. The table layout colour is green. Despite the fact that it does not have jaw-dropping visuals, the game is quite realistic. The camera angle of the table emulates the atmosphere in a land-based casino because of the sitting position of each player.
There are 4 chip denominations. Each of them has a different credit value: £1, £5, £25, and £100. When clicking on one of them, the amount in chips is displayed in the corner of the table layout. What's more, there is a small table situated at the bottom of the screen, which shows you the total amount of the current wagers as well as the minimum and maximum that players can bet.
The game will also be approved by seasoned players because of the availability of the racetrack. They can use it to make the more advanced Orphelins, Voisins du Zero, Tiers and Neighbour bets. All they have to do is set up a strategy and dive into their roulette adventure.
Special Features
The guys at RealTime Gaming have incorporated a few special features that will be definitely appreciated by all roulette fans as they will improve the overall gaming experience.
There is a zoom-in window in the upper right corner of screen. Players place their bets, hit the green Spin button and, as the name suggests, the little window zooms in and shows the virtual pocket in which the little white ball has landed.
Right next to it is the History Panel, which shows the outcome of 10 previous rounds.
Novice players will also find useful the Help Section. When clicking on Help, the game displays tips on how to place a bet, for instance. It will definitely help those players who are having difficulties with understanding the basics of the game.
In order to meet the preferences of different gamblers, European Roulette can be instantly played in a browser on condition that the Flash Player extension is enabled. The game can also be downloaded. Moreover, RealTime Gaming has ensured that it runs smoothly with no bugs on all Android, iOS and Windows OS devices. It is fully optimised to provide trouble-free gaming experience with no constant disconnections.
Conclusion
RealTime Gaming is one of the leading software developers on the market, which is why the company is constantly updating and expanding its vast game collection. European Roulette is yet another example of the company's solid craftsmanship. It has much to offer in terms of intuitive interface, bet options, graphics, and animations.
The availability of Practice Mode and the intuitive interface make it the perfect match for novice players. Those roulette fans who have less free time but still want to place some bets while waiting for the bus, for example, will highly appreciate its full mobile compatibility. The 2.70% house edge and 97.30% RTP make it pretty favourable to players.
It might not have superior graphics but its simplicity, user-friendliness, broad range of betting options and special features highly contribute to its worldwide popularity. So, if you are looking forward to spending many hours of online gambling, try out RealTime Gaming's European Roulette now.