Instead of just one roulette wheel, you can have up to 6 all spinning at the same time! The odds haven't changed, but this game certainly adds an extra element of excitement.
A detailed review and guide to Multi Wheel Roulette online
Multi Wheel Roulette, as you might have already guessed, contains a number of roulette wheels, depending on the casino, increasing your chances of that bet coming up. It's more exciting, as the odds on nothing coming up is much less likely.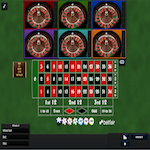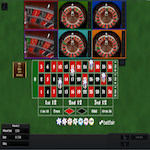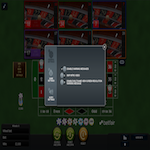 What is Multi Wheel Roulette?
Roulette is undoubtedly far more exciting if your bets are more likely to give you something back. It's no wonder then that multi wheel roulette was made, a simple game with a brilliant twist.

Sign Up BONUS
100% up to
$1,000
Bovada Casino
Why Bovada Casino is ranked #1:
Up to $3000 welcome bonus upon first three deposits
Well-established US-friendly brand
Top quality casino games
Extra bonuses for Bitcoin depositors

ACCEPTED
PLAYERS FROM UNITED STATES: VIRGINIA ARE ACCEPTED AT THIS CASINO

Cashback BONUS
25% up to
∞
Fair Go Casino
Why Fair Go Casino is ranked #2:
Well-established brand
Prompt payments
24/7 customer support
Wide range of casino games

ACCEPTED
PLAYERS FROM UNITED STATES: VIRGINIA ARE ACCEPTED AT THIS CASINO

2nd Deposit BONUS
25% up to
€100
EmuCasino
Why EmuCasino is ranked #3:
Up to $300 bonus upon first three deposits
Great loyalty program
Superb loyalty program
Great selection of table games

ACCEPTED
PLAYERS FROM UNITED STATES: VIRGINIA ARE ACCEPTED AT THIS CASINO

Sign Up BONUS
250% up to
∞
BoVegas Casino
Why BoVegas Casino is ranked #4:
Accepts players from all over the world
Great daily bonuses
Fair bonus rules and requirements
Award-winning customer care team

ACCEPTED
PLAYERS FROM UNITED STATES: VIRGINIA ARE ACCEPTED AT THIS CASINO
How to play multi wheel roulette
The rules are the same as European Roulette. This time however, each bet is placed on a number of wheels, which depends on the casino you are playing at. You can decide how many wheels you want to use each round. The bet is multiplied by the number of wheels that will be used in the round. For example, a £5 bet on red using 4 roulette wheels will mean you place a bet of £20. Of course, only two of those wheels need to come up red and you'll get your money back.
To place a bet, choose a chip and place it on the roulette table where you'd like to make a bet. To increase your bet, continue to add chips or change the value of the chip. If you'd like to remove a chip, shift click on it. When you are ready, choose how many roulette wheels you want to use this turn. Remember, your bet will be multiplied by the number of wheels so bet carefully. Finally, click 'Spin' and watch the wheels go.
Multi wheel roulette enables you to place racetrack bets also, to increase the speed of the game. These are outlined below, or see the rules page for more information. The racetrack is there to enable the player to place special bets. It features the numbers on the wheel in the same order. You can place the following bets:
Neighbour bets. By clicking and betting on one of the numbers on the racetrack, the two numbers on each side of that number will also be included in the bet.
Tiers du Cylindre. Meaning thirds of the wheel, this places a bet on a third of the numbers of the wheel, from 33 to 27.  1 chip on 5/8, 10/11, 13/16, 23/24, 27/30, 33/36.
Voisins du Zero. The 'neighbours of zero' places a bet on the 17 numbers surrounding (and including) 0. 1 chip on 4/7, 12/15, 18/21, 19/22, 32/35 and 2 chips on 0/2/3, 25/26/28/29.
Les Orphelins. Places a bet on the numbers not covered by Tiers du Cylindre and Voisins du Zero. 1 straight bet on 1, split bets on 6/9, 14/17, 17/20, 31/34.
Conclusion
I think Multi Wheel Roulette is quite entertaining, and an excellent alternative to the traditional one-wheel game. The chances of something coming up is far more likely, just don't be mislead into thinking you have better odds against the casino.