Since roulette took off in the 18th century, many players have devised betting strategies in order to help them win money. These roulette systems have helped many fans of the game manage their money effectively and accumulate large profits, and it's for this reason they have become so popular.
What are Roulette Systems or Strategies?
There are many different types of roulette systems which can suit all types of players, from those who like a slow, but safe game where the stakes are low, to those who seek to make a huge profit in a short amount of time. Every strategy has different pros and cons, and here at RouletteVision, you will find a wide range of systems to suit your needs.
Roulette Systems
The majority of roulette systems are based on progressions which require players to adjust their bet sizing in accordance with previous results. Before we proceed to explain what each roulette system is all about, we would like to issue a forewarning to players – systems are a good way to manage your funds but altogether cannot yield you an advantage over the casino. Neither do they influence the results of each spin of the wheel.

Sign Up BONUS
100% up to
$1,000
Bovada Casino
Why Bovada Casino is ranked #1:
Up to $3000 welcome bonus upon first three deposits
Well-established US-friendly brand
Top quality casino games
Extra bonuses for Bitcoin depositors

ACCEPTED
PLAYERS FROM UNITED STATES: VIRGINIA ARE ACCEPTED AT THIS CASINO

Cashback BONUS
25% up to
∞
Fair Go Casino
Why Fair Go Casino is ranked #2:
Well-established brand
Prompt payments
24/7 customer support
Wide range of casino games

ACCEPTED
PLAYERS FROM UNITED STATES: VIRGINIA ARE ACCEPTED AT THIS CASINO
However, what betting systems can do is help you manage your gambling budget properly, which is of crucial importance when playing any casino game, be it of skill or chance. Many of the betting systems we have outlined below have been in use for a long time by roulette players looking to conquer what is in fact an unbeatable game. Some systems are more risqué as their bet-size adjustments are steeper. Those rest on the principle that bet adjustments can eventually help players recoup previous losses and turn a profit. Others rely on covering entire sections of the layout by smartly apportioning one's chips between the numbers.
The d'Alembert Roulette System
The idea behind the d'Alembert roulette system is to recoup your losses by increasing your bet after each loss. It's the same principle as the Martingale roulette system, but bets increase linearly making this system considerably safer.
The d'Alembert system falls into the category of negative progressions since those who use it increase their bets after a loss but the progression is less steep when compared to other similar systems. Bets do not increase as quickly here. The d'Alembert is an even-money system, meaning that roulette players can use it when betting on number properties like red/black, odd/even, and high/low. Its peculiarities and maths render it unsuitable to use on inside bets as well as on other types of outside bets like dozens and columns.
Example of The d'Alembert Roulette System Betting Session

| Bet | Bet Placed | Bet Units | Spin Outcome | Result | Net Winnings |
| --- | --- | --- | --- | --- | --- |
| #1 | Red | 50 | Red | Win 50 | +50 |
| #2 | Red | 50 | Black | Lose 50 | 0 |
| #3 | Black | 100 | Red | Lose 100 | -100 |
| #4 | Black | 150 | 0 | Lose 150 | -250 |
| #5 | Black | 200 | Black | Win 200 | -50 |
| #6 | Red | 50 | Black | Lose 50 | -100 |
| #7 | Red | 100 | Black | Lose 100 | -200 |
| #8 | Red | 150 | Red | Win 150 | -50 |
| #9 | Black | 50 | Black | Win 50 | 0 |
| #10 | Red | 50 | 0 | Lose 50 | -50 |
The Reverse d'Alembert Roulette System
This system is exactly what it sounds — the reversed variant of d'Alembert roulette system. Like in any reversed variants of other roulette systems, in this system you do the opposite of what you'd do in d'Alembert.
In the 'straight' d'Alembert you bet on even chance bets and increase them by one after a loss, decreasing them by one after a win. With as many wins as losses, your gains are in the number of bets you won. The main downside of d'Alembert is that you dig yourself a rather deep hole on the losing run.
In the Reverse d'Alembert you increase your bets by one after a win and decrease them by one upon loss. To give an example, if you started your bet on 6, the betting sequence would be:
Bet 6 — win
Bet 7 — win
Bet 8 — lose
Bet 7 — lose
Bet 6 — lose
Bet 5 — win
Bet 6 — win
Bet 7 — lose
As you can quickly deduct, this example does not work in your favor since you lose 4 points. This is because with the straight d'Alembert your profit equals the number of bets you've won, as mentioned. Thus when you reverse the rules, your loss equals the number of you win provided you win as many as you lose.
Therefore the Reverse d'Alembert works only when you're on a winning streak, and that's the main upside. For example:
Bet 6 — win
Bet 7 — win
Bet 8 — win
Bet 9 — lose
Bet 8 — win
Bet 9 — win
Bet 10 — lose
Bet 9 — win
Bet 10 — win
This example works in your favor and your profit is 33 points.
On the long run, though, your chances for seeing such outcome are thin and that is the downside of Reversed d'Alembert. So it is worth remembering that it works only when you have more wins than losses.
In a way, this system is bypass and you should make a decision when to walk away and cut your losses instead of giving away your chips.
Set your limits wisely – use it properly – be prudent – and you might benefit!
Otherwise, watch your six.
Double Street / Five Quad Roulette System
These roulette systems are two similar variations of each other, both are based around covering a large amount of the board with a relatively small bet. With the Double Street Quad system, a grand total of 17 numbers are covered.
Unlike the majority of progressive systems applicable to the game of roulette, the Double Street Quad system does not target even-money bets. Instead, it involves a combination of inside bets as follows – two base units are placed on two double streets, one unit is staked on a corner bet, and another one on a straight-up bet on any individual number you prefer.
The Five Quad system is similar to the Double Street in that it also requires a total of six chips (or base betting units) but it enables you to cover a larger portion of the wheel with 21 numbers without risking too much of your money. Five chips are staked on five corner bets of four numbers each whereas the sixth chip is placed on an individual number with a payout of 35 to 1. The chances of turning a profit with this approach are more significant since the corner bets pay at odds of 8 to 1. Thus, if you bet $1 on each of your preferred corners, you will collect $9 if one of them wins for a healthy net profit of $4.
The Fibonacci Roulette System
One of the great things about this system is you can lose many more times than you win and still make a profit. This strategy can also be used with a relatively low bankroll, especially when you start at the beginning of the sequence, and for many I am sure this is a big bonus.
The system is based on the popular number sequence, created by 16th-century mathematician Leonardo Fibonacci and runs like this – 1, 1, 2, 3, 5, 8, 13, 21 and so on to infinity. Each successive number in the sequence is equal to the sum of the two numbers that precede it. Roulette players must adjust their bets according to the Fibonacci sequence of numbers – they increase the size of the stakes following a loss and decrease it after a win.
Example of The Fibonacci Roulette System Betting Session

| Sequence | Bet Placed | Bet Units | Spin Outcome | Result | Net Winnings |
| --- | --- | --- | --- | --- | --- |
| 1-1-2-3-5 | Red | 5 | Red | Win 5 | +5 |
| 1-1-2 | Red | 2 | Black | Lose 2 | +3 |
| 1-1-2-3 | Black | 3 | Red | Lose 3 | 0 |
| 1-1-2-3-5 | Black | 5 | 0 | Lose 5 | -5 |
| 1-1-2-3-5-8 | Black | 8 | Black | Win 8 | +3 |
| 1-1-2-3 | Red | 3 | Black | Lose 3 | 0 |
| 1-1-2-3-5 | Red | 5 | Black | Lose 5 | -5 |
| 1-1-2-3-5-8 | Red | 8 | Red | Win 8 | +3 |
| 1-1-2-3 | Black | 3 | Black | Win 3 | +6 |
| 1-1 | Red | 1 | 0 | Lose 1 | +5 |
The Hollandish Roulette System
I'm actually quite a fan of this system, as it has a lot of benefits to it. It's simple, relatively low risk, and can still provide you with a fairly nice profit. The main issue is you can find yourself in a hole which can take a lot of time to get out of, the downfall to many systems.
Similarly to the Martingale, the Hollandish betting system relies on a negative progression which is to say players must up their bets after they register a loss and reduce them after they win. This approach is mostly recommended to those who bet on even-money propositions. The degree of risk involved is smaller.
The Hollandish system requires the player to divide their roulette session into smaller sessions, consisting of three spins each. The betting progression itself depends on the size of the player's starting betting unit. Thus, if you use a base bet of $1, the progression will be 1, 3, 5, 7, 9 and so on but if you have opted for a $2 base bet, you will have to adjust your bets according to the following progression – 2, 6, 10, 14, 18. When they score a win, the players start at the beginning of their sequence again.
Each "mini" session requires you to bet the same amount three times. When the mini session is over, you determine whether you are on profit by evaluating the outcomes of the three spins the session consists of – in case two or three of the spins were winning ones, the "mini" session is graded as successful and you return to the beginning of your betting sequence. If not, you skip to the next number in the sequence and bet the corresponding amount three times in a row for the next mini session.
Betting Session Example using the Hollandish System

| Stage | Coup | Number of Base Units | Bet Type | Win/Loss | Profit in Base Units | Profit in $ |
| --- | --- | --- | --- | --- | --- | --- |
| #1 | 1 | 1 | Red | Loss 1 | -1 | $10 down |
| #1 | 2 | 1 | Red | Loss 1 | -2 | $20 down |
| #1 | 3 | 1 | Black | Win 1 | -1 | $10 down |
| #2 | 1 | 3 | Black | Loss 3 | -4 | $40 down |
| #2 | 2 | 3 | Odd | Win 3 | -1 | $10 down |
| #2 | 3 | 3 | Odd | Loss 3 | -4 | $40 down |
| #3 | 1 | 5 | Even | Win 5 | 1 | $10 up |
| #3 | 2 | 5 | Red | Win 5 | 6 | $60 up |
| #3 | 3 | 5 | Even | Win 5 | 11 | $110 up |
| #4 | 1 | 1 | Red | Loss 1 | 10 | $100 up |
| #4 | 2 | 1 | Black | Win 1 | 11 | $110 up |
| #4 | 3 | 1 | Red | Win 1 | 12 | $120 up |
The Kavouras Bet Roulette System
Devised by a passionate roulette player, the Kavouras Bet system involves a betting pattern that may appear a bit more complicated at first glance. Once you get the hang of it, you will see the Kavouras betting pattern is actually quite simple largely due to the fact it does not require any adjustments in the size of the stakes you make. Instead, the same amount is wagered again and again.
The Kavouras pattern enables you to cover 20 numbers on the layout. One base unit is placed as a corner bet on numbers 0, 1, 2, and 3; two base units are staked on the double street with numbers 31, 32, 33, 34, 35, and 36, and finally, one unit is placed on each of these five splits: 8-11, 13-14, 15-18, 17-20, and 27-30. You never adjust your bet sizing on the basis of previous results, but repeatedly follow the above-mentioned pattern by betting a total of eight units.
Since more than half of the layout is covered with this pattern, players will win more often than they would lose on average. As is the case with all roulette strategies, the biggest fault of the Kavouras Bet is that it does nothing to reduce the advantage the house holds over players.
Kesselgucken Roulette System
One of the biggest peculiarities of the Kesselgucken system is that it does not involve maths, or previous outcomes. Instead, it relies on the player predicting the outcome of the spin by observing the ball while it is released. This is precisely what "Kesselgucken" means in German – "to observe the wheel". You make an educated guess as to where the ball will land and place your bet before refusal.
This approach requires a good deal of practice and is significantly more complicated to master when compared to the standard betting systems for roulette. There are several important factors that need to be considered in advance when the Kesselgucken method is applied – the speed of the ball, the speed of the wheel, and the starting position where the ball is tossed. The goal of the player is to place their chips on the layout as late as possible. The later the bet is made, the easier it would be for the player to evaluate which pocket the ball is most likely to settle in.
The Kesselgucken approach is especially suitable for French bets like Voisins du Zero, Orphelins, and Tiers du Cylindre which cover entire series of numbers, located in adjacent positions on the wheel. The method is applicable at both landbased venues and online live dealer casinos. On the downside, some landbased establishments have started taking countermeasures against "Kesselguckers". Such players may be hindered if the roulette wheel rotates at a faster speed, for example.
The Shotwell Roulette System
The Shotwell roulette system emerged in the late 1970s but continues to be used to this day. Unlike progressive systems, the Shotwell rests on the idea that players have greater chances of success if they distribute their chips so that they cover numbers that are evenly located on the spinning wheel. This way, the spinning ball always "flirts" with one of the numbers the player has bet on since the said numbers are rarely separated by more than three pockets.
This is achieved by placing a double-street bet to cover six numbers and making straight-up bets on several individual numbers. This approach is recommended for American Roulette predominantly. To provide an example, you can make a double-street bet of one unit on numbers 1 through 6 and four straight bets (of one unit each) on numbers 20, 26, 8, and 10 on a double-zero wheel. The spread would be different on wheels with only one zero pocket due to the different arrangement of the numbers. It turns out you cover every fourth number on the American wheel which corresponds to a 25% chance of collecting a payout.
The Labouchere Roulette System
Firstly, let me just say that this system is remarkably clever, but also relatively simple to use. The system comes under many different names, some call it Split Martingale, others refer to it as the Cancellation System, but the principle behind it is always the same.
Labouchere is one of the more complex betting systems based on negative progressions so it may take up a little time before you get used to it. It does involve a bit of maths, and to start with, you will probably need a pen and paper to keep track of the numbers, but don't worry because the maths is pretty straightforward.
You need to write down a sequence of numbers, according to which you should adjust your bet size. You can write down any sequence you prefer but be sure to choose wisely as each of the numbers corresponds to the number of base units you are expected to bet.
Each bet is equal in size to the sum of the first and the last numbers in your sequence. When a win occurs, the Labouchere demands you to check off the first and the last numbers and proceed by betting the sum total of the next numbers. Should they lose, the players add yet another number to their sequence and proceed in the same manner until they score a win.
The Labouchere is similar to the Martingale in that it calls for bet increases after losses. The bets are reduced following a win. Unlike the Martingale, however, the Labouchere aims at helping roulette players recoup their losses through multiple wins instead of a single win only. The progression does tend to get a bit steep which is why Labouchere is deemed suitable for roulette players with more sizeable bankrolls.
Example of The Labouchere Roulette System Betting Session

| Sequence | Bet Placed | Bet Units | Spin Outcome | Result | Net Winnings |
| --- | --- | --- | --- | --- | --- |
| 1-2-3-4-5 | Red | 6 | Red | Win 6 | +6 |
| 2-3-4 | Red | 6 | Black | Lose 6 | 0 |
| 2-3-4-6 | Black | 8 | Red | Lose 8 | -8 |
| 2-3-4-6-8 | Black | 10 | 0 | Lose 10 | -18 |
| 2-3-4-6-8-10 | Black | 12 | Black | Win 12 | -6 |
| 3-4-6-8 | Red | 11 | Black | Lose 11 | -17 |
| 3-4-6-8-11 | Red | 14 | Black | Lose 14 | -31 |
| 3-4-6-8-11-14 | Red | 17 | Red | Win 17 | -14 |
| 4-6-8-11 | Black | 15 | Black | Win 15 | +1 |
| 6-8 | Red | 14 | Red | Win 14 | +15 |
The Martingale Roulette System
This is easily the most notorious betting progression of all times and most roulette players have resorted to it at one point or another. Everyone knows this system, it's very popular indeed. In part, this is because of people raving about it's unique ability to overcome great losses in one fell swoop, and also because there are a great number of people who will tell you to avoid this system at all costs.
The foundation of the Martingale lies in a negative betting progression where the roulette player is expected to double their stake after a loss and reduce it with one unit after every winning round. This is practically all there is to it, the idea being the Martingale will enable you to recover all losses you have suffered in a bad streak to eventually end up with one base unit in net profits.
Like most other systems, the Martingale is recommended for even-money propositions like red/black, odd/even, and high/low. In fact, it is applicable to all casino games where even-money bets are involved, including blackjack and craps. Many roulette experts advise against using the Martingale system as it does not take into consideration the peculiarities of the game that might hinder players from utilising the system effectively, such as table limits and the possibility of depleting your bankroll during a longer losing streak.
Example of The Martingale Roulette System Betting Session

| Bet | Bet Placed | Bet Units | Spin Outcome | Result | Net Winnings |
| --- | --- | --- | --- | --- | --- |
| #1 | Red | 50 | Red | Win 50 | +50 |
| #2 | Red | 50 | Black | Lose 50 | 0 |
| #3 | Black | 100 | Red | Lose 100 | -100 |
| #4 | Black | 200 | 0 | Lose 200 | -300 |
| #5 | Black | 400 | Black | Win 400 | +100 |
| #6 | Red | 50 | Black | Lose 50 | +50 |
| #7 | Red | 100 | Black | Lose 100 | -50 |
| #8 | Red | 200 | Red | Win 200 | +150 |
| #9 | Black | 50 | Black | Win 50 | +200 |
| #10 | Red | 50 | 0 | Lose 50 | +150 |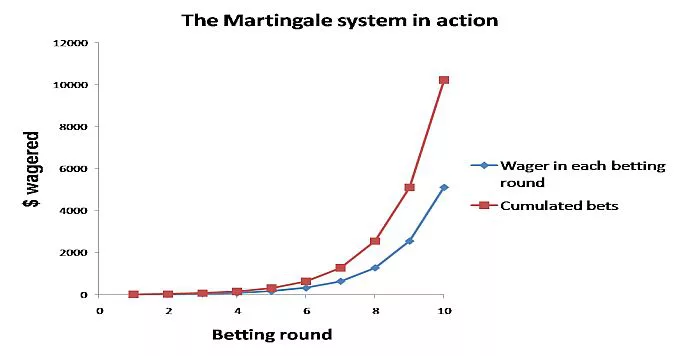 Here is a graphical representation of the Martingale system in action, image courtesy of gamblinggurus.com
The Grand Martingale Roulette System
This is a riskier version of the popular Martingale system but overall it rests on the same principle and is again applicable to even-money bets. The aim of the Grand Martingale is to help players generate more substantial profits after a bad streak but this comes at the price of steeper increase of the bets after losses. This is so because players bet double the amount after a loss plus one base betting unit.
The Grand Martingale can be effective in helping players generate profits over the short terms but like all other betting progressions, it cannot help you prevail over the house edge over the long-term. Because the stakes grow at a rapid pace when consecutive losses occur, the Grand Martingale is recommended only to those who have the bankrolls to afford such steep bet increase.
Example of The Grand Martingale Roulette System Betting Session

| Bet | Bet Placed | Bet Units | Spin Outcome | Result | Net Winnings |
| --- | --- | --- | --- | --- | --- |
| #1 | Red | 50 | Red | Win 50 | +50 |
| #2 | Red | 50 | Black | Lose 50 | 0 |
| #3 | Black | 150 | Red | Lose 150 | -150 |
| #4 | Black | 350 | 0 | Lose 350 | -500 |
| #5 | Black | 750 | Black | Win 750 | +250 |
| #6 | Red | 50 | Black | Lose 50 | +200 |
| #7 | Red | 150 | Black | Lose 150 | +50 |
| #8 | Red | 350 | Red | Win 350 | +400 |
| #9 | Black | 50 | Black | Win 50 | +450 |
| #10 | Red | 50 | 0 | Lose 50 | +400 |
Masse Égale Roulette System
Unlike other strategies, there is no progression, negative or positive; the value of every bet remains the same regardless of whether you are winning or losing. Because of this, inside bets are typically placed instead of outside bets, something different from most systems.
This flat betting approach renders the Masse Egale fitting for less experienced roulette players as there is no need to memorize any complex betting progressions and patterns. The Masse Egale is applicable to all types of inside bets, including streets, splits, and straights on individual numbers. Simply put, the player selects one individual number and continues to flat bet on it until they register a win. One of the biggest problems with this approach is that the losing streaks tend to get quite long when straight bets are placed. Then again, if your lucky number does hit, the payout of 35 to 1 will be sufficient to counterbalance the losses you have incurred on losing coups.
The Red Betting System
This system differs from other roulette strategies in that it does not require bet adjustments on the basis of previous results but exploits the fact there are more red grids than black ones in the third column on the table's layout. If you take a quick look, you will see that only four of the numbers are black (6, 15, 24, 33) as opposed to eight red numbers (3, 9, 12, 18, 21, 27, 30, 36).
Therefore, the red betting system requires players to make two bets only. You need to make only two bets on each spin of the wheel – one base unit of $5 is staked on the entire third column and two units or $10 are bet on black. This way, you cover 26 numbers out of 37 which corresponds to 70% of the entire single-zero wheel.
There are five possible outcomes when this approach is implemented. If the ball falls on a black pocket that is also within the third column, you collect even money for your outside bet and a payout of 2 to 1 for your column bet for a total of $20. Provided that you hit a black number outside the third column, your even-money bet on black wins and earns you $5 in net profit.
Another possible outcome is for the ball to land on a red number outside the third column, in which case you lose $15 with both bets. The same happens if the green zero hits. Finally, if you hit a red number that is the third column, you lose with your outside bet on black but collect a 2-to-1 payout for a profit of $10 with your column bet. Thus, you break even on this spin.
Oscar's Grind Roulette System
If you're losing then decrease your bets to minimize the impact of a losing streak. Likewise, if you're on a winning streak then by increasing your bets after a win you're going to make some money fast. The beauty of this system is that, unlike so many others, it thrives on streaks.
The Oscar's Grind system first appeared in a book by Allan Wilson, called The Casino Gambler's Guide. This strategy works well for even-money propositions. This is how it goes – you bet one unit of $1 on red, are unfortunate, and lose. You continue flat betting one base unit after each subsequent loss and up you bet with one unit after each win you register. The system is built around the idea both losses and wins tend to occur in streaks. The player mimics this trend by keeping the bets smaller when on a losing streak and increasing them gradually at the start of an apparent hot streak.
One of the greatest advantages of adopting this approach is the gradual increase of the bet sizing which reduces the probability of the player reaching the table's maximum limit. The aim is to extract maximum value from winning streaks through bet increase and reduce the negative impact bad streaks would have on your bankroll.
Example of Oscar's Grind Roulette System Betting Session

| Bet | Bet Placed | Bet Units | Spin Outcome | Result | Net Winnings |
| --- | --- | --- | --- | --- | --- |
| #1 | Red | 1 | Red | Win 1 | +1 |
| #2 | Red | 2 | Black | Lose 2 | -1 |
| #3 | Black | 2 | Red | Lose 2 | -3 |
| #4 | Black | 2 | 0 | Lose 2 | -5 |
| #5 | Black | 2 | Black | Win 2 | -3 |
| #6 | Red | 3 | Black | Lose 3 | -6 |
| #7 | Red | 3 | Black | Lose 3 | -9 |
| #8 | Red | 4 | Red | Win 4 | -5 |
| #9 | Black | 5 | Black | Win 5 | 0 |
| #10 | Red | 6 | Red | Win 6 | +6 |
Paroli Roulette System
The Paroli is a roulette system based on a positive betting progression and is to be used primarily for outside bets that pay even money. In its essence, the Paroli mirrors the Martingale in that bets are doubled up after a win and reduced after a loss. The key difference here is that the maximum stake does not increase indefinitely but is limited to a fixed amount.
You start off with one unit and double up each time you win. If you lose, you go back to your base unit. This renders losing streaks harmless, it doesn't really matter if you lose 7 or 8 times in a row, as it's only one unit lost each spin. You continue doubling your stakes after a win until you register three successful coups in a row, at which point the Paroli demands you to drop back to your base betting unit.
While the Paroli does not guarantee players would generate a profit in the end of a betting session, many find it appealing due to its relative simplicity. It eliminates the risks of incurring massive losses during bad runs and may help you generate small, yet consistent wins over the short term.
Example of Paroli Roulette System Betting Session

| Bet | Bet Placed | Bet Units | Spin Outcome | Result | Net Winnings |
| --- | --- | --- | --- | --- | --- |
| #1 | Red | 50 | Red | Win 50 | +50 |
| #2 | Red | 100 | Black | Lose 100 | -50 |
| #3 | Black | 50 | Red | Lose 50 | -100 |
| #4 | Black | 50 | 0 | Lose 50 | -150 |
| #5 | Black | 50 | Black | Win 50 | -100 |
| #6 | Red | 100 | Red | Win 100 | 0 |
| #7 | Red | 150 | Black | Lose 150 | -150 |
| #8 | Red | 50 | Red | Win 50 | -100 |
| #9 | Black | 100 | Black | Win 100 | 0 |
| #10 | Red | 150 | red | Win 150 | +150 |
Tiers et Tout Roulette System
The system doesn't take long to grasp, and can make you a decent profit with a win to loss ratio greater than just 1:3. They say it was devised by the legendary gambler Thomas Garcia, who used it to break the bank no less than 5 times, and accumulate a small fortune.
Garcia was a travelling salesman by trade but engaged in gambling as a means to boost his income. He tried a variety of systems to prevail over the house in the game of roulette before he finally made the Tier et Tout his betting strategy of choice. Garcia even managed to generate the staggering amount of 240,000 francs using the system during his first ever visit of the Homburg Casino in the 1860s.
The aim of the Tier et Tout is to enable players to accrue profits by using the house's money. The player splits their session's bankroll into two parts. They bet 1/3 of the bankroll on the first spin and if it happens to lose, they stake the remainder of 2/3 on the next spin. Should the first spin be a winning one, the player adds the profits to their overall bank and splits it into 1/3 and 2/3 segments again. Obviously, the idea here is to succeed in scoring a win in at least two spins. If you reach a point where your bankroll is not divisible by the number 3, you round the sum down and pocket the remainder.
Dozens and Columns Roulette System
This system is probably the second most common betting system amongst roulette players, following the suit of Red and Black ones we already mentioned.
The upside:
As long as you win, you have a small profit.
The downside:
If you don't win within a certain sequence, you have a big loss!
In order to leverage the pros and cons, there are two main strategies within Dozens and Columns, and they both correlate to Martingale system.
To put them into perspective, let's look at the roulette table:
We see three different dozen bets marked 1st 12, 2nd 12, and 3rd 12;
There are also three column bets marked 2 to 1; the first one covers 1-34 numbers, the second 2-35 numbers, and the third covers 3-36 ones.
You have six bets at disposal, each one covering twelve numbers with the same odds of hit and the same payout. If you bet $1 you can win $3 back.
Strategy 1. You pick one dozen — first, second or third — and bet $1. When you lose, you apply this betting sequence until you win again:
1 — 1 — 2 — 3 — 4 — 6 — 9 — 14 — 21 — 31 — 47 — 70 — 105 — 158 — 237 — 355
As long as you win on these numbers you're OK though your profit is small, as said. But… If you lose and keep losing long term on this sequence, you'll dig a rather big hole.
Why? Because you're covering less than a third of the table so, in time, you'll lose more bets than you win.
This is the peculiar downside of Strategy 1 in Dozens and Columns. To illustrate it, let's look at the table that shows your losses per each stage of the betting sequence.
Strategy 1, Dozens and Columns, $1 Bet

| Looses | Bet Placed | Total Loss | Total Profit In Wins |
| --- | --- | --- | --- |
| 1 | 1 | 1 | 2 |
| 2 | 1 | 2 | 1 |
| 3 | 2 | 4 | 2 |
| 4 | 3 | 7 | 2 |
| 5 | 4 | 11 | 1 |
| 6 | 6 | 17 | 1 |
| 7 | 9 | 26 | 1 |
| 8 | 14 | 40 | 2 |
| 9 | 21 | 61 | 2 |
| 10 | 31 | 92 | 1 |
| 11 | 47 | 139 | 2 |
| 12 | 70 | 209 | 1 |
| 13 | 105 | 314 | 1 |
| 14 | 158 | 472 | 2 |
| 15 | 237 | 709 | 2 |
| 16 | 355 | 1064 | 1 |
As can be seen, after fifteen loses in a row you'll be $709 down and you'll have to bet $355 in next sequence if you're to recover fully. If you don't, you're in a $1064 hole.
The odds of getting 15 spins in a row without a hit in this strategy are 0.28% in European Roulette (1 in 358 probability) and 0.38% in American Roulette (1 in 296 probability).
The obvious issue with Dozens and Columns is the table coverage — you are not covering enough of it so you can get lots of losses.
Strategy 2. To mitigate this issue you can pick two dozen, effectively increasing the probability. In that case, you use this betting sequence:
1 — 3 — 9 — 27 — 81 — 243
By covering less than two-thirds of the table you can get more wins than losses. However, it takes only a couple of losses in the row to annul your wins.
Whatever strategy you use in Dozens and Columns, it is crucial to set limits both on your wins and losses and to stay true to it. Sometimes it's better to walk away on shaky legs than to wait and to have to use crutches.
The Andrucci Roulette System
This is a high-risk, high reward system based on the mathematical probability of the theory of chaos. Rooted in players' belief in lucky numbers, existing since the invention of the roulette, this system consists of straight up bet (wager on a single number) with the most profitable payout of 35/1.
The Andrucci system involves rather simple steps:
Observe and memorize the numbers rolled in last 30 to 35 spins. Unless you have an outstanding memory, we suggest that you write down the numbers;
Choose the most often number, e.g. the one that had the most wins;
Place straight up bet on the luckiest number;
Stick to your bet for next 15 to 25 spins or until you score a win. Provided you choose well, it should be within the next 35 spins;
Get back to square one and repeat the cycle.
So, let's say that your bet is $10 and that you've placed it on number X, red. After twenty spins you'll be down $200. If you win in next spin, a 35/1 payout will be $350, which will lead you to $150 profit.
The most obvious upside of the Andrucci system is the potentially huge payout, of course. The critical downside is that there are no guarantees in the roulette.
This is where the theory of chaos comes in picture.
A branch of mathematics that focuses on the behavior of dynamical systems highly sensitive to initial conditions, this interdisciplinary theory states that underlying patterns and repetitions exist in apparent randomness of chaotic complex systems. Just a small difference in initial conditions can deliver highly diverging outcomes, making long-term prediction impossible in general.
Therefore:
The key component of the Andrucci system is to keep up with your lucky number only for a short period of time. In other words, this system does NOT work as a long-time solution.
One more thing: since nothing is guaranteed on the roulette table, the players' intuition plays a role in choosing the lucky number. Remember, it's a game of chance and luck plays its part.
So, good luck!
The 3/2 Roulette System
The 3/2 system is the solution that overlaps two most coveted desires of roulette players — to place their bets on as many numbers as possible, and to generate a profit without risking too much. Considered more flexible than other systems, the 3/2 provides the players with a possibility to cover a large number of pockets without giving away too much.
The 3/2 system is based on two different betting options:
To bet three units on Red and two units on the 2nd column
To bet three units on Black and two units on 3rd column
Regardless of the option, the players are given the chance to bet on 3/2 ratio, both on a color and a column, hence the name of the system. The feature of covering the majority of roulette numbers is the greatest advantage of 3/2 system in comparison to other systems because it significantly increases the odds.
The upside of this system is that it covers approximately 70% of the roulette wheel.
The downside? The winnings are not substantial as in straight ups, splits or streets unless you're hitting the columns consecutively.
The Four Pillars Roulette System
This system is corner bet that allows you to place the chips on four numbers, usually in the middle of the table, therefore heightening your chances to win. Casinos payout is 8/1 for this bet which makes it popular with experienced roulette players.
While the Five Quad and Kavouras systems are better-known variations of corner bet — a wager on four mutually connected numbers in each of three dozen — the Four Pillars offers both the power and flexibility with less complexity.
System bet selection consists of three corner bets and two double-streets, with the following disposition of unit and numbers:
One unit, 14-15-17-18 corner
One unit, 19-20-22-23 corner
One unit, 31-32-34-35 corner
One unit, 4-5-6-7-8-9 double street
One unit, 25-26-27-28-29-30 double street
While at the first glance it may appear that system is engulfed in too much variance and risk with little flexibility, it actually has its advantages.
You need six units and can play 24 numbers (65% of a wheel in American roulette). A win on 12 numbers produce neither profit nor loss; win on 8 numbers gives you a profit of 3 units, and if you win on 4 numbers you profit 12 units.
Main upsides of the Four Pillars system are high coverage (only 13 numbers can make you lose, and the loss is 6 units), the positioning of numbers at the center of bet selection, fewer bets needed compared to Kavouras giving same flexibility, and reduced possibility of near-miss phenomena.
The main downside is 1 in 9.25 chance of winning, which is to say that at the end of the day the casino has an advantage.
The Romanosky Roulette System
This is a very simple system that allows you to cover 32 numbers with 8 units, delivering 86.5% chances to win. It is used both by novices and experienced players with a substantial bankroll.
It is important to mention, however, that Romanosky works only in one-zero roulettes, be it European or French ones.
The Romanosky system consists of three easy to remember rules:
Cover any of two dozen with 3 units per each one
Cover any of two corners with one unit per each one
Corners have to be put on a dozen that is not covered
With such dispositions of chips, you cover 32 numbers, 24 in dozens and 8 in the corners, which gives you only 13.5% chances of loss.
While such a high probability of win represents obvious upside of this system — which is exactly what makes it popular with the beginners — you should bear in mind that win payout is low which is the downside of Romanosky. With the minimum number of units on the bet, the win will bring a single chip. On the other hand, its stability is what makes it recommended to low betting players.
However:
Its simplicity provides a nice opportunity for progressive bets similar to Martingale, which makes it popular with more experienced players.
So, if you've won the bet you make the same bet; if you lost the bet, you double it. Therefore, if the bet was lost three times with 8 units, and the player bets on 32 units in the fourth bet, it will receive the same amount of chips and will recover incurred expenses.
With 86.5% chances to win, it makes Romanosky the enticing option.
The James Bond Roulette System
This flat bet system — meaning you'll wager the same amount in every round — is a rather simple one. Word on the roulette tables that hosted 007 is that you need $200 to place your bet in the following fashion:
Bet $140 on high numbers, 19 to 36
Bet $50 on six numbers, 13 to 18 (line bet)
Bet $10 on zero
If you win $140 bet, you'll have $80 profit. If you win $50 bet, you'll profit $100. If you win $10 bet, your profit is $160.
The logic behind the James Bond system is that you have 25 numbers that give you win and 12 numbers on which you lose. While it may appear that with two-thirds of the table you can beat the house, you cannot.
The rub is in the luck.
If you do the math — imagining that you spin the wheel 37 times and hit every possible number once — you'll see that you'll end up losing $200 on every 37th spin. Since the odds of hitting 37 different numbers in the same amount of spins are petite, at the end of the day it all comes down to luck. And luck is not much of the strategy.
Thus the upside of the James Bond system is that you might accumulate quick earnings but only if you stop playing once you collected your wins. The downside is that one way or the other you will be at a loss in the long run.
Even if you employ a combination of progressive betting (like Martingale, for example) in order to improve your chances, you still risk a lot and you might find yourself either with a very small win or, more likely, with no way to cover up for your losses.
Unless, of course, you are James Bond.
In that case the Vodka Martini, shaken not stirred, is on the house.  
Can roulette systems really make me rich?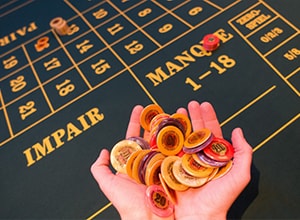 Many will tell you that a certain system is guaranteed to make you big money. In fact, by looking at how some systems work, you may be deceived into thinking that they are right. After all, some systems can make you a profit even after more losses than wins. But unfortunately no system can beat the odds, and those odds are against you. The fact remains that the longer time you spend at the roulette table, the closer the ratio of money-lost to money-bet will get to the overall expectations for this particular game. In other words, you cannot beat the house over the long run, at least not by incorporating betting systems into your gameplay.
One of the greatest shortcomings of roulette systems is that the stakes are adjusted depending on what had previously happened. Many system players believe that an outcome that has not occurred for a prolonged time becomes overdue. In their minds, one such result is more likely to occur in the near future. This is known as the "Gambler's Fallacy" or the "Monte Carlo Fallacy" – a false line of thinking that gained huge notoriety in 1913, when the ball landed on black 26 times in a row in the Monte Carlo Casino. Gamblers present in the venue lost millions of francs that night by betting on red, falsely believing it is overdue because the long streak of black numbers was bound to be followed by a streak of red.
This reasoning is ludicrous since roulette is a game of independent events and each spin of the wheel should be viewed separately from the rest. It neither affects the outcomes to follow nor is it influenced by the outcomes that came before it. It is from this perspective that bet adjustment on the basis of previous results falls short. Not to mention, some of the steepest progressive systems overlook a number of factors that might prevent the player from recouping their losses. Should a longer bad run occur (and the example from 1913 only goes to show this is indeed possible), the player risks either depleting their entire bankroll or hitting the table maximum before the losses are recouped.
Despite all of their shortcomings, roulette systems do have some weight and can prove to be useful where money management is concerned. Don't give up yet, because there are many benefits to using roulette systems…
Why use Roulette Systems?
Every player has a different style of playing, or a different end goal. Each requires a certain method of playing roulette. For example, you might be someone who is looking to make a huge profit, and has quite a high bankroll to play with. Yes, you could just bet all our money on black (or even an inside bet!), but instead you might want to try the Labouchere system, so you can still make a large profit, but manage your money more efficiently. Or perhaps you have a smaller bankroll, so you might prefer the Oscar's Grind system, which is considerably safer. That's why I think every player should try a roulette strategy, because you might really enjoy it and find that it suits the way you want to play.
While using any of the above-listed systems does nothing to increase your odds of winning or reduce the house edge, these strategies will indeed enable you to manage your bankroll well. This is the first step towards becoming a successful roulette player. And remember, consistent winning is impossible without discipline and proper bankroll management regardless of the type of casino game you are playing.