This game uses the traditional 37-numbered roulette wheel with just one zero, but with extra betting options available in-game and a lower house advantage, many may find this a more appealing version of the game than European Roulette.
A detailed review and guide to French Roulette online
Roulette is one of the all-time casino classics, being the face of the industry for centuries. Even today it is one of the most played games and is present in every online casino in some form or another. There are three main variations of this game – European, American, and French. French is considered to be the purest form by many gamblers and is, incidentally, also the focus of our review.

Sign Up BONUS
100% up to
$1,000
Bovada Casino
Why Bovada Casino is ranked #1:
Up to $3000 welcome bonus upon first three deposits
Well-established US-friendly brand
Top quality casino games
Extra bonuses for Bitcoin depositors

ACCEPTED
PLAYERS FROM UNITED STATES: VIRGINIA ARE ACCEPTED AT THIS CASINO

Cashback BONUS
25% up to
∞
Fair Go Casino
Why Fair Go Casino is ranked #2:
Well-established brand
Prompt payments
24/7 customer support
Wide range of casino games

ACCEPTED
PLAYERS FROM UNITED STATES: VIRGINIA ARE ACCEPTED AT THIS CASINO

2nd Deposit BONUS
25% up to
€100
EmuCasino
Why EmuCasino is ranked #3:
Up to $300 bonus upon first three deposits
Great loyalty program
Superb loyalty program
Great selection of table games

ACCEPTED
PLAYERS FROM UNITED STATES: VIRGINIA ARE ACCEPTED AT THIS CASINO

Sign Up BONUS
250% up to
$5,500
BoVegas Casino
Why BoVegas Casino is ranked #4:
Accepts players from all over the world
Great daily bonuses
Fair bonus rules and requirements
Award-winning customer care team

ACCEPTED
PLAYERS FROM UNITED STATES: VIRGINIA ARE ACCEPTED AT THIS CASINO
French roulette – where roulette first began…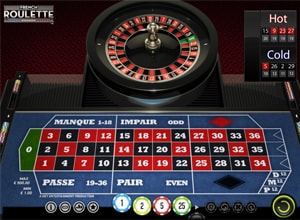 Roulette has its roots in France, so it's no wonder that this game is still very popular. The obvious difference between this version of the game and others is the table layout. The bets are written in French writing, but typically casinos will also display the English translation below it.
One of the main advantages of playing French roulette is the option of the 'La Partage' rule, which gives the game improved odds as half your bets will be returned if you make an outside bet and the ball lands on zero.
How to play French roulette
In truth, French Roulette is not all that different from the other versions of the game – American and European – sharing the same betting scheme and payout ratios. In fact, European and French Roulette seem almost identical to the uninitiated. However, there are some features only present in the French version and those can make all the difference in how much you enjoy the game.
To begin, select the chips corresponding to the amount you wish to bet at the table. Move your mouse to the area where you wish to place your bet. Click to place the bet, and add to it as much as you would like (up to the maximum bet). If you would like to remove a bet, simply shift click on that bet. French Roulette features the same type of bets found in any game of this genre, e.g. Straight Ups, Splits, Red/Black, Odd/Even, etc. However, there are two additional bet types available in French Roulette, as well as, a set of unique rules, which you will no doubt be thankful for.
Straight Bet – Placing a bet on an individual number. Payout is 35:1.
Split Bet – Placing a bet on two adjacent numbers. Payout is 17:1.
Street Bet – Placing a bet on three numbers in a line. Payout is 11:1.
Corner Bet – Placing a bet on four neighbouring numbers. Payout is 8:1.
Six Line Bet – Placing a bet on six consecutive numbers. Payout is 5:1.
Columns Bet – Placing a bet on the 1st, 2nd or 3rd Columns. Payout is 2:1.
Dozens Bet – Placing a bet on the 1st, 2nd or 3rd Dozen. Payout is 2:1.
Manque or Passe Bet – Placing a bet on High or Low numbers. Payout is 1:1.
Even or Odd Bet – Placing a bet on Odd or Even numbers. Payout is 1:1.
Red or Black Bet – Placing a bet on Red or Black numbers. Payout is 1:1.
Neighbour Bets
These bets, as the name might suggest, also place a bet on the two numbers located on each side of your number on the roulette wheel. For example, a neighbour bet on 15 will also place a bet on 32 and 19. To place a neighbour bet, open the neighbour panel and select the desired number. You can then choose how many neighbours on each side of the wheel you want. Several neighbour bets can be placed for each spin. When you have finished, close the panel and continue with the game.
Announce Bets
With these, you can place a bet on any set of numbers which will be displayed within an announced bet panel, much like the neighbouring bets. There are many different announce bets each with its own name and betting scheme.
Voisins du zero
"Neighbours of zero" as translated from French, this is a bet on 17 individual numbers that lie between the 22 and 25 pockets. To place this bet you would need 9 chips, which cover the following numbers: 22-18-29-7-28-12-35-3-26-0-32-15-19-4-21-2-25.
Jeu Zero
This bet covers 7 numbers, which are very close to the zero pocket, more specifically 12-35-3-26-0-32-15. You will need a bare minimum of four chips, placed on the 32-35, 12-15, 0-3 Splits, as well as one for the 26, which is a Straight Up.
Tiers du Cylindre
Translated as "a third of the wheel", this wager covers one-third of the numbers on the roulette wheel, as much as possible on a 37-pocket one, that is. This includes all the numbers between 27 and 33, or 12 in total. The sequence is 33-16-24-5-10-23-8-30-11-36-13-27 and you will need to put down six or more chips to place this bet. There are six Splits that you have to bet on 5-8, 10-11, 13-16, 23-24, 27-30, and 33-36.
Orphelis
The "orphans" bet covers two sequences of numbers located on opposite sides of the wheel. On one side we have 1-20-14-31-9, while on the other 17-34-6. This wager is made with four Split bets on 6-9, 14-17, 17-20, and 31-34, as well as a single Straight Up on 1. In total, you will need 5 chips or more to place this bet.
Finals
The finals bet is a wager on a series of numbers ending on series of numbers. For example, a bet on final sixes is a wager on numbers 6-16-26, while final zeroes refers to 0-10-20-30. Depending on which number is the final, you will need three or four chips to place this bet.
En Prison and La Partage
The En Prison and La Partage are two rules exclusive to French Roulette and are strictly in the player's favour. These are mutually exclusive, so you can only see one of them in any given game. They have a major effect on the house edge, basically, cutting it in half down to 1.35% on even money bets.
The En Prison rule comes into play whenever you place an even money bet and the ball lands in the zero pocket. Since this is a no-win situation, in any case, En Prison allows you to reclaim a part of your money. Basically, your money will be "in prison", wagered again on the same bet as the previous spin. If the result matches the bet, then your money will be returned to you, and if not, then it is lost, as it would have been without this rule.
The La Partage rule dictates that whenever you place an even money bet and the ball lands on zero you will receive half of your wager back. La Partage has the same effect as En Prison, lowering the house edge down to 1.35%, but in different ways. En Prison gives you the chance to win back your whole bet with roughly 50% chance of success. La Partage, on the other hand, is a safer, averaging the win-loss at the same chance. Since you are able to make back half or all of your money, the house edge is lowered. Unfortunately, not all online French Roulette games feature these rules, which is truly a shame.
Personal French Roulette Calculator
If you wish to evaluate your choices and compare them to French roulette chances, give it a shot by using our custom-made calculator. It's quite simple. Hover above any field at the betting layout, place your 'chip' by clicking on it, and the app will calculate winning odds, including the house edge. On the top left line, you can also see the name and type of bet you made; use that info to familiarize yourself with all available betting systems better.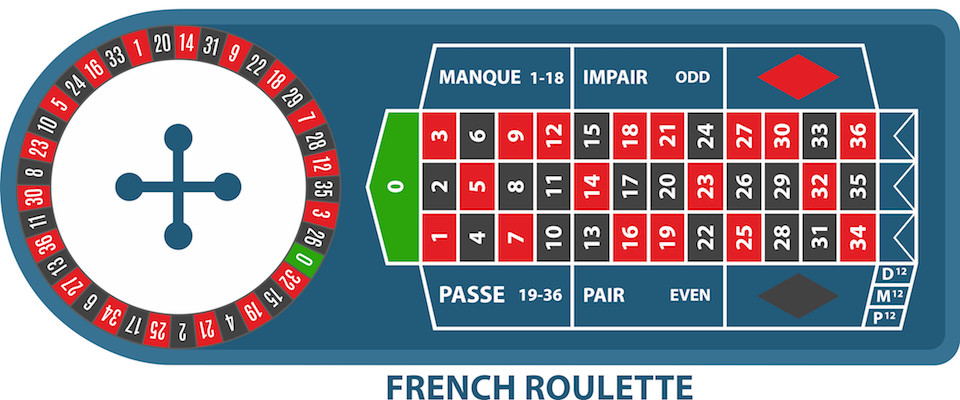 Place your bet
Chance of Winning
House Edge
Conclusion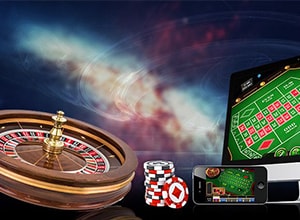 French Roulette has the potential to be the most fun version of the game and also the one with the best odds. The announced and neighbours bets really bring something new and exciting to the table, making the game that much more enjoyable. The La Partage and En Prison rule can be a huge factor in how much you win and you should definitely take advantage of that.
However, as we have already mentioned, these two rules seem to be overlooked by some game providers and as a result, their French Roulette games are nothing more than the traditional European version with a different name. In any case, French Roulette is an excellent casino game that is worth your time and attention. If you can manage to find one with all the rules and announce bets, we highly recommend that you try it out.