Just as every game that has been developed by the innovative NetEnt, Roulette Advanced can offer each and every player a personalised gambling experience which can present endless options for betting.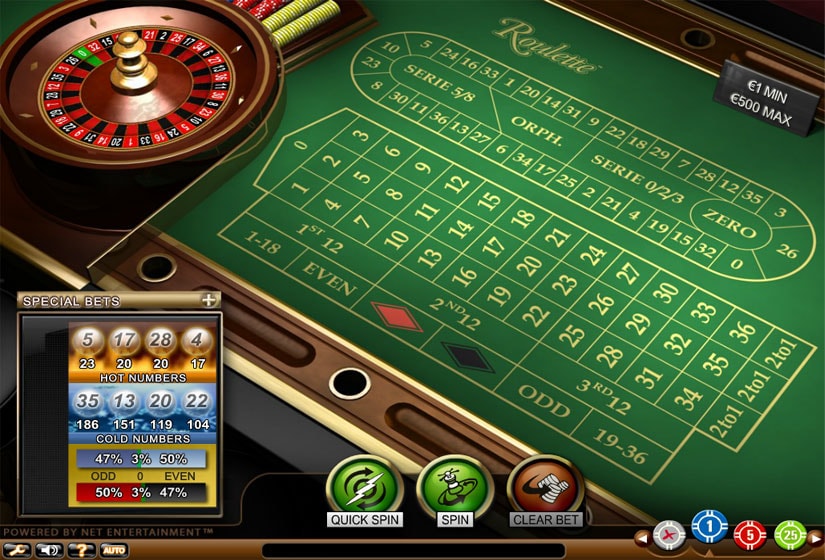 When it comes to thrilling online gambling experience which has combined in itself both the classic feel of landbased casinos and the convenience of betting at home, NetEnt knows how to provide the best version of roulette. With clear graphics, background music which can get you in the right mood and numerous betting options, you can enjoy an unforgettable experience with Roulette Advanced.
This variation of European roulette can be great for rookies who are just getting familiar with the rules and betting options of the game. You can be sure that it will take you no time to get used to the basics and soon you will be even ready to take on the advanced journey that this edition of roulette offers.

Sign Up BONUS
100% up to
$1,000
Bovada Casino
Why Bovada Casino is ranked #1:
Up to $3000 welcome bonus upon first three deposits
Well-established US-friendly brand
Top quality casino games
Extra bonuses for Bitcoin depositors

ACCEPTED
PLAYERS FROM UNITED STATES: VIRGINIA ARE ACCEPTED AT THIS CASINO

Cashback BONUS
25% up to
∞
Fair Go Casino
Why Fair Go Casino is ranked #2:
Well-established brand
Prompt payments
24/7 customer support
Wide range of casino games

ACCEPTED
PLAYERS FROM UNITED STATES: VIRGINIA ARE ACCEPTED AT THIS CASINO

Sign Up BONUS
100% up to
∞
EmuCasino
Why EmuCasino is ranked #3:
Up to $300 bonus upon first three deposits
Great loyalty program
Superb loyalty program
Great selection of table games

ACCEPTED
PLAYERS FROM UNITED STATES: VIRGINIA ARE ACCEPTED AT THIS CASINO

Sign Up BONUS
250% up to
∞
BoVegas Casino
Why BoVegas Casino is ranked #4:
Accepts players from all over the world
Great daily bonuses
Fair bonus rules and requirements
Award-winning customer care team

ACCEPTED
PLAYERS FROM UNITED STATES: VIRGINIA ARE ACCEPTED AT THIS CASINO
Specific Rules and Table Limits
Since the game is based on the rules which apply to European roulette, you have only 37 sockets on the wheel. This is a much more rewarding option, compared to the American-style version which has both the single-zero and the double-zero sockets. Playing with just one green 0 makes your chances of winning higher and the house edge is much more reasonable.
Every type of inside and outside bet is possible with Roulette Advanced. What makes the game more exciting, however, are the countless opportunities for more extravagant bets which can help you enjoy a big win. As you load the game, you will see that there is a racetrack which allows you to place call bets such as Series 0/2/3 or as many players call it Voisin Du Zero, Series 5/8, also known as Tier Du Cylindre, Orphelins Plein and Zero Game.
In addition to the call bets you can make by using the racetrack, you can also open the more advanced wagering options by clicking on the "Special Bets" button on the left side of the screen. This will show you the riskier bets, among which are the various Final Bets that you can place on the betting layout. The minimum bet you can make is €1 and the maximum is €500.
| Type of Bet | Bet Payout | Bet Limits |
| --- | --- | --- |
| Straight Up Bet | 35:1 | £1 – £10 |
| Split Bet | 17:1 | £1 – £20 |
| Street Bet | 11:1 | £1 – £30 |
| Corner Bet | 8:1 | £1 – £40 |
| Line Bet | 5:1 | £1 – £60 |
| Columns Bet | 2:1 | £1 – £200 |
| Dozens Bet | 2:1 | £1 – £200 |
| 1-18/19-36 Bet | 1:1 | £1 – £500 |
| Odd/Even Bet | 1:1 | £1 – £500 |
| Black/Red Bet | 1:1 | £1 – £500 |
Graphics and Overall Player Experience
NetEnt never tends to disappoint with the quality of their games and Roulette Advanced is a perfect example of that. With crisp graphics, realistic layout and fun music, players can enjoy the best gaming experience which they can get in the comfort of their own home.
The design of the game is simple, yet classy and players can change the settings of the game so that they can enjoy every minute of their online roulette adventure. If you are familiar with the rules of European roulette, then you will have no trouble playing Roulette Advanced. Even if you are a novice in this field, the user-friendly interface will guide you through your gameplay and you will soon become an expert in virtual gambling.
The reason why Roulette Advanced is perfect for players who enjoy the thrill of riskier bets is that there are plenty of wagering options. The racetrack allows you to make call bets and the additional list with Special Bets gives you the opportunity to explore even more gambling variants.

By accessing the Settings menu, you are able to adjust the background music, the speed of the game, as well as the specifics of the Neighbour bet. The modifications you can make will allow you to enjoy a game which fits all your preferences.
Special Features
Playing Roulette Advanced gives you the opportunity to enjoy classic European Roulette with additional "Special Bets" which can make the game more exciting and rewarding. With this wonderful edition of roulette players are granted the luxury to win money without even leaving their own house.
If the racetrack bets are just not enough, you can explore a total of 35 advanced wagering options by clicking on the Special Bets button. Red Splits, Black Splits and Final Bets are just a few of the numerous options that you can find in this menu.
Another eye-catching feature of the game is the billboard on the left side of the screen. There you can see the statistics of the game as well as information about the hot and cold numbers which are determined as such based on how often they have won. You cab also see how frequently odd and even numbers or zero have won.
There is a button on the bottom left part of the screen that says "AUTO". If you press it, you can activate the Autoplay mode and pick the number of spins you would like to play without being interrupted. You can also choose when you would like for the Autoplay mode to turn off.
If you click on the tool icon which is positioned in the bottom left corner of the screen, you will open the Settings menu where you can enable or disable the sound effects and the background music, adjust the speed of the game and change the settings for the Special Bets.
Summary
Although Roulette Advanced is a typical version of European roulette, players can enjoy a lot more freedom and variety when it comes to their betting options. With stunning graphics, a design that reminds of the roulette tables in any brick-and-mortar classy casino and plenty of settings which allow you to enjoy an authentic and unique gambling experience, this variation of European roulette is one of the best ways to win money in the comfort of your own home.
NetEnt is a veteran in the online gaming field and Roulette Advanced is the perfect example of their amazing work. Keep track of your game by taking a look at the billboard and try betting on the "hot" numbers recommended by the game. Test your luck, place a few Special Bets on the layout and you may enjoy the big win you are hoping for.