If you look up for the different e-wallet services, you will notice that Skrill is one of the most commonly used payment methods employed by players.
If you enjoy playing roulette online and you find web-based casinos a great alternative to their landbased equivalent, then you are probably looking for an easy and quick way to make deposits and cash out your winnings. You may have heard about e-wallets which have become quite popular in the iGaming field. The reason why so many people choose to manage their virtual funds via e-wallets is that it is a convenient and secure way to top up their casino balance as well as to transfer their winnings to their personal accounts. This is why many online casinos accept deposits transferred via Skrill and some players can even use this service to cash out their winnings.
Formerly known as Moneybookers, Skrill was founded in 2001 as a way to help individuals and businesses to manage their online payments in a secure and effortless manner. In 2002, the company has become the first FCA-regulated (Financial Conduct Authority) e-wallet company. As it grows, Skrill starts to develop even better services in order to help its customers to enjoy better, faster and easier online money transactions. Today, players can have a quick access to their Skrill accounts even when they are on the go. Thanks to to its mobile application, you can now make payments and withdrawals and keep track of your balance with a single tap on your smartphone.
How It Works
If you want to be able to use Skrill as your online payment method, you first need to create an account. This is completely free and it will not take you more than a few minutes. Once you have created your e-wallet, you will have to top up your account in order to be able to make purchases or send money. You will be presented with a few options to load money into your virtual wallet account.
Once you have completed your registration and you have deposited money to your Skrill account, you can go to the website of the casino where you enjoy playing roulette and you will be able to top up your account via Skrill. Most casinos do not charge any deposit fees and you can see your funds in your casino account in just a few minutes. This e-wallet service is known for its fast transactions and gambling enthusiasts do appreciate the fact that they can play with real money as soon as they make a deposit.
If you have a Skrill account you can also send money to anyone who has a valid e-mail address. In order to get their funds, recipients must create a Skrill account, if they do not have one already. You can also send money to merchants who accept payments made via this e-wallet. Sending funds to individual customers incurs a fee of 1.45% of the total amount you are sending. If you want to send money in a currency that is different than the one you have registered your account with, you will be charged a currency conversion fee. If you are using Skrill to send money to a merchant, however, you will not be charged any fee.
Creating a Skrill Account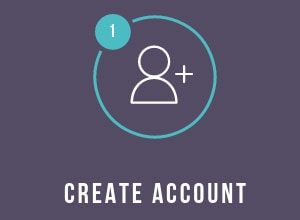 Creating your own Skrill Account will allow you to manage your online funds, make deposits to the web casino of your choice, receive or send money. All of these transactions will be carried out in a safe and fast way.
If you want to open an account, you can go to the Register section on Skrill's website. First of all, you will be asked to provide a valid e-mail address and choose a password which should contain at least one capital letter. It should be at least eight characters long and at least one of them should be a number. The next step is to provide your personal information such as your first and last name and your date of birth. The third thing you should choose in order to create your account is the country you live in and the currency you would like to process your payments in.
After that, you need to fill in the information about your address and the final step is to write down your phone number. When you are done with this step, you will be asked to verify your e-mail address. Once your account is ready for use, you can choose to activate a Two Factor Authentication which will add another security layer to your account. The only thing left to do before you can use your e-wallet is to top up your balance.
Skrill Prepaid Cards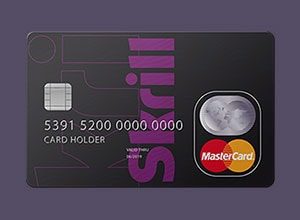 The Skrill Prepaid Card gives customers an easy access to their funds as they can use it anywhere where MasterCard is accepted. Ordering your prepaid card will take you only a few minutes and it is available in four currencies: EUR, GBP, USD, PLN. You will receive your card within 7 to 10 days. You can also withdraw cash from ATMs all around the world. Unfortunately, only residents of countries that are members of the European Economic Area and a few other countries can purchase Skrill Cards. However, the company is constantly growing and trying to expand its list of supported countries.
Most of the services that are offered to Skrill cardholders are free. You will not be charged any fee for making purchases in shops, online or for paying at restaurants. Deposits via a bank transfer, receiving cash, balance enquiries, online statements and PIN reissue are also free. The annual card fee is €10 and if you use an ATM or your transactions require a currency conversion you will be charged certain fees. However, if you are a VIP member, some fees may be lower or they may not apply to you.
Your Skrill Prepaid Card can be used in landbased casinos, betting shop, etc., however, it cannot be used for online gaming.
Skrill Mobile Application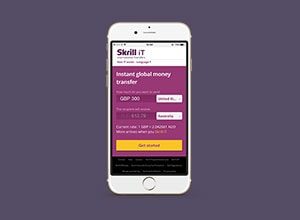 Handling your e-wallet account has become even more convenient as a result of the mobile application of Skrill which is available both for Android and iOS. This allows customers to access their accounts everywhere, at any time of the day. If you download the mobile version of Skrill to your smartphone, you will be able to top up your balance, send money or initiate a withdrawal with a single touch. You can also see a list of your recent transactions and this way you can keep an eye on your balance.
In 2012 the company launched Skrill 1-Tap service which allows customers to make a transaction with a simple tap on their touchscreen, without having to type their Account ID or password. This feature is available on mobile devices as well and it helps customers to send or receive money in a fast and easy way.
Deposits and Withdrawals via Skrill
Skrill is a platform which always provides smart, easy and secure payments for online casino players. Since it is a popular way of managing your funds, it is very likely that the web casino where you have decided to enjoy your roulette experience will accept deposits made via Skrill. Many gaming sites will also allow you to withdraw your winnings using your e-wallet account. Check the deposit and payout options of the online casino you have chosen and pick Skrill to make sure that your online funds are safe and you can make real-money bets.
Deposits via Skrill
The reason why Skrill is a great payment option is that the majority of virtual casinos do not charge any transaction fees when you top up your account via your e-wallet. This is definitely a big advantage for players who are betting real money and are expecting an excellent iGaming experience. What is even better is that your money will be transferred to your web casino balance instantly and you will not have to wait to play your favourite games.
To make a deposit via Skrill, you will have to go to the website of the casino you prefer to play at and open your cashier or banking profile. Choose the deposit option and select Skrill from the list of payment methods. Enter the amount you wish to deposit and this will open a window which will allow you to log into your Skrill account and initiate the transaction. Your funds will be transferred to your casino profile instantly.
Withdrawals via Skrill
Many virtual casinos will also process payouts via Skrill. This is quite a convenient and secure method for players to receive their money. Since many of the casinos do not charge any fees when players request a withdrawal via their e-wallet, this means Skrill users can often enjoy a more rewarding online gaming experience.
Cashing out your winnings is just as easy as making a deposit. Once again you will need to go to your cashier or banking profile. Pick Skrill as your payment method and enter the amount you would like to withdraw. Next, you will be asked to log into your Skrill account and once you complete this step, your funds will be ready to be transferred to your e-wallet. Keep in mind that withdrawals may take more time than deposits because the casino has to approve your request before the transaction of the money is completed. It usually takes between 1 to 5 business days for the completion of the transfer.
Processing Fees and Limits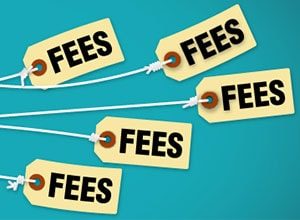 Being charged with fees always depends on whether you will use your Skrill e-wallet for personal or commercial purposes. Skrill is always trying to provide its clients with an experience which is as cost-friendly as possible. This is why if you use your e-wallet to make a purchase at a retailer that accepts Skrill, you will not be charged any fees. Receiving money into your Skrill account is free and uploading funds to your e-wallet balance usually does not involve any charges, either. Few top-up methods may involve a small charge that will be clearly stated. If you want to use your e-wallet to send money to an e-mail address or another Skrill account, you will be charged 1.45% of the amount that you have sent. For any transaction that includes currency conversion, Skrill adds a fee of 3.99% to their wholesale exchange rates.
If you upload funds to your account, you can do it for free via a bank transfer or a Maestro debit card. If you choose the Rapid Transfer as your top-up method, your fee will be 0.50% of the sum you have loaded to your balance. Uploading funds to your e-wallet via Bitcoin will cost you 1.00% of the amount you are depositing. The fee for using the service of Klarna is 1.90% of your deposit. Users who utilise Trustly for uploading money are charged 1.95% of the amount they have transferred to their accounts. You can also choose to make a deposit to your e-wallet via Neteller, however, you will be charged 3.00% of the money you have used to top up your balance.
Players can also choose a few Global Payment Methods to load funds into their Skrill accounts. It is free to make a deposit via the service of Swift. The fee which you will be charged if you use your VISA credit card is 1.90% of the amount you have uploaded to your wallet, while a transaction via American Express, Diners Club International and JCB credit cards will cost you 2.50% of the amount you have transferred to your balance. The highest fee (7.50%) is for Paysafecard.
Skrill customers might be charged with a withdrawal fee when they cash out their funds via a bank transfer which will cost them €5.50. If you initiate a withdrawal via your VISA credit card, you will be charged 7.50% of the sum you want to cash out. Using Swift will cost you a withdrawal fee of €5.50.
The maximum withdrawal that Skrill customers can make depends on the withdrawal method they have chosen as well as on their account status. For Skrill Prepaid MasterCard holders the limit for cash-outs is €900 for every 24 hours and they can buy goods and pay for services up to the value of €2,700. The limited amount you can withdraw via VISA is €4,900 every 24 hours.
It should be noted that due to the French Decree No. 2016 – 1523 and Fren Decree No. 2016 – 1742, clients from France have a cash withdrawal limit of €1000 for a period of 30 days.
If you are a VIP member, you can enjoy higher account limits. You can also increase your limits by verifying your account. To do that, you must provide an additional verification of your identity. You can do that by uploading a valid scanned colour copy of either your driving license, the photo page of your passport, national ID card, address verification document or a face match picture of your ID.
Security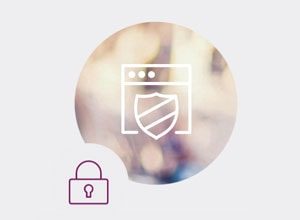 One of the main reasons why a lot of people prefer to manage their virtual funds via Skrill is because it is one of the safest ways to make transactions without putting their personal data and their money in danger.
If you make a deposit or a withdrawal using your e-wallet, you can be sure that your personal details will not be shared with the interactive casino where you play. To complete any transaction, you will be asked to fill in only your e-mail address and your password. The information which is transmitted via Skrill is protected by encryption in accordance with the Payment Card Industry Data Security Standards (PCI-DSS Level 1). This means that your information cannot be read even if someone tries to take advantage of it.
As online threats are growing bigger, people must stay safe and alert and should know that Skrill would never send them an e-mail to ask them about their password or payment details.
To make sure that your account is always protected, you can also choose to use a two-factor authentication for your e-wallet. This will allow you to add another security layer to your profile. This feature requires customers to enter a code they have received on their phone along with their e-mail and password.
Advantages and Disadvantages of Using Skrill
Skrill has definitely proved itself as a trustworthy company and in 2010, it was ranked as UK's fastest growing private-equity-backed company. There are definitely a lot of good points for players who choose to play roulette and make deposits and withdrawals via Skrill.
Thanks to its mobile application, players can have an easy access to their Skrill accounts and this way they can handle their casino account even when they are on the go. If you play roulette on your smartphone, you can easily make a deposit to your account and carry on with your betting.
This e-wallet is pretty popular and the chances your casino will accept Skrill as a payment method are very high. Skrill supports 40 different currencies and its service is available in more than 200 countries. What most players find very advantageous is the fact that the majority of web casinos will not charge them a fee when they boost their balance.
Another positive side of making online payments via Skrill is that you can be sure that your personal data will not be shared with the interactive casino where you play. This way you can feel safe while you are making your real-money bets.
Of course, there are some downsides of using Skrill as a way to process your online transactions. Some virtual casinos will not allow players to claim a Welcome Bonus if they make their first deposit via their Skrill account. This can cause players to miss out on some very attractive promotions and benefits.
Another disadvantage is that although Skrill is a very popular payment method, there are still a lot of countries where its use is restricted. This means that not all interactive casinos accept this e-wallet as a way to manage players' funds.
Conclusion
As virtual gambling has become very popular, there are more and more payment methods which are accepted by interactive casinos. Despite the variety, however, e-wallets remain one of the most popular ways to make a deposit and withdraw your winnings. This is why it is very easy to find a gambling website where you can utilise Skrill for your transactions. The popularity of this e-wallet is mainly due to the fact that it is one of the more cost-friendly payment methods and it is definitely a secure way of handling your virtual funds.
Although there are some weak links in this service, you cannot ignore the various positive qualities of Skrill. Players who use this e-wallet can enjoy fast transactions and they can be sure that their money is always handled with care and high levels of security. Skrill has definitely proved its quality across the United Kingdom but its popularity grows steadily across the entire world as well.
Related Articles