3D Roulette is an online version of the 'old-school' classic roulette game. This version of the game is played on a single-zero wheel; therefore players should follow the European roulette version rules.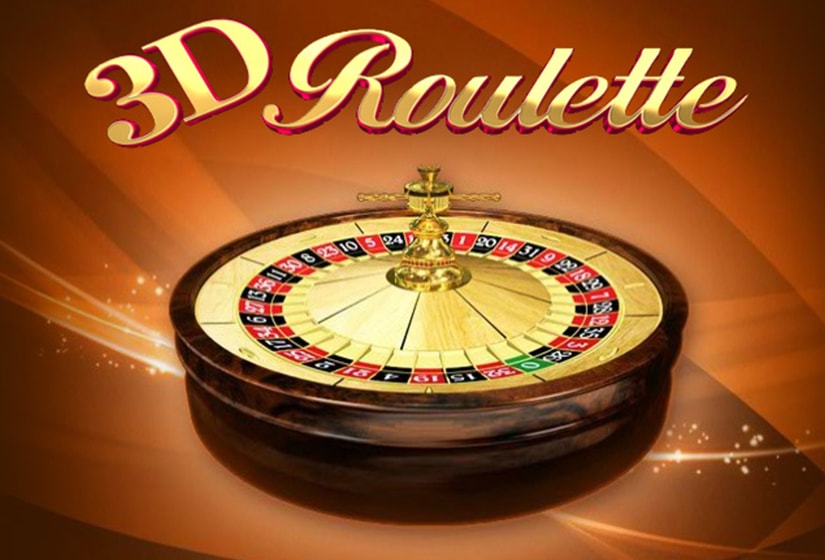 The game can be directly played in the browser if players have enabled Flash Player. Its name indicates that there are 3D animations and graphics, which will make the gaming experience even better.
3D Roulette's provider is Playtech – a company which has been providing gaming software since 1999. Playtech has been constantly updating its software and various features in order to keep things up–to-date. So, the stakes of the game provider are pretty high. Therefore, the online casino game is tailored to meet high standards and it will not disappoint players in terms of graphics, sounds and in general gaming experience. Another 'bonus' for players is that the game is fully compatible with desktop computers, Android, iOS or Windows OS devices.

Sign Up BONUS
100% up to
$1,000
Bovada Casino
Why Bovada Casino is ranked #1:
Up to $3000 welcome bonus upon first three deposits
Well-established US-friendly brand
Top quality casino games
Extra bonuses for Bitcoin depositors

ACCEPTED
PLAYERS FROM UNITED STATES: VIRGINIA ARE ACCEPTED AT THIS CASINO

Cashback BONUS
25% up to
∞
Fair Go Casino
Why Fair Go Casino is ranked #2:
Well-established brand
Prompt payments
24/7 customer support
Wide range of casino games

ACCEPTED
PLAYERS FROM UNITED STATES: VIRGINIA ARE ACCEPTED AT THIS CASINO

Sign Up BONUS
100% up to
∞
EmuCasino
Why EmuCasino is ranked #3:
Up to $300 bonus upon first three deposits
Great loyalty program
Superb loyalty program
Great selection of table games

ACCEPTED
PLAYERS FROM UNITED STATES: VIRGINIA ARE ACCEPTED AT THIS CASINO

Sign Up BONUS
250% up to
∞
BoVegas Casino
Why BoVegas Casino is ranked #4:
Accepts players from all over the world
Great daily bonuses
Fair bonus rules and requirements
Award-winning customer care team

ACCEPTED
PLAYERS FROM UNITED STATES: VIRGINIA ARE ACCEPTED AT THIS CASINO
Specific Rules and Table Limits
3D Roulette is played in accordance with the French version of the classic game. It has 37 slots in total – all of the numbers from 1 to 36 and one green slot, that is 'home' to the 0. The rules of the games are pretty undemanding. If playing the 3D Roulette, players should be aware that the minimum house edge is 2.70%. The table minimum bet is $0.50 and the maximum is $3,000.
When placing a straight up bet in 3D Roulette, bear in mind that the minimum one is $0.50 whereas the maximum is $50. The minimum bet for the Split is the same, the difference is in the maximum one – $100. Both Street and Corner bets share the same minimum – $0.50 but differ in maximum bet size – Street ($150), Corner ($200). The Line bet is set with a minimum of $0.50 and maximum of $300. Placing a bet on a Column or Dozen – minimum of $2 and maximum of $300. The minimum bet on black or red, even or odd, 1-18 or 19-36 is $5, the maximum is $300.
| Type of Bet | Bet Payout | Bet Limits |
| --- | --- | --- |
| Straight Up Bet | 35:1 | $0.50 – $50 |
| Split Bet | 17:1 | $0.50 – $100 |
| Street Bet | 11:1 | $0.50 – $150 |
| Corner Bet | 8:1 | $0.50 – $200 |
| Line Bet | 5:1 | $0.50 – $300 |
| Columns Bet | 2:1 | $2 – $300 |
| Dozens Bet | 2:1 | $2 – $300 |
| High/Low Bet | 1:1 | $5 – $300 |
| Even/Odd Bet | 1:1 | $5 – $300 |
| Black/Red Bet | 1:1 | $5 – $300 |
Gaming Experience
Players will not be disappointed in terms of graphics, animations, sounds and overall gaming experience. 3D Roulette has much to offer even to the most demanding and fussy players. Playtech is constantly updating its games and thus improving them in every possible way. The 3D version of the game is certainly more interesting and eye-catching than regular versions of the classic game.
The 3D Roulette has a user-friendly interface and easy to navigate menus and settings. Players could even switch on a special audio mode, which immediately sends them to a real-casino atmosphere while sitting in the conveniences of their homes. The rotating wheel in the center of the game is designed in an advanced matter and various details could be removed or added to it, in order to make things as realistic as possible.
All of the 3D graphics and animations are running smooth and do not lag at all on any device since they are fully optimized and the overall speed and graphics of the game adapt to the performance of your device. But if there is some kind of delay in the gameplay, users are able to lower the quality, or turn off a certain animation in order to play smoothly. And that would not decrease in any way the overall gaming experience.
Special Features
There are also some special features in the game. They are designed in order to suit the preferences of each player, so that users can really take the maximum out of the game.
The 3D roulette is fully mobile- compatible – it is running smoothly on any Android, iOS or Windows Phone device. The game is available for desktop computers, laptops, smartphones or tablets so that each user is fully satisfied with these terms.
Since it is 3D Roulette, the game graphics are really detailed. The settings menu for them goes by the name Visual. It is situated on the bottom left side of the game and has much to offer. The central wheel is very realistic due to the possibility to turn on and off the turret details, turret arms, the number shading, centre lines or the fast chip removal option. Therefore, in order to tailor the gaming experience to all kinds of preferences, all of these features could be enabled or disabled.
The so-called 'racetrack' is available on the top left side of the game window. The more experienced players could place call bets there if they are playing in accordance with some kind of strategy.
In the main game settings, online gamblers can choose whether to switch on or off the relaxing music in the background. And if players want to go closer to the actual casino experience while being at home, they could enable the so-called 'Dealer Voices'.
Conclusion
3D Roulette is an amazing alternative to the land-based casino roulette. The game is fully compatible with all sorts of devices so that players who have more busy schedules could place some bets while waiting for the bus, for instance. It is one of the best available in the online casino games market.
The company behind the software has brought new life to the three-centuries-old game with the 3D turret and various animations. The game is absolutely suitable for non-experienced players since it could be played in Practice Mode with no real-money bets. 3D Roulette will also give these players the real casino atmosphere with the Live Dealer Voices function. It is very realistic and will definitely guarantee hours of top notch gaming experience. The availability of the 'racetrack' is a feature that more advanced users would certainly approve of.