One of the most successful and prominent providers of online casino software, NetEnt offers a complete gaming solution to some of the largest gambling platforms on the Internet.
Although the studio focuses on online slots and jackpot games, its wide, diverse gaming portfolio also includes virtual and live versions of casino classics such as poker, baccarat, and of course, roulette.
The roulette titles offered by NetEnt are currently some of the best on the market but for most avid roulette players this should not come as a surprise considering the important place the company takes in the digital casino industry. Originally Swedish, it launched in 1996 as Net Entertainment but we can trace its roots back to the first gambling operators in Scandinavia which handled most of the betting and gambling facilities in the region for decades. Today, with more than twenty years of experience, NetEnt is a globally recognized brand and a leader in the development of premium online casino games and software solutions.

Sign Up BONUS
100% up to
$1,000
Bovada Casino
Why Bovada Casino is ranked #1:
Up to $3000 welcome bonus upon first three deposits
Well-established US-friendly brand
Top quality casino games
Extra bonuses for Bitcoin depositors

ACCEPTED
PLAYERS FROM UNITED STATES: VIRGINIA ARE ACCEPTED AT THIS CASINO

Cashback BONUS
25% up to
∞
Fair Go Casino
Why Fair Go Casino is ranked #2:
Well-established brand
Prompt payments
24/7 customer support
Wide range of casino games

ACCEPTED
PLAYERS FROM UNITED STATES: VIRGINIA ARE ACCEPTED AT THIS CASINO

Sign Up BONUS
100% up to
∞
EmuCasino
Why EmuCasino is ranked #3:
Up to $300 bonus upon first three deposits
Great loyalty program
Superb loyalty program
Great selection of table games

ACCEPTED
PLAYERS FROM UNITED STATES: VIRGINIA ARE ACCEPTED AT THIS CASINO

Sign Up BONUS
250% up to
∞
BoVegas Casino
Why BoVegas Casino is ranked #4:
Accepts players from all over the world
Great daily bonuses
Fair bonus rules and requirements
Award-winning customer care team

ACCEPTED
PLAYERS FROM UNITED STATES: VIRGINIA ARE ACCEPTED AT THIS CASINO
The quality of the games in its portfolio was made to meet even the highest expectations of both players and casino operators. Whether it is online slots, virtual table games or live dealer games we are looking into, the graphics are exceptional, the gameplay is intriguing, while each game has multiple customization options. This provides players with a personalized gaming experience that is lucrative, action-packed and highly entertaining.
Each NetEnt game, including the several roulette variations created by the studio, is innovative, with great performance and user-friendly interface. Staying at the forefront of technology, the renowned gaming studio is also creating mobile versions of its catalogue, with the first mobile game arriving in 2011. Today, casino players can enjoy a wide variety of games available on all mobile platforms, pooled jackpots, cross-game rewards and bonuses, as well as popular branded games.
NetEnt Roulette Software
Roulette has always been one of the most popular table games in land-based and online casinos, so similarly to other large software providers, NetEnt has a diverse roulette offering. The collection includes all standard types of the classic game, as well as several modern additions tech-savvy players would love to try. The table limits are flexible to suit every budget, there are diverse types of bets, while some of the games include fantastic soundtrack entries along with the authentic casino sounds.
The roulette titles, as well as the other games of the studio, are hosted by more than a hundred web-based casinos with the help of its award-winning CasinoModule. As the core software product of NeEnt, CasinoModule is a complete gaming platform that supports more than 200 games across various categories. Along with the top performing, world-class games on offer, it includes a powerful management tool called BackOffice. Designed specifically for casino operators, it allows them to keep track of players' activity, to view different statistics, and to set up customized bonus programs.
The collection of Flash-based roulette games include a standard version of the iconic casino classic, as well as European, French and American roulette. The fantastic Roulette Touch was developed specifically for touchscreens and it is compatible with all Android, iOS or Windows operated mobile devices. The majority of games have been converted to HTML5 as the new technology provides better graphics, animations and sounds, while most tech giants are slowly, but steadily moving away from Flash. All NetEnt roulette titles will also be available in the new, more advanced format, so players can enjoy far more superior graphics and better performance.
NetEnt Live Roulette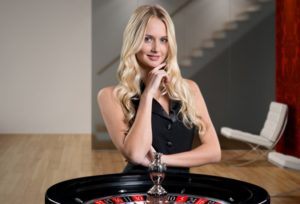 The Swedish gaming studio is also recognized as one of the top suppliers of live casino solutions in the world. And its most sophisticated offering is certainly the Live Roulette HD, which is an European-style roulette that is played just like you would play at a brick-and-mortar casino. The game sessions are hosted under the guidance of professional croupiers and streamed in real time from casino studios using high-definition cameras.
Of course, NetEnt's Live Roulette HD is not available in free mode, so in order to access the game, punters need to open real-money accounts at their preferred online casino. They have two options when it comes to camera angle – either roulette wheel view, or a dealer view. Moreover, there is a convenient Live Chat functionality allowing them to communicate directly not only with the dealers but also with their fellow players at the table. One of the most exciting features of the live version is that bets can be placed after the wheel starts spinning. All these create an experience that is as close to the roulette game in a brick-and-mortar casino as possible.
When you open the Live Roulette HD, you can play it in a manner that is identical to what you would expect in a land-based facility – you can place your bets, see the dealer announces "No more bets" and releasing the ball on the spinning wheel. Once it falls on one of the numbered pockets, the payout is credited to your balance immediately. The game offers all standard inside and outside bets, as well as five special bets that are placed on the racetrack layout – Tiers, Voizins, Orphellins, Zero and Neighbours.
All bets can be doubled, undone or redone by clicking on the respective buttons in the bottom of the screen. Next to them, you can see the available chips you can play with – €1, €5, €25, €100, and €1,000. Bets are available from €1 to €75,000, while the payouts (which are standard) can be viewed from the Info section in the lower left corner of the screen. You can also take advantage of the Favourite Bets panel or the Dynamic Billboard panel where you can keep track of the last 15 winning numbers, as well as the "hot" and "cold" numbers of the past 100 spins. The game has a theoretical RTP of 97.30%.
Roulette Touch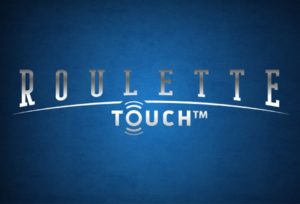 One of the first games NetEnt created for its browser-based Touch platform was roulette, which since the begging in 2013, was available for both iOS and Android devices. However, the game has gone through dramatic changes and upgrades, so that it stays up-to-date with the latest technological innovations and mobile trends. Through careful development and focusing on performance, the gaming studio has managed to avoid some of the biggest issues of mobile games, namely gameplay and graphics. As a result, Roulette Touch has a sophisticated, modern look and smooth, easy gameplay that are in no way inferior to the original roulette games available for desktop.
This is a European-style online roulette, featuring 36 red and black numbered pockets, and it follows all standard rules applicable to most virtual roulette games. There is no racetrack layout, so no additional French bets can be placed – only the classic inside and outside bets. The easy-to-use interface allows you to open the game in landscape mode and select a language or a currency (the game is available in more than 25 languages). You can play even without registration, as there is a convenient free play mode where you bet demo credits. The low table limits (€1 to €500) would suit low-rollers.
Once you place your bets, the wheel will open up as a pop-up in the centre of the screen. Normally, popping windows are quite frustrating for most mobile users, but in this game, they are conveniently designed to show all important data such as current bets, winning numbers, and of course, the spinning wheel. Among the additional features, you will find Autoplay which allows setting up to 1,000 automatic spins, Quick Spin, and changing the background colour between green and blue.
NetEnt Roulette Games
There are several roulette titles in NetEnt's virtual gaming portfolio and although they do not differ significantly from each other, they were designed with different types of casino players in mind. Some of the games have lower table limits, while others would suit high-rollers and those who, in general, tolerate higher risk. All games, however, stand out from most of the offerings by other providers with their high-quality graphics, user-friendliness, and smooth, seamless performance.
Standard Roulette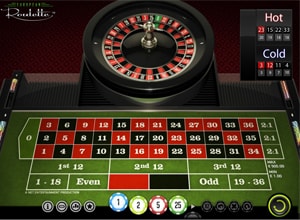 NetEnt's standard version of roulette can be found in a large number of online casinos under the title Roulette. It is available in three variations – regular, low-limit and high-limit, so you can choose the game that is most suitable for you. It is an online version of European roulette where punters need to predict where in the 37 numbered pockets of the wheel the ball will land in. As expected, all the standard bets are available – insides such as straights, splits and more, as well as all outside bets such as black/red, low/high, even/odd, dozens and columns.
In addition to the bets you place directly on the table layout, the game features a racetrack for the additional bets you may know from French roulette – Les Voizins du zero, Tiers du Cylindre, Orphellins, red and black splits, neighbour bets, and final bets. In the Billboard panel in the left side of the screen, you can also place bets on hot or cold numbers. Just like other roulette games by NetEnt, this also displays various statistics such as the previous winning numbers – whether they were red or black, even or odd, etc.
In the regular version of the game, the minimum bet you can place on the table is €1, while the maximum reaches €500. The low-bet option allows bets from €0.10 to €50.00, while those who prefer to play with higher stakes should try Roulette High Limit. The table limits in this version, however, will depend on the casino you are playing.
European Roulette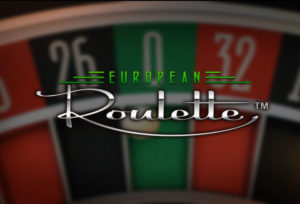 For those who are not familiar with the European style of roulette, let us just say that this is the most widespread type of roulette across Europe. In fact, it can be found all around the world and is known as the "classic" roulette variation traditionally played for centuries. It comes with 36 red and black numbers, as well as one zero pocket on the wheel which is coloured in green.
NetEnt's European Roulette is beautifully designed, featuring a sleek, black wheel positioned in the upper centre half of the screen, while below, we can see the classic green table layout. The table limits (€1 to €500) are displayed on the right and above them, a small panel shows all the numbers considered hot or cold. In the bottom half of the screen, you can see the coloured chips in denominations from €1 to €500. Left of them, there are interesting buttons that open the paytable, the statistics, your favourite bets, as well as the racetrack and 35 additional bets. All other buttons such as Spin, Double, Undo and Clear Bets are positioned on the right. Of course, all inside and outside bets are available.
French Roulette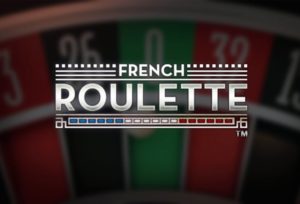 The French variation of roulette
is available in a standard and a low-limit format, with limits starting at respectively €1 and €0.10 and reaching €500 and €50. If you are familiar with NeEnt's European roulette, this game will seem almost identical to you – it has 37 numbered pockets on the wheel, it has inside and outside bets, and it also features an optional racetrack for all additional bets, often called French bets. The gameplay, the design and all available options for the two games are the same.
There are only two differences you will notice – the table is in a nice blue colour and all bets on the layout are written in French. None of these, however, will change or affect the gameplay or the betting in any way.
American Roulette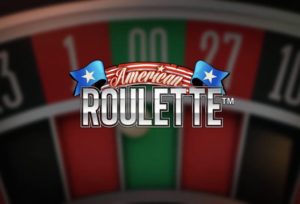 Another visually stunning casino game by NetEnt,
American Roulette
is available for free or real-money play in many online casinos. In its design and appearance, it resembles the studio's European and French Roulette games but in this case, the looks are deceptive. Before opening this variation of the classic casino game, you need to know that wheel here features an additional pocket, namely the green-coloured double zero. It may sound like a tiny difference but this extra pocket has a direct effect on the house edge of the game, increasing it to 5.26%. So, the theoretical Return to Player is only 94.74% and when making a top line bet, it is even lower at 92.11%.
Just like the French-style game, it comes with a nice blue table, beautiful graphics, and smooth animation. The betting layout resembles NetEnt's European Roulette with the exception of a couple of green fields on top of the numbered grid for the single and double zero. All buttons are positioned in an identical manner, but if you switch on the racetrack layout, you will be able to place only neighbour bets without the popular French betting options. Once again, the table limits are rather low – from €1 to €500.