Roberto Ladera, managing director of the prestigious Casino Municipale di Sanremo on Côte d'Azur in the spring of 1968, liked his job immensely. Gambling at one of the oldest world's casino — opened in 1905, spanning 27,000 square feet, hosting close to forty tables — was booming, offering a wide variety of popular and traditional games at the historic venue built in the palatial Art Nouveau manner. Revenues were high; the city with rich cultural experience and great cuisine deemed as the crown jewel tourist destination on the Mediterranean served as a magnet for worldwide casino patrons. What was there not to like?
A man named Richard Jarecki.
If it wasn't for him, all patrons present on that evening would have been playing their games. Instead, at the moment, not a single table was operational except for the one Jarecki was playing roulette at; everybody gathered around to see whether he'll win or lose the highest amount ever staked in the casino thus far.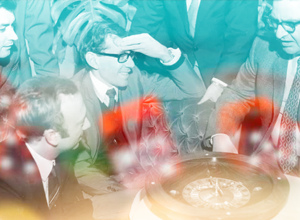 If it wasn't for him, Roberto wouldn't have to move in closer, only to notice his traditionally unconcerned croupier nervous while observing the wheel.
The tormentor was well known to Ladera. For two weeks he has been coming, again and again, cleaning up the casino for over $250,000 (close to $1.9 million nowadays); funds to pay his winnings had to be brought from the reserve, which was something casino had not done in well over a decade.
Now, the managing director was looking forward to Jarecki's downfall.
To Roberto's dismay, a collective long-drawn-out exhale sweeping the casino floor was enough to inform him of the outcome — very soon he was to host Jarecki in the back office and pay him $1 million (the equivalent of $7.2 million today).
The opportunity to spend time alone with Jarecki was all Ladera needed. "We are going to have some reorganization. Please do not return for two weeks".
What could prompt the managing director to go such length?
According to Roberto, "a distinct threat, [forcing] casino to either have to cut down its maximum permissible stake — which would in itself be a ruinous thing to do — or ban [Jarecki] altogether, [which] would not be good publicity for the casino".
The level of menace triggered the municipal council of San Remo to hold an emergency meeting after Richard's visit. To devise recovery plan required time, hence two weeks. Same has already been done by casinos in Monte Carlo, Nice, and Cannes upon hosting this very unusual visitor.
To understand the origins of their urge, we'll have to rewind the time a bit.
The History Behind the Man
When it comes to the biggest names in gambling history, few almost instantly come to mind. Daniel Negreanu, Erik Seidel, Phil Ivey, Edward Thorp, Archie Karas, Terrance Watanabe, Akio Kashiwagi. They were all masters of their games with rather prolific life stories.
None of them, however, ventured into roulette, a game perceived as pure chance. Even the baccarat whales stayed out of its path.
Richard Wilhelm Jarecki turned out to be not only one of the best roulette players ever but also a medical professional and the servant of society, a family man and gambler with the brilliant mind and deep understanding of gambling as well.
He was born in 1931, in Stettin, Germany, to Jewish parents, Dr. Max Jarecki, a dermatologist, and Gerda Kunstmann, heiress to shipping empire.
At the time of his birth, the Kunstmann Shipping Company — established in 1870, by Gerda's grandfather Wilhelm — was one of the biggest companies in the Baltic Sea area. The fleet consisted of 46 ships with the capacity to transport 108,000 tons of load, employed for the worldwide tramp trade and the transport of iron ore and coal from Sweden to Stettin (at the time, part of Weimar Germany and the third-largest port in the country, next to Hamburg and Bremen).
After 1933, with the rise of the National Socialists regime, Kunstmann's operations became increasingly insecure due to ethnic descent. In 1936, Arthur, Gerda's father, was forced to sell the company to Johannes Fritzen & Sohn; the family had received confidential indications from the Berlin Government that sell to foreign countries would deteriorate rapidly.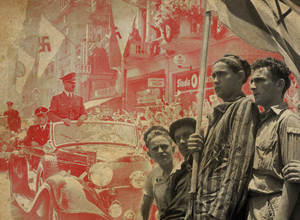 The purchase funds were transferred to Great Britain, where the Kunstmanns sojourned en route to the United States and emigration. Gerda's brother Werner spent four months in a British prison for this "cooperation with Nazi Germany".
Once overseas, Richard Jarecki grew up in Asbury Park, New Jersey, and attended Asbury Park High School. Upon graduation from Duke University, he went on to complete his medical residency at what is now the Jersey Shore University Medical Center in New Jersey, from 1959 to 1961.
There he met his future wife, Carol Fuhse, who was a nurse. She attended the same high school and graduated from the Graduate Hospital, University of Pennsylvania, with a certificate in anesthesia.
Shortly after, they moved to Germany where Richard got his medical degree at the University of Heidelberg. While there, Carol took up aviation as a hobby, earned her pilot license, and has been an avid pilot ever since.
Upon return to America, the couple married in 1964.
Dr. Jarecki worked as a medical researcher in New Jersey until 1967, when the family moved again to Germany where Richard was to continue his studies in electrophoresis, a technique used in the laboratory to separate charged molecules, like DNA, in accordance with their size.
While at Heidelberg University, Dr. Jarecki worked as a research associate and professor in forensic medicine.
In July 1968, he was the recipient of prestigious Dag Hammarskjold International Prize and Peace Prize — "cited for his work for international cooperation in medicine" — together with Dr. Christiaan Barnard, the South African surgeon who performed the first human heart transplant operation in the world a year earlier.
The System Improved by the Man
At the start of the decade, Richard developed an interest in roulette intrigued by stories about the game which cannot be beaten. Possessing an analytical mind and a keen eye, he began developing a scheme to break it — not because he wanted to turn into professional gambler but to test whether it can be done.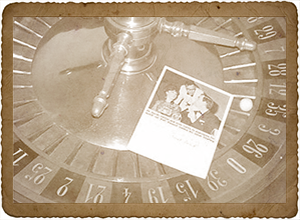 Realizing it's something that has occupied a great number of gamblers for a long period of time, he spent years experimenting and devising the system.
During his initial surveys of Baden-Baden casinos tables in Germany, done on weekends in between his work during the first stint at Heidelberg, Dr. Jarecki noticed cards and dices replaced every night. Roulette wheels, on the other hand, remained in service for years, if not decades, before being substituted.
Reasoning these wheels wear and tear, like mechanical part of any machine, he began to suspect tiny defects — scratches, dents, scrapes, splinters, uneven surfaces — might result in certain wheels landing on particular numbers more often than randomosity suggests.
Thus, he decided to set the foothold of his system by calculating the most likely number to win based on the last three results.
"One must start somewhere and I began by trying to calculate if numbers 1, 2, and 3 won the last three rounds, what was most likely to win the next three."
The system was basically observational, relying on wheel bias present in roulette circles since the 1870s.
Joseph Jagger, an English engineer, first used it to beat roulette in 1873, at Beaux Arts Casino in Monte Carlo — he won what amounts to $9 million today.
Albert Hibbs, an ebullient mathematician that masterminded the U.S. unmanned space program, took a time off from his graduate studies in 1947, together with Roy Walford, later to be known as medical doctor and a pioneer in the field of caloric restriction, and won what amounts to $140,000 today at casinos in Reno and Las Vegas. (Dr. Roy Walford estimated they jointly gained close to $480,000.)
Helmut Bruno Berlin won an equivalent of $420,000 at Mar del Plata casino in 1951, after a year of study and play.
As Ms. Jarecki will note decades later in Richard's obituary in the New York Times, the system"[wasn't] something he invented, [but] something he perfected".
Now, defining wheel bias is a fairly simple process.
In order to establish the bias, one cannot just look at the wheel but needs to record a large range of spins and break down the data. The number of observed spins depends on whether one is trying to determine section or number bias.
Section bias is defined by a group of numbers favored by the roulette wheel. The observer needs to watch a wheel for at least 500 spins in order to locate a biased section, which requires approximately 8-12 hours to accomplish.
Number bias is when the wheel inclines toward specific pockets. An infinitely harder bias to determine, for it requires specific numbers to be dealt with, it forces the onlooker to watch at least 5,000 spins which may take 80-120 hours to complete.
Once the data is collected, they are put into a computer in order to determine if there is a bias, and where it leads. If the wheel is not faulty, the observer moves to the next table and repeat the process.
Scouting hundreds of wheels with Carol — from Monaco to France, Italy, Germany, and briefly, Las Vegas — Dr. Jarecki observed up to 10,000 roulette results monthly, on average.
In time, they recruited eight "clockers" increasing recordings to as many as 20,000 spins each month.
Sometimes wheels did not yield any observable benefit. But in a number of cases, the European roulette tables proved all of Richard's suspicions and hypothesis correct — they were old, cheap, permeated by defects.
The Torment Run
After years of manually recording and analyzing data looking for statistical anomalies, Dr. Jarecki felt he had enough to feed them into the computer and compare results. He was amazed to learn the results coincided exactly with his study.
"I thought this was perhaps too much of a coincidence."
Upon consultation with Carol, they decided to invest $100 ($750 today) — money saved for holidays — in his test run at Monte Carlo.
"It was the only time I really gambled. I knew that my system should work and that both the computer and I could not be wrong, but the odds were still against us. The element of chance is something you cannot entirely rule out."
He staked his bet and went back home with $5,000 (close to $40,000 nowadays).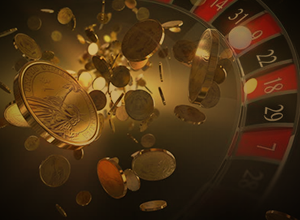 The theory proved to be right, the pattern was set, and his personal roulette system and strategy was born.
What remained to be done is — execute it in European casinos.
Securing the $30,000 loan from a Swiss financier — close to a quarter of million dollars today — Richard embarked on a sweeping quest.
A few years later, he netted the modern equivalent of close to $8 million, although some sources go as high as $11 million.
Playing part in Dr. Jarecki's success was also the difference in the roulette house edge of European and American wheels. The former has one zero, a total of 37 pockets, giving a house edge of 2.70%; the latter has two zeros, 38 pockets in all, providing for a house edge of 5.26%.
As explained in an interview with the Sydney Morning Herald in 1969, it's not like Dr. Jarecki won all the time. Instead, the system provided him with a tool to lose smaller stakes and win large ones.
"I lose like other gamblers but sometimes I lose with the purpose of determining the three previous numbers immediately before staking a very heavy bet".
Back in those days, few casinos accepted roulette bets exceeding $5,000 thus he would bet small amounts before placing a high bet on anything between $1,000 and max sum.
Becoming rapidly all too well known in casinos' circle, gambling halls were not too anxious to accept his highest bets. However, fearing bad publicity, they unwillingly agreed.
By 1969, he had become"a menace to every casino in Europe".
As Roberto Ladera noted after Dr. Jarecki won the biggest sum at the casino by any man at the time, "I don't know how he does it exactly, but if he never returned to my casino I would be a very happy man".
Trying to end his winning streaks, casinos switched wheels between tables. To no avail — Jareckis memorized all marks and telltale signs on individual wheels, enabling Richard to recognize ones to be played at.
The Publicity Peak
Finding himself at the center of publicity and ensuing interest about his system, Dr. Jarecki told media he had cracked roulette with the help of powerful computer at the University of London. While it was plausible and flew well with reporters, it was far from the truth.
Richard accomplished his feat with zero electronic assistance but instead with painstaking observation, mind-blowing dedication, outstanding analytical and mathematical skills, and above all, determination to rise to the challenge, conquer it, and then fade back into the ordinary life.
Once the press got its hand of him, Richard raised to the status of the hero of every student in his university, previously being looked upon as "an egghead," with the usual contempt.
To the contrary, his father, Dr. Max Jarecki, was not at all too impressed.
In the article in Asbury Park Sunday Press, Max stated that he would prefer his son to"make news in the field of medical research than at the roulette tables in Europe".
At the time dermatologist with a practice in the United States, the senior Dr. Jarecki said he suggested to his son to find about the rejection of transplanted organs, deeming a discovery about such chemical rejection as far more important instead of inventing a gambling system.
In addition, Dr. Max Jarecki openly attributed Richard's winnings to "luck".
As we know now, there was almost no chance involved in Richard's endeavors.
Returning again and again to casinos he ran his course until gambling halls began to replace roulette wheels altogether. San Remo casino changed all of theirs, 24 in total, at a steep cost, deeming it the only way to stop him.
Furthermore, vendors began to manufacture them more prudently, allowing for fewer exploitable opportunities and biases, and it was time for Dr. Jarecki to end his exploits.
Being content with what he had achieved, happy he proved his system to work, he returned with his family to the United States in 1974.
Jareckis Family Legacy
He started a new career as a commodities broker, working at times with his brother, Dr. Henry Jarecki, a psychiatrist and a billionaire dealer in silver and gold.
Henry, too, was not shy of making the news. In 1954, during his medical studies at Heidelberg University — brothers had almost identical education — "he visited East Berlin, was arrested for violating East Germany's economic laws, and [was] released after two weeks".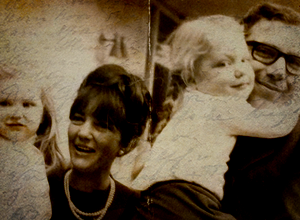 Taking the entrepreneurial path in life, Henry was also involved in a movie and Broadway production (three of his four sons are filmmakers), operations of a Caribbean resort, environmentalism, and philanthropy. In 2010, he donated $84 million to the development of the Heidelberg science center campus. In 2014, Henry's net worth was reported to be $1.3 billion.
Richard turned out to be quite a successful broker. In time, he multiplied his gambling fortune ten times over. During the 1980s, he was named a governor of COMEX, Commodity Exchange Inc., one of the principal division of the New York Mercantile Exchange.
Spending his time on the East Coast and in Las Vegas — Carol had a home there — Richard continued to play roulette and blackjack in casinos in Atlantic City and Sin City, when not being with his family.
He successfully passed down his penchant for games to his son John, which actually set the tone for the rest of Ms. Jarecki's career and life.
In 1981, John became the youngest ever chess master in U.S. history at the age of 12.
Carol started flying him to tournaments, in the best manner of a ChessMom and got involved in the organization of contests. In 1984, she was awarded the International Arbiter title by FIDE and served in several Olympiads and World Championships. She was Chief Arbiter for several Kasparov's matches, including the famous one against IBM Deep Blue in 1997.
Nowadays, Carol Jarecki serves as Chief Arbiter for the U.S. Women's Championship and National Tournament Director, even though John Jarecki is no longer an active player.
Richard's two daughters went on to become highly educated businesswomen. Divonne Holmes à Court, J.D., is a corporate attorney living Australia; Liana Jarecki, Ph.D., is an environmental consultant spending time between North Carolina and the British Virgin Islands.
In the late 1990s, Jarecki's moved to Manila, Cuba, since Richard preferred the lifestyle there. He continued to play in local casinos, favoring them over those run by Americans.
In fact, he played roulette until the end of his life. His last game was in December 2017, at a tournament in Manila. He won.
Dr. Richard Jarecki died on July 25, 2018, at the age of 87, at his home in Manila, from pneumonia.
The Sum of All Fears
Regardless of his gambling wins and the torment Richard represented in his days, in reality, casinos across Europe had much bigger fear than the money itself.
They were worried Richard might pass his system on to other people causing casinos to go bankrupt.
In fact, his exploits prompted gambling halls to invest heavily in the production of roulette wheels and their monitoring.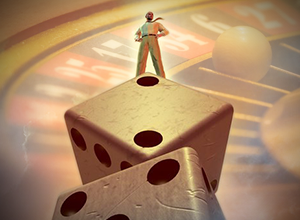 In the early 1980s came Starburst wheels, which played a significant role in reducing the effectiveness of wheel bias advantage to gamblers. John Huxley followed, manufacturing exquisitely handcrafted, reliable, and secure wheels using a combination of advanced engineering and traditional craftsmanship.
Additionally, spins and wins are digitally recorded nowadays; these electronic boards are on display at many contemporary roulette tables. They display the last 10-20 results for players who use trend betting but also serve the casino to spot biases.
Finally, equipment inspections are a common thing today. Casino staff tests roulette wheels when they're down, ensuring that the frets, pockets, and wheel shaft are all working properly.
To his credit, Dr. Jarecki never had intentions to share his discovery with anyone else.
First and foremost, "he didn't enter the gambling world to become rich but to prove that roulette can be beaten".
Furthermore, as he noted, "he was not willing to hand his prescription for instant success at the roulette table over to the world, since 'it would not be quite fair — if a dozen of people had the system they would probably close down all the casinos in Europe and take so much fun out of life for so many people'".
In such deep understanding of gambling at its core — which is first and foremost the fun — lays perhaps the greatest value and the legacy of Dr. Richard Wilhelm Jarecki.
Yes, he was one of the best roulette players ever, a medical professional and a significant servant of society, successful businessman, a family man and, as far as we could say, a decent human being, but above all, he possessed the deep insight of casino world.
Gambling, as well as life, is all about chances and opportunities we all have to take by ourselves. Every chance we get might be the one to seize or to pass.
To deprive us of an opportunity to take a chance on chances would be to divest us not only of the whole fun but life itself.
Dr. Richard Jarecki is the man who knew this all too well.
Maybe that is what we should remember him for, short of his responsible, educated, well-protected, and measured approach to roulette, the ultimate game of chances.