Do you fancy the thrill of playing pinball machines? Are you bored with traditional roulette games because they get very monotonous over the course of time? If the answer to these questions is yes, then Pinball Roulette might be the one for you.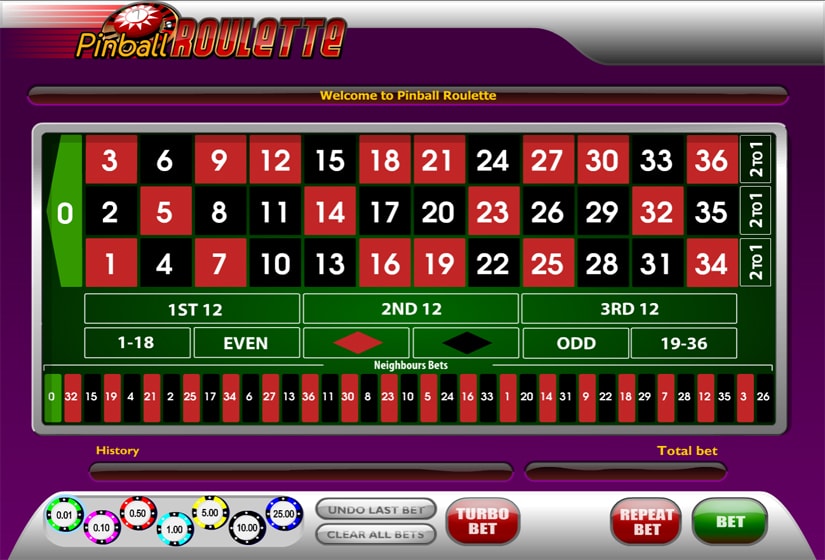 All of the leading online software developers are looking for new ways to spice up their products. One way of doing that is by incorporating special features and playing styles. Since Playtech is certainly one of the major names in the business, the company is not an exception.
Playtech's interesting approach to the traditional game will certainly be approved by the players who are looking for a unique gaming experience. It will provide endless hours of fun because of its superior pinball layout and special features. What's more, it is fully mobile-compatible, which makes it suitable for online gamblers with more a busy schedule.

Sign Up BONUS
100% up to
$1,000
Bovada Casino
Why Bovada Casino is ranked #1:
Up to $3000 welcome bonus upon first three deposits
Well-established US-friendly brand
Top quality casino games
Extra bonuses for Bitcoin depositors

ACCEPTED
PLAYERS FROM UNITED STATES: VIRGINIA ARE ACCEPTED AT THIS CASINO

Cashback BONUS
25% up to
∞
Fair Go Casino
Why Fair Go Casino is ranked #2:
Well-established brand
Prompt payments
24/7 customer support
Wide range of casino games

ACCEPTED
PLAYERS FROM UNITED STATES: VIRGINIA ARE ACCEPTED AT THIS CASINO

2nd Deposit BONUS
25% up to
€100
EmuCasino
Why EmuCasino is ranked #3:
Up to $300 bonus upon first three deposits
Great loyalty program
Superb loyalty program
Great selection of table games

ACCEPTED
PLAYERS FROM UNITED STATES: VIRGINIA ARE ACCEPTED AT THIS CASINO

Sign Up BONUS
250% up to
$5,500
BoVegas Casino
Why BoVegas Casino is ranked #4:
Accepts players from all over the world
Great daily bonuses
Fair bonus rules and requirements
Award-winning customer care team

ACCEPTED
PLAYERS FROM UNITED STATES: VIRGINIA ARE ACCEPTED AT THIS CASINO
Specific Rules and Table Limits
The game looks really different from other variations of the classic version. But this should not scare beginner players. Pinball Roulette follows the rules of the European version since it is played on a single-zero pinball strip comprising 37 numbers. Therefore, it has a house edge of 2.70%. It has pretty undemanding rules and could be easily mastered.
In this version, the biggest difference from any other roulette game is the lack of a wheel. The result of each wager is settled by a small white ball, which jumps in a virtual pinball cabinet and eventually lands in one of the pockets at the bottom of the screen. In addition, after each winning bet, users could play a Bonus Round, in which they could either win up to 10 times more than their last bet or lose what they have won on the previous round.
The table minimum is £2 and the maximum is £1,000. But users should bear in mind that there are various table limits, which are set by each casino. Playtech is a renowned company and its games are played in numerous online casinos so gamblers must be aware of the table limits before initiating a game. Players could place all of the inside and outside bets as well as the more advanced Neighbour bets.
| Type of Bet | Bet Payout | Bet Limits |
| --- | --- | --- |
| Straight Up Bet | 35:1 | £2 – £500 |
| Split Bet | 17:1 | £2 – £500 |
| Street Bet | 11:1 | £2 – £500 |
| Corner Bet | 8:1 | £2 – £500 |
| Line Bet | 5:1 | £2 – £500 |
| Columns Bet | 2:1 | £2 – £1,000 |
| Dozens Bet | 2:1 | £2 – £1,000 |
| 1-18/19-36 Bet | 1:1 | £2 – £1,000 |
| Odd/Even Bet | 1:1 | £2 – £1,000 |
| Black/Red Bet | 1:1 | £2 – £1,000 |
Gaming Experience
Meeting the highest standards of gaming experience has always been a priority of) Playtech. This version of roulette is unique and has much to offer. Users who think that roulette could get a bit monotonous and repetitive over time will have to think again and check out this game. The lack of a wheel is what really makes it different. Although it does not look like most users would expect, the game is not hard to play. Not at all.
Its user-friendly interface will easily guides you through menus and settings and in no time players will fall for it. Its graphics are way above average, the 3D animations are running smoothly and trouble-free and there are no constant disconnections. There are also some special features that will be highly approved by users. Besides the usual inside and outside wagers, the more advanced players could also place Neighbour bets, which are situated at the bottom of the number's grid.
The game is fully compatible with all Android, iOS and Windows Phone devices. Those players with more dynamic lifestyle will certainly appreciate that since it gives them the chance to play roulette wherever they are. What's more, it is fully optimised to run in a perfect manner.
Special Features
The name suggests what one of the special features is, but Playtech has added some more in order to polish the game and make it interesting.
Instead of spinning the little white ball on the roulette wheel, it goes to a virtual pinball machine. Once the bet is placed, the ball starts its 'journey', jumps on bumpers and pins in the virtual pinball cabinet, and eventually settles in one of the moving pockets. The pocket is actually the winning number.
Users who do not have much free time but still want to place some bets can enable Fast Play. This option will increase the overall speed of the game because it will remove the whole pinball process. Once the wager is placed, the result will be instantly shown.
The more conventional and lazy players could switch on Autoplay. Players who like using the same bets each round or the same strategy could enable the function, sit back and watch the whole process without doing a thing. It can be stopped whenever the player feels like it.
The Gamble functionality is yet another special feature. After each winning bet, players could enable it. If so, they initiate a pinball game in which the ball has to hit one of the multipliers. If this happens and the white ball lands in the middle section, the bonus is applied to the winnings. But if it does not hit any of the multipliers or falls in the left or right sections, players lose their bet.
Conclusion
Playtech has been constantly following the needs of players, meeting their requirements. Pinball Roulette is yet another addition to its vast, highly advanced and multifarious game collection. The company has incorporated the famous pinball game in this roulette variation and the result is excellent. Players who are fed-up with the classic roulette variant will instantly fall for this interesting and engaging game. It will provide them with endless hours of online gambling and fun, hassle-free experience.
In order to meet the needs of various users, it could be played instantly in a browser or downloaded. Moreover, it is fully optimised to run on all kinds of devices regardless of their operational system. The Gamble functionality as well as the other special features are tailored in a superior manner. The RTP of 97.30% makes it favourable to both experienced and beginner players. So, if you are bored with traditional roulette and want to feel the thrill, give Pinball Roulette a try!