Video Roulette offers a recorded video of a dealer who is spinning a real-life roulette wheel after each bet is placed. This is done in a highly cinematic manner so that it looks as realistic as possible.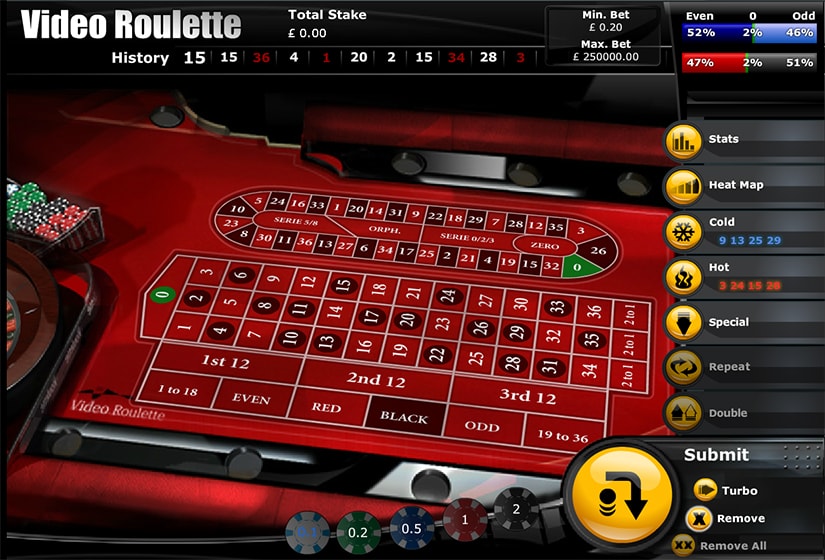 Playtech has been one of the leading software developers for more than 10 years. Due to the fact that roulette tends to get a bit repetitive after some game sessions, the company has always been searching for new ways to spice things up. Video Roulette is yet another example of that.
The graphics of the game are highly advanced and despite the fact that there are many additional options, the interface is user-friendly. The game is one of the most profitable ones because of its 98.65% return to the player. The video footage of a real-life roulette will be highly approved by all players since they will get closer to the atmosphere of an actual casino while being in the convenience of their homes.

Sign Up BONUS
100% up to
$1,000
Bovada Casino
Why Bovada Casino is ranked #1:
Up to $3000 welcome bonus upon first three deposits
Well-established US-friendly brand
Top quality casino games
Extra bonuses for Bitcoin depositors

ACCEPTED
PLAYERS FROM UNITED STATES: VIRGINIA ARE ACCEPTED AT THIS CASINO

Cashback BONUS
25% up to
∞
Fair Go Casino
Why Fair Go Casino is ranked #2:
Well-established brand
Prompt payments
24/7 customer support
Wide range of casino games

ACCEPTED
PLAYERS FROM UNITED STATES: VIRGINIA ARE ACCEPTED AT THIS CASINO

2nd Deposit BONUS
25% up to
€100
EmuCasino
Why EmuCasino is ranked #3:
Up to $300 bonus upon first three deposits
Great loyalty program
Superb loyalty program
Great selection of table games

ACCEPTED
PLAYERS FROM UNITED STATES: VIRGINIA ARE ACCEPTED AT THIS CASINO

Sign Up BONUS
250% up to
∞
BoVegas Casino
Why BoVegas Casino is ranked #4:
Accepts players from all over the world
Great daily bonuses
Fair bonus rules and requirements
Award-winning customer care team

ACCEPTED
PLAYERS FROM UNITED STATES: VIRGINIA ARE ACCEPTED AT THIS CASINO
Specific Rules and Table Limits
The game is a mix of French and European roulette. It has European table layout but has borrowed the La Partage rule from the French version. The house edge could drop to 1.35% if the La Partage rule is applied. This makes it really favourable to both advanced players and novice ones who want to dive into the online casino adventure.
The betting limits range from £0.50 to £3.600 credits for a spin. Therefore, it is suitable for both low and high-rollers. The game is played in various online casinos due to its popularity and top-notch gaming experience so players should thoroughly check the Details section which shows all payouts and bet limits.
The most specific thing about Video Roulette is the so-called La Partage rule. It is applicable to bets like even-odd, high-low, or red-black. If the rule applies and the ball lands in the 0 pocket, half of the initial amount of the losing even-money bet is returned to the player. This makes the game one of the most profitable for players since the theoretical return percentage ranges from 97.30% to 98.65%. The game offers a lot of bet options to both experienced and beginner players.
| Type of Bet | Bet Payout | Bet Limits |
| --- | --- | --- |
| Straight Up Bet | 35:1 | £0.50 – £100 |
| Split Bet | 17:1 | £0.50 – £150 |
| Street Bet | 11:1 | £0.50 – £200 |
| Corner Bet | 8:1 | £0.50 – £300 |
| Line Bet | 5:1 | £0.50 – £600 |
| Columns Bet | 2:1 | £1 – £1,000 |
| Dozens Bet | 2:1 | £1 – £1,000 |
| 1-18/19-36 Bet | 1:1 | £1 – £1,000 |
| Odd/Even Bet | 1:1 | £1 – £1,000 |
| Black/Red Bet | 1:1 | £1 – £1,000 |
Gaming Experience
The name of the game is self-explanatory. Playtech has put an emphasis on the visual appearance and has achieved outstanding results in the overall gaming experience. After each bet is placed, a recorded high-quality video appears in which a professional dealer is spinning the roulette wheel like they would normally do in a land-based casino. The end of the video displays the outcome by showing the winning pocket.
The graphics of the game are absolutely superior and breathtaking. The screen is full of buttons that activate certain features, but all of them are organised in such a manner that they do not distract users. The interface is sleek and polished in order to ease players and ensure a trouble-free gaming experience without any disconnections.
Video Roulette is also suitable for more advanced gamblers who could place all of the inside and outside bets along with Tiers du Cylindre, Voisins du Zero, Orphelins, Finale and Split wagers. They are easily accessible by clicking either on the racetrack or on the Special-bet button on the right side of the screen. The chips, as well as, the big Spin button are located at the bottom in order to prevent players from distraction.
Special Features
Video Roulette comes fully equipped with various options, sections and special features so that it could provide players with a top-notch and a unique gaming experience.
The biggest special feature is the recorded real-life video footage of a dealer's hand spinning the wheel. This adds a live sensation to the virtual gameplay, which will be highly appreciated by all roulette fans.
Players who think that the recorded videos are slowing up their gambling could easily skip them. Turbo Mode is also suitable for that purpose since it automatically removes them and instantly shows the result of each wager once the Spin button is pressed.
The game uses an RNG (Random Number Generator). Therefore, the so-called hot and cold numbers cannot be used for predicting future results of rounds. The company has decided to incorporate them into the game due to the fact that many superstitious players would appreciate them. Same goes for the Stats function. Enabling these functions can be done by clicking on Stats or on the Cold and Hot buttons on the left side of the screen. What is more, players who fancy these options, will highly approve of the Heat Map function, which will display a map with different shades of red on the frequently-winning numbers
The Live Dealer Voices function will contribute even more to the land-based casino feel the game gives off.
Conclusion
Playtech has always been tailoring its products to meet even the highest standards. Therefore, players who expect an impeccable gaming experience will not be disappointed. Video Roulette will give a proper taste of the land-based casinos while you are sitting at home and enjoying a cup of tea, for example.
The real-life video footage of a croupier spinning the wheel is the main special feature that will make the online gambling unforgettable. It is preferred by various kinds of players because of the 1.35% house edge. Video Roulette is one of a kind due to its overall appearance, amazing graphics and animations, intuitive interface, wide variety of bets and authentic sounds. So if you are fed up with traditional roulette and want to spend endless hours of fun online gambling, search no more and give this one a try!