RealTime Gaming has been one of best providers of flash games for many casinos, offering new and different versions of classic roulette. Such example is their American Roulette variation, providing players with countless hours of excitement.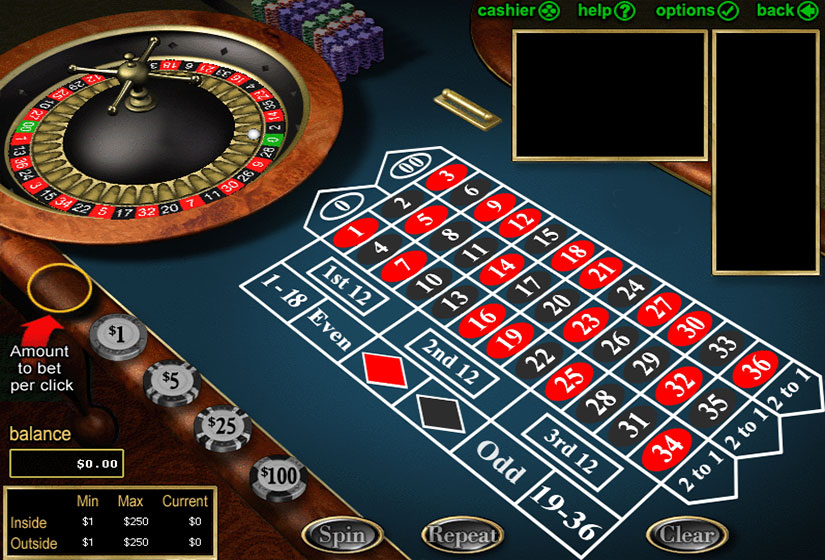 If you are a gambling enthusiast and enjoy playing a couple of roulette rounds every now and then, you do not have to go to a brick-and-mortar casino any more. Instead, you could just make a few spins from the comfort of your home, while laying on the sofa or just before going to sleep. Anyway, with the digitalisation of almost every aspect of today's routine activities, we can now find almost everything online. Luckily for many gambling enthusiasts, the casino industry has taken the same step in its development, and there are numerous online casinos, thus making it easier for players to enjoy their favourite games.
With the huge number of digital casinos comes the great amount of game variations or in this case roulette. All new versions aim at keeping players entertained since many of the games tend to get a little bit repetitive and monotonous.

Sign Up BONUS
100% up to
$1,000
Bovada Casino
Why Bovada Casino is ranked #1:
Up to $3000 welcome bonus upon first three deposits
Well-established US-friendly brand
Top quality casino games
Extra bonuses for Bitcoin depositors

ACCEPTED
PLAYERS FROM UNITED STATES: VIRGINIA ARE ACCEPTED AT THIS CASINO

Cashback BONUS
25% up to
∞
Fair Go Casino
Why Fair Go Casino is ranked #2:
Well-established brand
Prompt payments
24/7 customer support
Wide range of casino games

ACCEPTED
PLAYERS FROM UNITED STATES: VIRGINIA ARE ACCEPTED AT THIS CASINO

2nd Deposit BONUS
25% up to
€100
EmuCasino
Why EmuCasino is ranked #3:
Up to $300 bonus upon first three deposits
Great loyalty program
Superb loyalty program
Great selection of table games

ACCEPTED
PLAYERS FROM UNITED STATES: VIRGINIA ARE ACCEPTED AT THIS CASINO

Sign Up BONUS
250% up to
∞
BoVegas Casino
Why BoVegas Casino is ranked #4:
Accepts players from all over the world
Great daily bonuses
Fair bonus rules and requirements
Award-winning customer care team

ACCEPTED
PLAYERS FROM UNITED STATES: VIRGINIA ARE ACCEPTED AT THIS CASINO
Table Limits and Table Rules
We all are familiar with the very basics of roulette, with the goal of the game being to guess on which pocket the little ball will stop. Even though it may sound as a long shot, there are lots of bet combinations which increase your chances of guessing right.
As the name hints, RTG's American Roulette is another instalment which uses the American set of rules. So, if you are a roulette veteran you have probably guessed that it is a double-zero variation, meaning that it comes with slightly higher house edge. There are 38 slots on the layout with the numbers from 1 to 36, as half of the numbers are in red colour and the other half are in black. The last two pockets are for the single zero and the double zero, both coloured in green.
Even players who have little basic knowledge of roulette rules will notice that the game's payouts are the regular ones, with the Straight Bet being the most profitable one with a 35 to 1 payout, but then again it is the hardest one to hit. Similarly to other versions of the game, there are lots of bet combinations, limited only by players' creativity. The minimum amount of credits a player can place as a bet is $1 and the maximum is $500 for both Inside and Outside bets.
| Type of Bet | Bet Payout | Bet Limits |
| --- | --- | --- |
| Straight Up Bet | 35:1 | $1 – $10 |
| Split Bet | 17:1 | $1 – $20 |
| Street Bet | 11:1 | $1 – $30 |
| Corner Bet | 8:1 | $1 – $40 |
| Five Number | 6:1 | $1 – $50 |
| Line Bet | 5:1 | $1 – $60 |
| Columns Bet | 2:1 | $1 – $200 |
| Dozens Bet | 2:1 | $1 – $200 |
| 1-18/19-36 Bet | 1:1 | $1 – $500 |
| Odd/Even Bet | 1:1 | $1 – $500 |
| Black/Red Bet | 1:1 | $1 – $500 |
Gaming Experience
When you launch(load, launch) American Roulette, you will notice its incredibly smart and simple design, making it easier to understand even for players with no knowledge of the game. The camera angle is placed just above the game table, providing a realistic first-person point of view of a player who is sitting in a real casino. And if the spectacular graphics and 3D animations were not enough, then the sound effects will surely help to further improve your overall gaming experience.
The gaming table is very well set-up, and in a blue background colour with golden edges, emanating even more sense of realism to players. In the left corner of the screen is the impeccably designed and smoothly spinning 3D model of the wheel, dusted and polished to its full glory.
After you are familiar with the basics of the game, and you feel ready to start betting on one of the many options, it is time to choose one of the chips, which are carefully placed on the table in front of the player. There are four chips with a different credit value, and since the minimum amount for a bet is $1, the chip value run from $1 to $100.
Special Features
Even after the idea of the game was to emphasise on a more simplistic design, RTG still added a few handy special features in order to keep players happy.
The first feature is the Help tab in the top left corner of the game window, which is specifically designed for new players. So if you are still figuring out how to play the game, just click on the Help tab. A few tips will appear in order to clarify to new players how to place bets and edit them. And if you are having difficulties with understanding the Outside bets, do not worry, because if you place the cursor of the mouse on one of the Outside bets, all numbers that are included in this combination will be highlighted on the layout.
There are 4 buttons at the player's disposal, which are for spinning the wheel or editing your betting combinations, and all four are quite easy to use.
The Zoom-in panel is as the name implies, zooms-in on the outcome of the spins.
The History panel allows players to keep track of the last ten spins.
Conclusion
So if you are a new player looking for an easy-to-understand game or a roulette fan who is looking for something different, RTG's adaptation of American roulette is ideal for both type of players. And despite its higher minimum house edge, it still has a huge fanbase among roulette fans from all over the world. Many players prefer it due to the focus of the game being entirely on making the roulette experience as simple as possible, instead of adding unnecessary details to this instalment.
As RTG offer a cross-platform software, you can access the game from your personal computers, or Android, Windows and iOS phones, meaning that you can enjoy it from basically anywhere, provided, of course, you have one of the above-mentioned devices. With the low minimum and the high betting limit, this edition of roulette is suitable for both high-rollers and casual players who are still studying the basics.
The game will most definitely capture your interest and will make you forget about the notion of time thanks to its realistic wheel and smart design. After all who knows, today might be your lucky day.