French roulette may not be the first variation that pops up in your mind when you think about table games. However, you are missing out on a great opportunity to enjoy a classic game that can offer many advantages. If you would like to push your luck, then you should try playing the RealTime Gaming's French Roulette.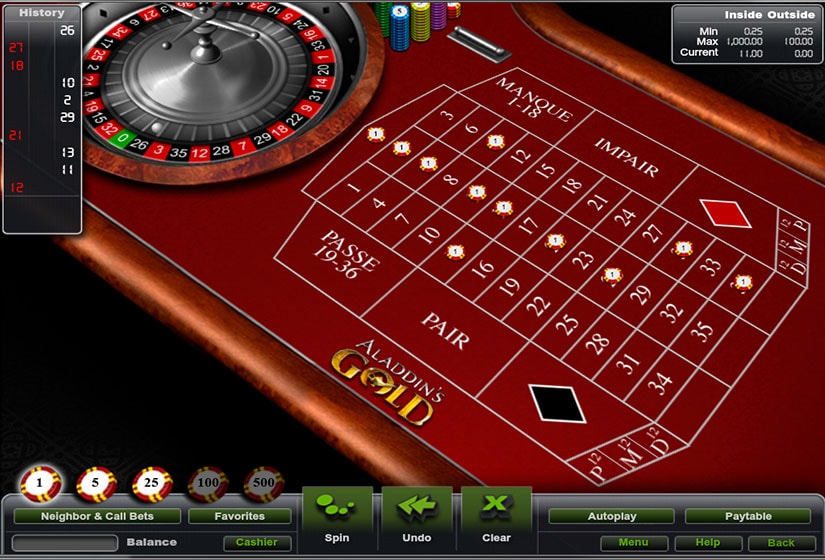 Even though the table layout is in French, one does not have to be fluent in French in order to play the game. You can easily grasp the basics of French roulette and thanks to the simple design of this variation, players can understand which numbers can be covered by the different bets.
Give the game a chance and you will see that there are certain wagering options and advantages which you will not be able to get in any other version of roulette. RealTime Gaming developers know how to give players an outstanding gambling experience and French Roulette can definitely prove that.

Sign Up BONUS
100% up to
$1,000
Bovada Casino
Why Bovada Casino is ranked #1:
Up to $3000 welcome bonus upon first three deposits
Well-established US-friendly brand
Top quality casino games
Extra bonuses for Bitcoin depositors

ACCEPTED
PLAYERS FROM UNITED STATES: VIRGINIA ARE ACCEPTED AT THIS CASINO

Cashback BONUS
25% up to
∞
Fair Go Casino
Why Fair Go Casino is ranked #2:
Well-established brand
Prompt payments
24/7 customer support
Wide range of casino games

ACCEPTED
PLAYERS FROM UNITED STATES: VIRGINIA ARE ACCEPTED AT THIS CASINO

2nd Deposit BONUS
25% up to
€100
EmuCasino
Why EmuCasino is ranked #3:
Up to $300 bonus upon first three deposits
Great loyalty program
Superb loyalty program
Great selection of table games

ACCEPTED
PLAYERS FROM UNITED STATES: VIRGINIA ARE ACCEPTED AT THIS CASINO

Sign Up BONUS
250% up to
$5,500
BoVegas Casino
Why BoVegas Casino is ranked #4:
Accepts players from all over the world
Great daily bonuses
Fair bonus rules and requirements
Award-winning customer care team

ACCEPTED
PLAYERS FROM UNITED STATES: VIRGINIA ARE ACCEPTED AT THIS CASINO
Specific Rules and Table Limits
If you are wondering why you should play French Roulette, the La Partage rule should be a good reason to give this game a try. Following the rules of the French version of roulette, there are the usual numbers from 1 to 36 and an additional single 0.
The rules of this game are quite similar to those of European roulette. Having only 37 possible options for the landing of the roulette ball means that players can enjoy a bigger RTP and hopefully have a more rewarding experience with the game.
The one thing that differs from the European roulette is the La Partage rule which is beneficial for many players. It means that if you happen to make an outside bet and the coup outcome is the single zero, you will lose only half of your bet. This automatically lowers down the house advantage over the player for even-money bets to 1.35%. This can turn the tables and put many players in a favourable position.
In addition to the inside/outside bets which are typical for every variation of the game, French Roulette offers some advance betting options which you cannot find anywhere else. The special Neighbour and Call bets that players can make require a certain chip amount and they cover numbers which are grouped in a specific way.
| Type of Bet | Bet Payout | Bet Limits |
| --- | --- | --- |
| Straight Up Bet | 35:1 | $0.25 – $10 |
| Split Bet | 17:1 | $$0.25 – $20 |
| Street Bet | 11:1 | $$0.25 – $30 |
| Corner Bet | 8:1 | $$0.25 – $40 |
| Line Bet | 5:1 | $0.25 – $60 |
| Columns Bet | 2:1 | $1 – $200 |
| Dozens Bet | 2:1 | $1 – $200 |
| 1-18/19-36 Bet | 1:1 | $1 – $1,000 |
| Manque/Passe Bet | 1:1 | $1 – $1,000 |
| Black/Red Bet | 1:1 | $1 – $1,000 |
Graphics and Overall Player Experience
The great thing about the design of the game is that developers clearly have paid attention to details. The table layout in French can make you feel as if you are playing in a Monte Carlo casino but the best part is that you will still bet in the comfort of your own home.
RealTime Gaming developers have made sure that the graphics of the game are of a great quality which can provide web gamblers with the best roulette experience that is in no way inferior to the one in brick-and-mortar casinos.
Playing French Roulette can be a wonderful way to learn the rules of this classic variation of roulette. Even though the French names of the bets can be a little confusing in the beginning, you can easily learn which groups of numbers are included in each of the bets. If you hover over the various wagers, you will see that a few boxes on the layout are highlighted. This will show you which numbers are included in the bet you have chosen.
Learning to play French Roulette is not a rocket science and it is perhaps one of the most beneficial variants of the game. The interface is so easy to use that it can help you understand the basics of the game in no time.
Special Features
The thing that you may consider "special" in French Roulette are the different betting options you can get. They are unusual due to the fact that you cannot see them in many other versions of the game.
In RealTime Gaming's edition of French roulette, you can access the list with the special bets by clicking on the button that says "Neighbour & Call bets". A few of the bets that you can choose from are Voisins Du Zero, Tiers Du Cylindre, Finales en Plein, Orphelins and Finales a Cheval. You can simply choose the bet that you like to make and your chips will be placed on the layout.
For those who like to play with certain numbers and have their own strategies that they like to follow, there is an option in French Roulette which allows you to save up to 8 different bets. All that you have to do is create your pattern on the layout and then click on the "Favourites" button. After saving the pattern you can easily choose it from the same menu and play with your customised bets.
With the help of the Settings menu, players can modify the look and dynamics of their game and make it suited to their taste. The action buttons are with a nice design and the general interface of French Roulette helps for the easier control of the game.
Summary
As a result of the famous Monte Carlo casinos, French roulette has become one of the classic variations of the table game. With rules which are similar to the ones of European roulette and with the La Partage rule, online gamblers are guaranteed to enjoy a wonderful gambling adventure.
RealTime Gaming has definitely worked hard to provide a game with great quality and many benefits for the players. Wonderful graphics, a snazzy design of the layout and specific Neighbour and Call bets are what makes French Roulette the perfect game for both rookies and experts in this field. Explore plenty of wagering options and enjoy a more rewarding version of roulette.