If you want to play this traditional table game, French Roulette will demonstrate to you that you can have as much fun playing at home, as you would have in any landbased casino.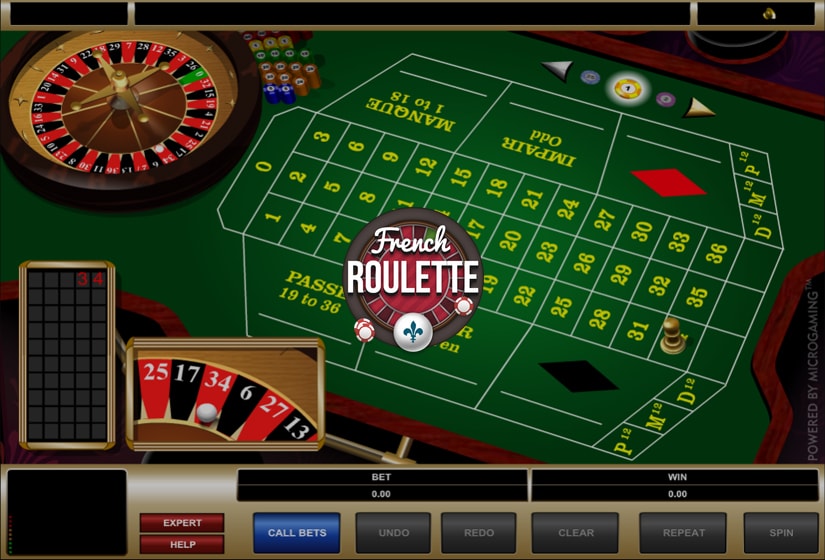 If you are passionate about French roulette, you can always try the version of the game which Microgaming offers to players. This variant of roulette is one of the most popular ones among avid gamblers and you can now enjoy it from your cosy home.
With crisp graphics and an interface which makes the game easy to play, web players are guaranteed to enjoy an extremely enticing roulette experience. Do not miss out on the wonderful opportunity to play from your home and still be able to win money by playing French Roulette. When you are looking for a fun way to test your luck, you can always count on Microgaming to provide the best rendition of French roulette.
Specific Rules and Table Limits
Since this game is a variation of traditional French roulette, there are the typical 36 numbers which alternate in red and black. There is also a single green zero which makes the total of sockets on the wheel 37. What makes this type of roulette specific is the "La Partage" rule which means that if a player has made an even money bet, he or she will lose only half of his or her wager. As a result of this specific feature, the house edge for French Roulette is 1.35%.
You can see why this variation of roulette is so popular among gamblers. If you want to learn how to play French roulette and improve your knowledge of the bets you can make, Microgaming has made the perfect game for you.
Players can make inside/outside bets which are typical for French roulette but they can also take advantage of call bets such as Les Voisins Du Zero, Tiers Du Cylindre, and Les Orphelins. Making the so-called Final Bets is also an option which can help players enjoy a more advanced gambling experience. The minimum bet you can make is $1 and the maximum varies depending on what bet type you place on the table.
| Type of Bet | Bet Payout | Bet Limits |
| --- | --- | --- |
| Straight Up Bet | 35:1 | $1 – $10 |
| Split Bet | 17:1 | $1 – $20 |
| Street Bet | 11:1 | $1 – $30 |
| Corner Bet | 8:1 | $1 – $40 |
| Line Bet | 5:1 | $1 – $50 |
| Columns Bet | 2:1 | $1 – $70 |
| Dozens Bet | 2:1 | $1 – $70 |
| 1-18/19-36 Bet | 1:1 | $1 – $80 |
| Manque/Passe Bet | 1:1 | $1 – $80 |
| Black/Red Bet | 1:1 | $1 – $80 |
Graphics and Overall Player Experience
Playing one of the games that has been developed by Microgaming is definitely an adventure which you cannot experience in any landbased casino. Since the graphics of French Roulette are so clear and the general look of the game is very simple, players can enjoy a smooth and entertaining gameplay. Not only can beginners learn how to play French roulette, but more advanced players can also try their luck and try the more unusual bets which the game offers.
If you have your own strategies you can test them to see if they will bring you the big win you are expecting. When you turn the Expert Mode, you will be able to make call bets and final bets which will allow you to wager more, and hopefully, win more. The way the game is set, you can easily make bets and see the outcome of every round.
If you want to see the wheel and where the ball has landed during the last round, there is a zoomed-in window in the left corner of the screen which depicts a bigger version of the socket where the ball has settled in. You can also keep track of the previous rounds by checking the History bar which is placed right next to the zoomed-in wheel.
Special Features
Although the developers have made sure the game comes as close as possible to the original French roulette, players are provided with plenty of options and settings which can make the gameplay as smooth and personalised as possible.
Since more advanced bets are one of the best features of French Roulette, you can have access to them by clicking on the Call Bets button which is placed at the bottom of the screen. This action will reveal a window with the different variations of bets you can make.
Another way to make a call bet is choosing the Expert Mode which you can turn on by clicking the red button with the word "Expert" on it. You can switch between Expert and Regular mode by using this button. If you switch to Expert Mode, you can click on the Edit Layout button. This will show you a window with different options for Neighbor bets. You can explore the different wagering choices you have and once you are done, you can return to the main game by clicking on "Back".
There is also an Autoplay option which players can use to place the same bet for a few rounds without being interrupted. Once you choose the Autoplay mode, you can pick the number of spins you want to be played automatically. You can also set a particular increase or decrease of your credit at which the Autoplay mode should be turned off.
Summary
If you are striving to achieve the satisfaction which you feel while playing at a real-life casino, then you should definitely try Microgaming's French Roulette. The developers of this game have made sure that every online gambler can take advantage of the types of bets which work the best for them. Explore the endless options for making more money and try all of your strategies which have proven to be effective for you.
This traditional edition of French roulette can give you the thrilling adventure that any landbased casino can. The only difference is that you will be able to make your bets from the comfort of your own home. Do not waste any time and try your luck on this classic version of roulette. With outstanding graphics, user-friendly interface and plenty of wagering options, French Roulette is the right kind of game for every roulette fan.