Microgaming-powered casinos would normally offer a good range of premium roulette titles, including well-known varieties like French, European and American Roulette. Some of the variants are unique in that they can be played by multiple players simultaneously. Others feature several wheels you can bet on at once.
Microgaming is a highly acclaimed gambling software provider that offers an impressive selection of world-class casino products, ranging from various high-quality slots and video poker variations to virtual table games like blackjack, baccarat, craps, and poker. Since Microgaming is one of the oldest casino software development companies in the world, it fully recognises the importance of roulette, one of the most iconic games of chance out there.
All roulette variations that carry the brand's name stick out from the crowd with their excellence of graphics and gameplay. The visuals are incredibly realistic but the authentic audio effects would further improve the quality of one's experience. The handy features incorporated into the games make Microgaming's roulette variations all the more enjoyable as each player can tailor the gameplay according to their own needs and preferences.

Sign Up BONUS
100% up to
$1,000
Bovada Casino
Why Bovada Casino is ranked #1:
Up to $3000 welcome bonus upon first three deposits
Well-established US-friendly brand
Top quality casino games
Extra bonuses for Bitcoin depositors

ACCEPTED
PLAYERS FROM UNITED STATES: VIRGINIA ARE ACCEPTED AT THIS CASINO

Cashback BONUS
25% up to
∞
Fair Go Casino
Why Fair Go Casino is ranked #2:
Well-established brand
Prompt payments
24/7 customer support
Wide range of casino games

ACCEPTED
PLAYERS FROM UNITED STATES: VIRGINIA ARE ACCEPTED AT THIS CASINO

2nd Deposit BONUS
25% up to
€100
EmuCasino
Why EmuCasino is ranked #3:
Up to $300 bonus upon first three deposits
Great loyalty program
Superb loyalty program
Great selection of table games

ACCEPTED
PLAYERS FROM UNITED STATES: VIRGINIA ARE ACCEPTED AT THIS CASINO

Sign Up BONUS
250% up to
$5,500
BoVegas Casino
Why BoVegas Casino is ranked #4:
Accepts players from all over the world
Great daily bonuses
Fair bonus rules and requirements
Award-winning customer care team

ACCEPTED
PLAYERS FROM UNITED STATES: VIRGINIA ARE ACCEPTED AT THIS CASINO
In addition, gambling fans who register at Microgaming casinos can join the action at one of the live-dealer roulette tables where the games are streamed in HD quality in real time and are hosted by competent croupiers. The following article will introduce you to all you need to know about the developer and its roulette collection, so read on to learn more about Microgaming's most popular roulette titles.
A Few Words on Microgaming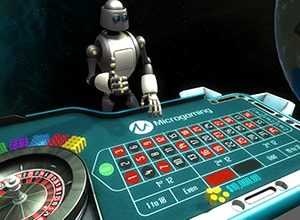 Before I proceed with the features inherent to Microgaming's roulette portfolio, allow me to mention in brief some of the biggest milestones in the developer's long and fruitful history. The Isle-of-Man-based company was founded back in 1994, at the dawn of online gambling. In fact, Microgaming allegedly launched the first ever online casino under the brand name The Gaming Club.
Shortly after, Microgaming decided to focus on developing their casino games only and licensing them to other gambling operators. The following years saw the software supplier adding more licensees to their list of partners. The company gradually established a reputation of a leading casino software developer for itself and became one of the founding members of the Interactive Gaming Council (IGC) in 1997. The non-profit organisation still exists to this day to provide casino operators with guidelines towards fair and responsible practices.
The developer is responsible for the launch of the first ever 100-payline slot in the industry. In 2012, the company introduced to the world a bespoke form of speed poker, called Blaze Poker. Today, the renowned software supplier offers a mind-blowing portfolio of over 850 bespoke casino games in over 1,200 different variants.
These can be found in a Windows-compatible downloadable client but most of the options are available in flash mode and can be loaded directly in your smartphone's or computer's browser. The developer continues to improve the quality of its portfolio as new titles and features are added on a regular basis.
Microgaming Roulette Features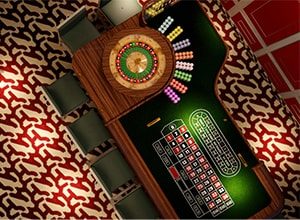 Microgaming is one of those software providers that insist on meeting the requirements of any type of player. Therefore, there is a bevy of great features fans of the game would benefit from when they sign up at a Microgaming-powered casino.
Roulette mavens will be greatly pleased by the crisp graphics, which have become somewhat of a trademark of the acclaimed developer. The virtual tables are exact replicas of the roulette tables in brick-and-mortar casinos – you can see the spinning wheel situated to the side, the betting layout where the tokens for inside and outside bets are placed, as well as the stacks of coloured chips. Everything is masterfully crafted down to the tiniest of details. You can even see the reflections of the light falling onto the virtual wheel.
The life-like sound effects further add to the authenticity of the entire experience. The virtual dealers announce the winning numbers after each coup and prompt you to place your bets before the ball is tossed. A close-up of each winning number is also displayed in the lower corner of the base-game screen enabling you to easily track the current results.
Many of the features incorporated into the roulette variations allow for a higher level of customisation so that all players can adapt the games according to their personal style of play and needs. One example would be the customisable layout option where players are enabled to save up to eight of their favourite bet layouts and place more complex wagers with a single click of the button. This works to the advantage of strategy players who repeatedly bet on the same combinations of numbers. You can access this feature by switching from regular to expert mode.
Players can also track the results of previous coups by checking the History tab in the base-game window. A comprehensive Statistics section is also available where you can see how many red/black, odd/even, and high/low numbers have been spun on previous rounds.
Autoplay is commonly available, allowing roulette fans to go through up to 500 coups in succession without having to click the button at the end of each round. Make sure you use the Stop Autoplay Settings and adjust it so that the feature turns off automatically after your bankroll has decreased by a certain amount. You can also place the same bet again by clicking on the Repeat button.
The table limits are different and normally depend on which Microgaming casino you are playing at. The needs of both high-rollers and casual players are taken into consideration since some of the most popular Microgaming roulette variants are offered in two separate versions – standard-limit and high-limit. Call bets are frequently an option at the single-zero roulette tables. If you are looking for a more dynamic pace of play, you can make use of the Quick Spin feature to skip the animations with the spinning wheel.
A good portion of the games is offered for mobile play and run on smartphones and tablets, utilising common operating systems like Windows Phone, iOS, and Android. The downloadable client where all roulette variations can be found is compatible with Windows-based computers only.
Microgaming Roulette Games Selection
Over the course of its long existence, Microgaming has created a nice range of quality roulette variations that can be found at hundreds of online casinos, running on the developer's intuitive software platform. The games from the so-called Gold Series enjoy a good deal of popularity due to their enhanced visuals, life-like sounds, and useful features. Some of the titles offer functionalities that are typical of Microgaming roulette games only.
Such is the case with the Multiplayer version of the popular game where you can join fellow roulette players and even interact with them. If one wheel is not enough, how about playing on eight? Microgaming makes it possible with its Multiwheel version of roulette.
European Roulette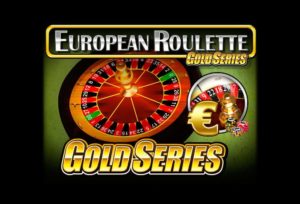 If you are looking for an authentic roulette game with a relatively low house edge, Microgaming will not disappoint you with its European Roulette Gold offering where you are fighting a casino advantage of only 2.70%. The game's Gold Series version has been upgraded to feature crisper graphics and improved gameplay.
It plays in accordance with the standard single-zero rules, with players being able to make all known inside and outside wagers. There is also a racetrack where you can place chips on some of the more advanced bet types like Les Voisins du Zero, Les Orphelins, and Tiers du Cylindre. Neighbour bets on the numbers adjacent to your straight-up wager are supported as well. You can see the maximum limits for all bet types by hovering your mouse cursor over the corresponding grid on the layout.
Results on previous spins are displayed in the History window. If you get weary of hitting the spin button, make sure you turn on the Autoplay functionality. You can find it when you change your mode of play from Regular to Expert.
French Roulette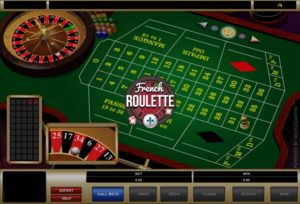 French Roulette is yet another quality Microgaming offering that comes with a reduced house edge since it plays in accordance with the standard European table rules. There are only 37 numbered pockets on the high-resolution wheel but the casino advantage is further decreased by the La Partage rule that applies at this virtual table. Thus, if the ball settles into the green pocket, you will have half of your initial even-chance bet returned to you.
Other than that, the game is not that much different from some other single-zero variations developed by Microgaming. As you will see, the names of the bets are written in French on the layout but this is nothing to fret about even if you do not speak the language. If you have ever played roulette, you are unlikely to experience issues with the French variation of the game.
The base screen is not cluttered with excessive information and enhances fuss-free navigation. The History tab shows you the results of the last several spins but there is also the possibility to save up to eight of your favourite bet patterns in Expert Mode.
American Roulette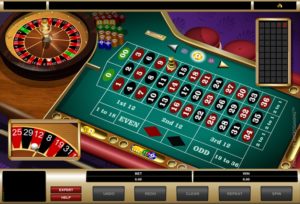 Those who have nothing against playing against double the house edge can opt for Microgaming's version of American Roulette. The variant from the Gold Series is especially easy on the eye due to the sharper visuals and enhanced animations. The game follows the standard American rules where the wheel features numbers 1 through 36 and two green zero slots for a total of 38 pockets.
This Microgaming product is, as usual, customisable and provides strategy players with the opportunity to save up to eight of their most commonly used betting patterns. These are called "layouts" here. To avoid the monotony of having to click buttons every few seconds, you can take advantage of the Autoplay functionality.
Other handy features this version of American Roulette can offer include statistics on previous coups' results and the rebet option. The game supports Five-Number bets on 0, 00, 1, 2, and 3 but I would recommend you to avoid these due to their increased house edge.
Premier Roulette Diamond Edition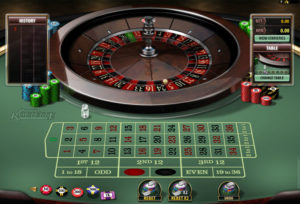 This is easily one of the most realistic table games developed by Microgaming. It is based on the European variation of roulette, so the numbers on the wheel go from 1 to 36, plus the single-zero pocket. The game boasts an improved design, with a somehow graphically advanced and enlarged wheel that is situated directly above the betting grid.
As befits a game by the name of Premier Roulette Diamond Edition, players will enjoy sleeker animations and more appealing sound effects. In fact, the graphics are so enhanced that one is left wondering whether they are looking at an actual wheel. But the game is not attractive only when looks are concerned. Premier Roulette Diamond Edition offers a staggering array of great features. You can make the same bet twice in a row by clicking on the Rebet button. There is also the option to stake double the amount you have wagered on the previous coup by hitting Rebet 2x.
Above all, this Microgaming offering is tailored to cover the needs of all players, no matter how big their bankroll is, with chip denominations ranging from $0.25 to $1,000. You can alter the game so that it fits your personal preferences. There are six different layout colours you get to pick from. Previous results can be tracked in the History tab but statistics on the numbers that are currently hot or cold is also incorporated within Premier Roulette Diamond Edition.
Multiwheel Roulette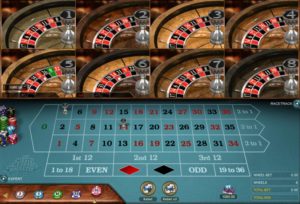 Anyone who has played roulette online has probably noticed that many of the available variations look quite similar in terms of graphics and features. Fans of the game who are craving something a little bit less standard should look up Microgaming's bespoke Multiwheel Roulette. The name pretty much says it all as the developers have added a total of eight wheels to the mix for an even more intense and rewarding gaming session.
That being said, there is the option to enable as many of the wheels as you like – you are not required to play all of them simultaneously. Another important thing worth mentioning is that this version of roulette is more costly as you are basically placing a separate bet on each activated wheel. Thus, if you choose a chip denomination of $10 and activate all eight wheels, you are practically staking $80 per coup. On the positive side, your chances of hitting a winning number are eight times bigger. Even more so, considering these are all single-zero wheels.
Other useful functions of Multiwheel Roulette are Autoplay and the ability to save up to eight of your favourite bet patterns. This is possible in Expert Mode only. If you prefer greater dynamics, you can turn on the Quick Spin functionality and skip directly to the results of the coups instead of waiting for the ball to come to rest in a pocket. Those willing to experiment with more advanced types of wagers can opt for Neighbour bets and Call bets on the racetrack like Tiers du Cylindre, Voisins du Zero, and Orphelins.
Multiplayer Roulette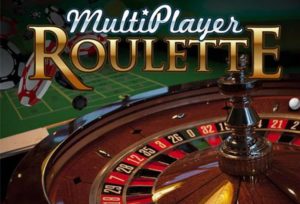 What better way to increase a game's interactivity other than allowing several players to join the same table? This is exactly what Microgaming did with Multiplayer Roulette – a variant many fans of the game prefer due to the fact it is actually streamed in real time from the floors of a landbased casino. The multiplayer table is serviced by seasoned dealers, which makes this roulette variant all the more enjoyable.
Multiplayer Roulette utilises a single-zero wheel hence the lower house edge of 2.70%. It is possible for up to seven players to join at the same time, which adds a certain social element to the game as players are capable of communicating, discussing the game, and rejoicing together when a winning number hits. On the downside, there is not as much time to decide what type of bet you want to place next. There is a countdown and you are given a limited amount of time to position your chips on the layout. If you fail, you have to wait for the next coup. French bets are also supported for those looking to experiment with more exotic wagers.
Realistic Roulette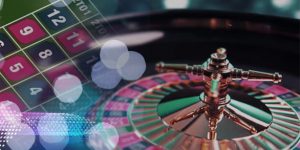 Realistic Roulette features the excellent potential of drawing the attention of various profiles of players. Thanks to 3D mode, great RTP, La Partage, and multiple command buttons, English/Chinese interface, it aims to become internationally recognized, catering to the needs of both low and high-rollers.
Live-Dealer Roulette Variations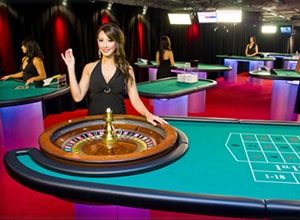 While Microgaming's virtual variants of roulette are quite authentic in terms of visual design and audio, I cannot help but admit that nothing can quite compare with the feeling you get when you face a living, breathing person at the other side of the table.
In terms of interactivity, Microgaming's live-dealer roulette variations are definitely an improvement. The acclaimed software supplier's live offering impresses with HD quality of the video stream, multi-lingual support, and the ability to play at several tables simultaneously. There is the option to play both the American and European versions of the game of chance, but undoubtedly the most popular live variants are those hosted in the branded Playboy Casino. The dealers, albeit scantily clad, are very professional and fluent in different languages.
The live-dealer roulette games have a number of advantages to offer feature-wise. Players have 40 seconds to place their bets on the layout and if the table is full, they receive notifications to alert them when a seat is open. Thanks to the Playcheck functionality you can keep track of your entire history on previous bets. There are six different quality settings, with the option to detach the video-stream screen or enlarge it so you can see everything clearly. Browser play is possible which is a great thing for players looking to skip on installing additional software to enjoy live roulette games.