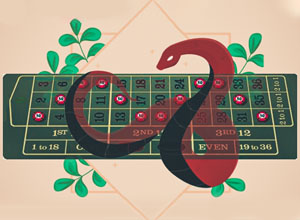 Roulette has always been a phenomenally fun game, and a popular one to boot. As playing online with live croupiers continues to trend, this seems truer and truer every day!
As roulette's power and prestige grows, even casual players are finding it useful to learn more about the intricacies of the game.
This means knowing about all the bets out there. Even the lesser-known ones!
One fantastic example is the so-called Snake Bet.
This wager gets its name from the serpentine look of the chips on the felt when it's laid manually:
Bet while aesthetics are well and good, betting substance is better!
Let's take a closer look at this bet, including its advantages and disadvantages, so that players can place their wagers with well-earned confidence…
… after all, whether at the casino or in life, information is power!
It will soon become clear that this particular snake is far from poisonous.
What is the Snake Bet?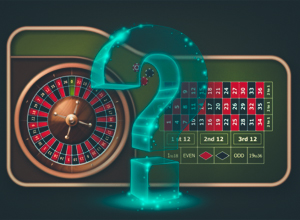 It's because each of these numbers comes up red on the wheel that the bet is sometimes called "the red snake."
Simply put, the snake bet consists of 12 single number bets: 1, 5, 9, 12, 14, 16, 19, 23, 27, 30, 32, 34.
We've written before about the numbers and bets available at the roulette table.
While a solid understanding of these options is paramount to success on the felt, there are other, more whimsical bets out there…
… these are bets that serious players should know! And in the case of the snake bet, the odds and payouts of this wager make it truly worthy of consideration.
The Details
Since players are wagering on twelve individual numbers with this bet, it's mathematically the same as the "dozens" outside proposition bet.
That is to say: it pays 2:1 when it wins, with a 12:37 (32.4%) likelihood of winning on the European wheel and a 12:38 (31.57%) chance on an American wheel (assuming it is not one of the triple-zero wheels).
There's only one real strategic disadvantage to this bet: while a single minimum bet can be laid on any of the three "dozens" prop bets, that's not an option with the snake bet…
… players have to wager twelve times the minimum in order to place it!
For that reason, gamblers whose bankrolls are on the lighter side relative to the table minimum may wish to steer clear of the red snake.
At least, that is, until their fortunes improve – or until they find a table that suits their gambling style (and their bankroll) better.

Sign Up BONUS
100% up to
$1,000
Bovada Casino
Why Bovada Casino is ranked #1:
Up to $3000 welcome bonus upon first three deposits
Well-established US-friendly brand
Top quality casino games
Extra bonuses for Bitcoin depositors

ACCEPTED
PLAYERS FROM UNITED STATES: VIRGINIA ARE ACCEPTED AT THIS CASINO

Cashback BONUS
25% up to
∞
Fair Go Casino
Why Fair Go Casino is ranked #2:
Well-established brand
Prompt payments
24/7 customer support
Wide range of casino games

ACCEPTED
PLAYERS FROM UNITED STATES: VIRGINIA ARE ACCEPTED AT THIS CASINO

2nd Deposit BONUS
25% up to
€100
EmuCasino
Why EmuCasino is ranked #3:
Up to $300 bonus upon first three deposits
Great loyalty program
Superb loyalty program
Great selection of table games

ACCEPTED
PLAYERS FROM UNITED STATES: VIRGINIA ARE ACCEPTED AT THIS CASINO

Sign Up BONUS
250% up to
$5,500
BoVegas Casino
Why BoVegas Casino is ranked #4:
Accepts players from all over the world
Great daily bonuses
Fair bonus rules and requirements
Award-winning customer care team

ACCEPTED
PLAYERS FROM UNITED STATES: VIRGINIA ARE ACCEPTED AT THIS CASINO
Placing the Snake Bet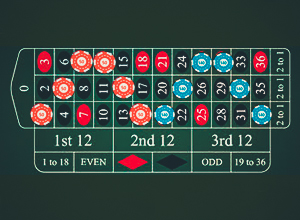 A few casinos offer the Snake bet as an option on their screens. It looks like a two-headed snake on some tables, with one head near the 1 and the other near the 34.
Whether or not it's part of the regular display, though, players can make this bet at any time.
To place this bet manually, simply bet one unit each – a total of 12 units – on the following numbers: 1, 5, 9, 12, 14, 16, 19, 23, 27, 30, 32, 34.
The end result will be the same as when the bet is laid with a single touch of the screen: a visually pleasing, mathematically sound wager that will never leave you snake-bit.
The Takeaway
Roulette is certainly a game that can be enjoyed casually. Plenty of players have even wound up with big wins on their very first outing! The simplicity of the game is part of its appeal.
There comes a time, though, when serious devotees of the wheel will want to increase their roulette knowledge in a meaningful way.
After all, when committing significant amounts of time and money, it's only sensible to do your homework…
… whether or not you have Slytherin tendencies!
To be sure, it's crucial to grasp the basics of strategy, mathematics, and bankroll management, as well as understanding the many betting options available.
For some, this may extend to betting systems as well!
But there's more to it than that. Mastery of a subject has to include some element of fun… if not, what's the point?
That's where the snake bet comes in. This is a smart, charming wager that players of all skill (and bankroll) levels will want to have in their arsenals.