Tiers et Tout enables players to accumulate more substantial amounts in profits while at the same time allowing them to control their losses.
Any roulette player out there has resorted to system play at one point or another. Ever since roulette was introduced in Paris casinos at the end of the 18th century, players have been trying to come up with an efficient betting system capable of beating this game of chance. So you can imagine what bevy of strategies was birthed over the course of the last three centuries.
As sad as it may sound, these attempts have all been in vain. There is a common tendency most system players share – they overlook the fact that the effect of system play on their chances of winning is virtually nil. There are all sorts of roulette systems to choose from but the only thing they can help you with is managing your money at the table and at best, recuperating your losses. If you are lucky, that is.

Sign Up BONUS
100% up to
$1,000
Bovada Casino
Why Bovada Casino is ranked #1:
Up to $3000 welcome bonus upon first three deposits
Well-established US-friendly brand
Top quality casino games
Extra bonuses for Bitcoin depositors

ACCEPTED
PLAYERS FROM UNITED STATES: VIRGINIA ARE ACCEPTED AT THIS CASINO

Cashback BONUS
25% up to
∞
Fair Go Casino
Why Fair Go Casino is ranked #2:
Well-established brand
Prompt payments
24/7 customer support
Wide range of casino games

ACCEPTED
PLAYERS FROM UNITED STATES: VIRGINIA ARE ACCEPTED AT THIS CASINO

2nd Deposit BONUS
25% up to
€100
EmuCasino
Why EmuCasino is ranked #3:
Up to $300 bonus upon first three deposits
Great loyalty program
Superb loyalty program
Great selection of table games

ACCEPTED
PLAYERS FROM UNITED STATES: VIRGINIA ARE ACCEPTED AT THIS CASINO

Sign Up BONUS
250% up to
∞
BoVegas Casino
Why BoVegas Casino is ranked #4:
Accepts players from all over the world
Great daily bonuses
Fair bonus rules and requirements
Award-winning customer care team

ACCEPTED
PLAYERS FROM UNITED STATES: VIRGINIA ARE ACCEPTED AT THIS CASINO
What Exactly Is the Tiers et Tout Roulette Strategy?
One such system, albeit a less popular one, is the Tiers et Tout, which translates roughly as "third and all". The system was devised back in the 19th century by one Thomas Garcia, a man who has since acquired a status of a legendary gambler. Garcia was obsessed with designing the perfect roulette strategy, one capable of crushing the house at its own game, and tested a number of systems before he finally came up with Tiers et Tout. The system quickly became a favourite with Garcia and rightfully so.
Garcia's first massive success with the system came during his first visit to the Homburg Casino in Germany at the end of the 19th century. He managed to accumulate huge profits that exceeded the amount of 240,000 Franc or roughly €220,000 according to the current exchange rates. Tiers et Tout quickly gained traction among roulette players after Garcia's immense success.
The system can be applied both to inside and outside bets but is most commonly used on even-chance propositions like red/black, odd/even, and high/low. The strategy is not difficult to learn but involves a certain level of math, which renders it less suitable for rookie roulette players.
The selling point behind this strategy is the ability to make quick rewards while keeping the risk and required bankroll to a minimum. The system does not take long to grasp, and can make you a decent profit with a win to loss ratio greater than just 1:3. Garcia used it to break the bank no less than 5 times, and accumulated a small fortune during his first visit to the Homburg Casino. While I cannot vouch for this fascinating story, the tiers et tout system is one I enjoy and like to use from time to time, so let me explain how it works.
How the Tiers et Tout Strategy Works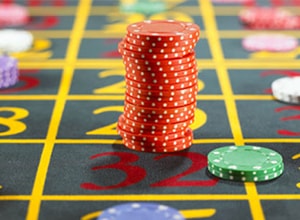 As I already mentioned, it is not a difficult system to learn, and it works like this. First things first, the player must decide what amount they would like to join the roulette table with. Then, the overall size of the bankroll will determine what the size of their first wager will be.
It is important to pick an amount that is divisible by the number three because the initial bankroll is split into two parts. The first bet is equal to 1/3 of the starting bankroll, so if you begin with $90, you initially stake $30 on an even-chance proposition like black, for instance. Bear in mind this system resembles a negative progression, which is to say if you lose, you are required to stake 2/3 or $60 on the next coup.
Following a win, regardless of whether it is on your first or second wager, you will end up with a bankroll that is always divisible by the number three. Thus, you proceed by betting 1/3 of the overall bank on the next coup while the remaining 2/3 are staked only after a loss. You continue in the same manner and never bet more than two bets maximum with the bankroll you currently have.
What happens when your bankroll escalates to an amount that cannot be divided by the number three? In such cases, you are expected to round off the bankroll to an amount that is divisible in three. The remainder is considered a net profit, so it is not used but is put aside instead. Check the table below for an illustration of what amounts you should set aside when using the Tiers et Tout system.
| Coup | Bankroll | 1/3 Bet Size | 2/3 Bet Size | New Bankroll Size | Profits Set Aside |
| --- | --- | --- | --- | --- | --- |
| 1 | $90 | $30 | $60 | $120 | $0 |
| 2 | $120 | $40 | $80 | $160 | $10 |
| 3 | $150 | $50 | $100 | $200 | $20 |
| 4 | $180 | $60 | $120 | $240 | $0 |
| 5 | $210 | $70 | $140 | $280 | $40 |
| 6 | $240 | $80 | $160 | $320 | $50 |
| 7 | $270 | $90 | $180 | $360 | $60 |
As you can see, if the starting bankroll is $90, you place a bet of $30. If you are successful, you will end up with a bankroll of $120. Provided that your first bet results in a loss, you must stake the remaining sum of $60 and a win would still result in a bankroll of $120 for you.
As the table indicates, when you end up with a bank of $160, you clearly will not be able to divide it by three. Therefore, Tiers et Tout requires you to put aside one unit of $10 and play with the remaining bank of $150. Similarly when you reach a bank of $240 you divide it by three so there is no need to put aside anything. Of course, if you wish, you can always set aside some of your profits at this stage. If so, you will see the net winnings escalate to higher and higher amounts.
As the table suggests, the fifth coup sees you with a profit of $100, which is still $10 more than what you have originally started with. If you apply the strategy in this manner, your overall bank will not increase as rapidly due to the fact you set aside higher amounts that otherwise would be used to play with.
It makes sense that the Tiers et Tout system requires you to win at least two coups in a row. This would enable you to pocket a profit but it is highly advisable to set a win target and quit as soon as you achieve it. Other than that, you continue applying the same method and that's about it. Simple, right?
If you generate sufficient profits, you will eventually start betting with the house's money at some point. The main idea of the Tiers et Tout roulette system is to start betting with the 'casino's money'. Once you achieve this, two consecutive losses do not impact your own money so to speak, and you can continue to try and accumulate a profit using just the casino's money without having to worry about your own bankroll. Obviously be careful though, because the casino's money could still be your profit, so try not to think of it as money you can just throw away.
Obviously, if you lose two successive coups, you will wipe your entire bankroll and end up having no money to play with. The first thing you probably notice is that it takes two losses in a row to make a net loss; one loss does not alter the round in the slightest. This is both a pro and a con; clearly a pro because many systems can falter on a single loss, but on the other hand the odds on losing twice in a row are not exactly slim at 25.7%, and this ruins you completely. You can see the Tiers et Tout system in action in the table appended below.
| Coup | Bet Sizing with Starting Bankroll of $90 | Coup Result | Total Profits |
| --- | --- | --- | --- |
| 1 | $30 | Loss 30 | $60 |
| 2 | $60 | Win 60 | $120 |
| 3 | $40 | Win 40 | $160 |
| 4 | $50 | Loss 50 | $110 |
| 5 | $100 | Win 100 | $210 |
| 6 | $70 | Loss 70 | $140 |
| 7 | $140 | Win 140 | $280 |
Is This System Right for Me?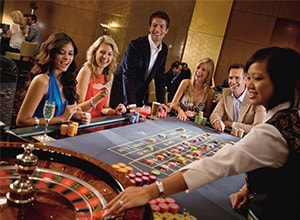 That's a tough one to answer since like all other roulette systems, the Tiers et Tout has both its downsides and strong points. If you like a fast-paced game which can see you with significant returns in a short period of time, this might be the proper strategy to try at the roulette table. This is, in fact, the biggest advantage the Tiers et Tout has to offer. Your profits can escalate to impressive amounts over a relatively short period of time.
As becomes evident from the table in the example above, if you opt for putting some of your winnings aside, it does not take that many winning coups to generate profits that are at least the size of your initial bankroll.
I consider the system particularly enjoyable once you get to the stage where you are betting with the casino's money, but with the odds at just 25.7% for two straight losses, it can be difficult to achieve this. Yet, once you score several consecutive wins, then you will be risking only the house's money instead of your own. I certainly find the idea appealing.
Also, unlike negative-progression systems such as the Martingale which force you to commit with large amounts of money at the table just to get your losses back after a bad run, each round here is short, and you can quickly decide to stop if you think your funds are getting too low. The profits Tiers et Tout enables you to accrue can be far more substantial whereas the Martingale will only let you recoup your previous losses and end up winning one base betting unit.
This is where the advantages of the Tiers et Tout end. One of the biggest downsides of this system is that you need to register a win within two coups only. With the chances of losing twice in a row exceeding 25%, you may end up depleting your entire starting bank in a flash. Also, the system can be quite challenging to roulette novices due to its increased level of complexity. If you are playing the game at an online casino, you may need to use a pen and a notepad to perform the calculations of how much money you must bet on subsequent coups and how much you should set aside.
Last but not least, let us not forget that this is simply a betting strategy, and as such, it cannot help you reduce or overcome the house edge. The house will eventually end up extracting money from your pocket over the long run, so the more you play, the higher the chances of the casino's advantage catching up on you. The odds will remain in favour of the house, no matter what system you are using at the roulette table.
Even Garcia, the inventor of the system, failed to beat the house at its own game with the Tiers et Tout. He postponed his next visit to the Homburg Casino with nearly a year. On his next return, Garcia completely depleted his starting bankroll, ended up playing on credit, and incurred devastating losses, despite applying the Tiers et Tout during his session. He left the Homburg Casino with empty pockets never to return again.
Conclusion
If you are looking to score some impressive wins over a short period, without at the same time risking too much of your personal money, the Tiers et Tour system is definitely worth trying. Be careful with this system though as it only takes two losses in a row for you to waste your initial bankroll. I would recommend you to reduce the chances of exhausting your entire budget by risking starting amounts that are a smaller percentage of your overall roulette budget.
In conclusion, this system is a great option for those of you, who do not mind risking their initial bankrolls several times over for the opportunity to score substantial wins as well as for those who have nothing against performing more complex calculations during their betting sessions.