Microgaming is a pioneer in the online software market. It has always been one of the best in terms of polished, sleek and impeccable gaming experience. American Roulette is yet another addition to its vast game collection.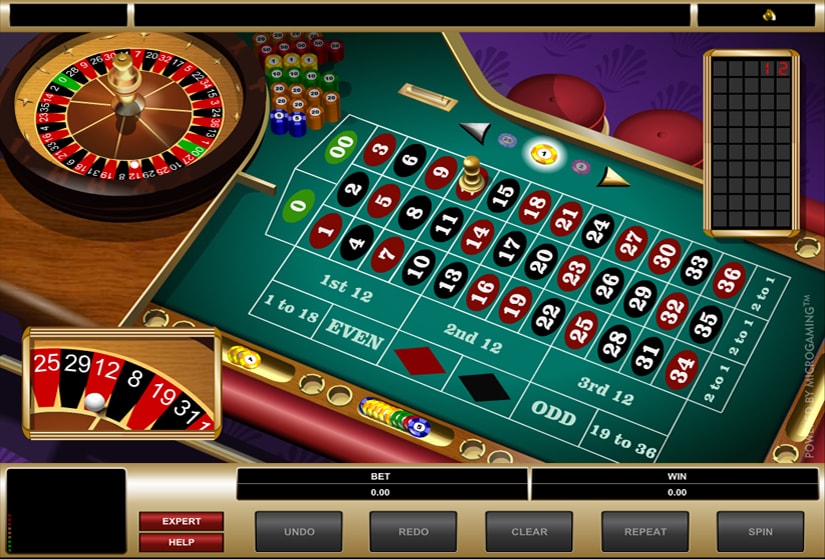 The game is suitable for those who prefer to keep things simple. Despite the fact that it is not very profitable because of its high house edge – 5.26% and therefore the low RTP – 94.74%, this game has always attracted a lot of players. It is suitable for novice players since the game could be played in Demo Mode with no real money.
Despite the fact that this version is a bit basic, there are some customisation options that will definitely improve the overall gaming experience. It is suitable for both inexperienced and veteran players since it has a regular and expert mode. So, if you are not looking for jaw-dropping graphics but still want to learn the basics of the more than-three-centuries-old game, give American Roulette a try.

Sign Up BONUS
100% up to
$1,000
Bovada Casino
Why Bovada Casino is ranked #1:
Up to $3000 welcome bonus upon first three deposits
Well-established US-friendly brand
Top quality casino games
Extra bonuses for Bitcoin depositors

ACCEPTED
PLAYERS FROM UNITED STATES: VIRGINIA ARE ACCEPTED AT THIS CASINO

Cashback BONUS
25% up to
∞
Fair Go Casino
Why Fair Go Casino is ranked #2:
Well-established brand
Prompt payments
24/7 customer support
Wide range of casino games

ACCEPTED
PLAYERS FROM UNITED STATES: VIRGINIA ARE ACCEPTED AT THIS CASINO

2nd Deposit BONUS
25% up to
€100
EmuCasino
Why EmuCasino is ranked #3:
Up to $300 bonus upon first three deposits
Great loyalty program
Superb loyalty program
Great selection of table games

ACCEPTED
PLAYERS FROM UNITED STATES: VIRGINIA ARE ACCEPTED AT THIS CASINO

Sign Up BONUS
250% up to
$5,500
BoVegas Casino
Why BoVegas Casino is ranked #4:
Accepts players from all over the world
Great daily bonuses
Fair bonus rules and requirements
Award-winning customer care team

ACCEPTED
PLAYERS FROM UNITED STATES: VIRGINIA ARE ACCEPTED AT THIS CASINO
Specific Rules and Table Limits
The name suggests the format of the game. It is played in accordance with the rules of the American version of roulette. The table layout has 38 divisions – one for the 0, another for the 00, and 36 black and red numbers in separate virtual pockets.
The 00 sector is the main difference between American Roulette and the European and French variants by Microgaming. The game is not very profitable because of the higher house edge – 5.26%. So, if you want to learn the essentials first, try out the game in Practice Mode, where there are no real-money bets.
There are several chips at the disposal of the players, each with different credit value as follows – $1, $2, $5, $10, $20, $50, $100, $200, $500, $1,000, and $2,000. You can adjust the chip value with the "+" and "-" buttons at the lower left corner of the screen.
Due to the popularity of the game, it is played in numerous online and land-based casinos. Generally, American Roulette has table limits of $1 to $2,000, but each casino can choose a different minimum and maximum amount of credits that can be placed as bets. Players should consider the Details section, which shows the minimum and maximum limits for bets as well as the payouts for the different types of wagers.
One thing players should avoid is placing the so-called five-number bet. In order to make this wager, you have to place one chip on 5 roulette numbers – 0, 00, 1, 2 and 3. The probability of the white ball landing in one of the five pockets is just 13.2% whereas the house edge, in this case, is 7.90%, which makes it pretty much the worst bet in roulette ever.
| Type of Bet | Bet Payout | Bet Limits |
| --- | --- | --- |
| Straight Up Bet | 35:1 | $1 – $10 |
| Split Bet | 17:1 | $1 – $20 |
| Street Bet | 11:1 | $1 – $30 |
| Corner Bet | 8:1 | $1 – $40 |
| Five-Number Bet | 6:1 | $1 – $40 |
| Line Bet | 5:1 | $1 – $50 |
| Columns Bet | 2:1 | $1 – $70 |
| Dozens Bet | 2:1 | $1 – $70 |
| 1-18/19-36 Bet | 1:1 | $1 – $80 |
| Odd/Even Bet | 1:1 | $1 – $80 |
| Black/Red Bet | 1:1 | $1 – $80 |
Gaming Experience
American Roulette by Microgaming is a pretty basic game with straightforward rules. It offers trouble-free game sessions with no disconnections or any other issues that would 'ruin' one's gaming experience. Its aim is to teach the players the basics and the differences it shares with other variants of roulette. Despite the fact that it does not come in the highest possible quality, the overall gaming experience is above average.
The game has a neat and organised interface that will easily guide players through each round. It could be played instantly in a browser if the Flash Player extension is enabled or could be downloaded. What is more, the game is fully mobile-compatible and optimised to run smoothly with no lags on any device regardless of its operating system.
American Roulette offers two game modes – Regular and Expert. Their names are self-explanatory. The latter is preferred by more advanced players who have an established gaming strategy. This mode gives roulette fans the option to save up to 6 bet layouts in according to their preferences. In addition, they could also place Neighbour wagers.
Special Features
Although this Microgaming product is a bit standard and basic, the company has not deprived online gamblers of a few additional special features.
The game has an extensive Autoplay option. When switching it on, players can adjust the number of automatic spins (ranging from 25 to 500) as well as the seconds between each coup (0.8 to 1.5). This is very suitable for roulette fans who just want to sit back, relax and watch the outcome of each round without touching a button. Moreover, they could make changes on the deactivation of Autoplay. The function can be stopped at any time or by individual pre-settings – when there is a win, the spins are complete or the winnings exceed a certain amount of credits.
The history panel situated in the top right corner of the screen shows the result of the last 10 spins. The 6 bet layouts that could be saved are very useful for those who have favourite wagers and like placing them more often.
The statistics menu displays the amount of spins for the current game session as well as highest wins, inside and outside bets outcome.
Those players who prefer more dynamic gameplay could enable the Quick Spin function. It instantly shows the result of each round and removes the animations when spinning the roulette wheel.
Conclusion
American Roulette is a standard and easy-to-learn game. Although it is not one of the most profitable on the market, it has many fans all around the world. Every big software developer has to add it to its collection in order to meet the needs of different players. Microgaming is not an exception.
The company has managed to add colour and more life to the old classic game by incorporating a few special features. The graphics are hardly jaw-dropping but are way above average. Therefore, players who expect trouble-free online gambling will not be let down.
In addition, it is mobile-compatible, so players with more busy schedules could still place some bets. If you are looking for a game that will teach you the basics of roulette, do not hesitate and give Microgaming's American Roulette a try!