With amazing graphics and plenty of wagering choices, 101 Roulette is definitely a game which can make any gambler try his or her luck and see the outcome of this unconventional, yet very entertaining version of roulette.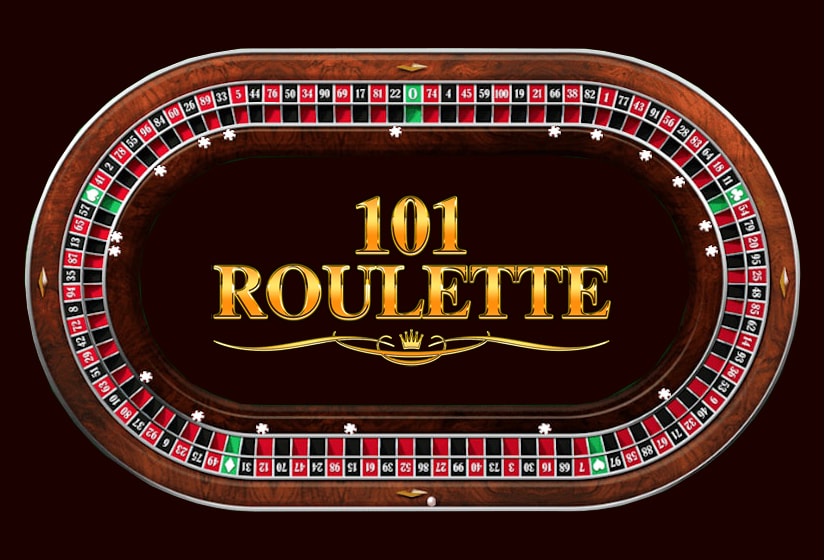 If you are a fan of the game of roulette but you are looking for something more exciting and suitable for more experienced players, then 101 Roulette is the game for you. Playtech has yet again proved their quality when it comes to online games of chance.
If you thought that the 38 pockets of American roulette are tricky, wait until you see the 105 pockets of 101 Roulette. It is no wonder that a lot of people refer to the game as 'the Devil's wheel' and this roulette variation can definitely give an adrenalin rush to any player. While it is true that more pockets equal a slimmer chance of a win, it also means that there are plenty of additional betting options which you cannot get with traditional roulette.

Sign Up BONUS
100% up to
$1,000
Bovada Casino
Why Bovada Casino is ranked #1:
Up to $3000 welcome bonus upon first three deposits
Well-established US-friendly brand
Top quality casino games
Extra bonuses for Bitcoin depositors

ACCEPTED
PLAYERS FROM UNITED STATES: VIRGINIA ARE ACCEPTED AT THIS CASINO

Cashback BONUS
25% up to
∞
Fair Go Casino
Why Fair Go Casino is ranked #2:
Well-established brand
Prompt payments
24/7 customer support
Wide range of casino games

ACCEPTED
PLAYERS FROM UNITED STATES: VIRGINIA ARE ACCEPTED AT THIS CASINO

2nd Deposit BONUS
25% up to
€100
EmuCasino
Why EmuCasino is ranked #3:
Up to $300 bonus upon first three deposits
Great loyalty program
Superb loyalty program
Great selection of table games

ACCEPTED
PLAYERS FROM UNITED STATES: VIRGINIA ARE ACCEPTED AT THIS CASINO

Sign Up BONUS
250% up to
$5,500
BoVegas Casino
Why BoVegas Casino is ranked #4:
Accepts players from all over the world
Great daily bonuses
Fair bonus rules and requirements
Award-winning customer care team

ACCEPTED
PLAYERS FROM UNITED STATES: VIRGINIA ARE ACCEPTED AT THIS CASINO
Specific Rules and Table Limits
The first thing that the players will notice once they load this game is the difference in the number of pockets you can make a bet on. Unlike the 37 pockets of European roulette or the 38 numbers of American roulette, here you have the numbers from 1 to 100 in red or black. There is also a single green zero but in addition to that number, there are also another four green pockets with card suits symbols on them. With the numbers in black and red and the five additional green options, you get a total of 105 pockets.
Of course, having more choices for placing your bets will affect the house edge which can vary between 3.81% and 14.29%. For players who are still novices at traditional roulette, this variation of the game might be a little intimidating. However, gamblers who are used to making bigger and riskier bets might think that 101 Roulette is the perfect game for them.
Players can make the typical inside bets, as well as outside bets such as red or black, odd or even and 9 to 1 which resembles the traditional Column Bets but in this case, it covers 9 instead of 12 numbers. The minimum which players can bet is £0.10. Furthermore, thanks to the features for quick bets and lucky number, you can also choose a couple of different ways to place your bets.
| Type of Bet | Bet Payout | Bet Limits |
| --- | --- | --- |
| Straight Up Bet | 100:1 | £0.10 – £50 |
| Split Bet | 49:1 | £0.10 – £100 |
| Corner Bet | 24:1 | £0.10 – £200 |
| Zero Corner Bet | 32:1 | £0.10 – £200 |
| Zero Street Bet | 19:1 | £0.10 – £250 |
| Street/Column Bet | 9:1 | £0.20 – £500 |
| Zero Line Bet | 5:1 | £0.50 – £1,000 |
| Line Bet | 4:1 | £0.50 – £1,000 |
| Odd/Even Bet | 1:1 | £1.00 – £1,000 |
| Black/Red Bet | 1:1 | £1.00 – £1,000 |
Graphics and Overall Player Experience
If you have previously tried other table games provided by Playtech, you have probably noticed that their graphics tend to be wonderful and very realistic. Well, 101 Roulette is no different and players can enjoy a game with wonderful quality and features which make the entire gambling session easier and more rewarding. The interface of the game sets the players at ease and helps them to adjust quickly to this version of roulette.
Even though there are more pockets in 101 Roulette, the general rules of the game are still not that different from those of the classic variant of the game. This is why, it will take you no time to understand the concept of this game. You can see the history section at the top right corner of the screen and your betting chips and options for lucky numbers and quick bets are placed on the left side of the screen.
The wheel's shape is quite similar to the racetrack which a lot of roulette players are used to seeing in the game. Since there are 105 pockets, the wheel has more of an oval shape but this does not mean that the developers have nоt made the spin of the ball look as realistic and entertaining as possible.
Special Features
As if the unusual look of the game does not provide enough variety, Playtech has made sure that players can use some options which can make their gambling experience even more different and easier to control. There are two really convenient and alluring betting alternatives added to the game.
The first one is called 'lucky number' and if you decide to activate it, it will mean that the game will automatically place bets on all borders and corners of the numbers which are positioned around your chosen number.
The other special option which you can turn on is 'quick bets'. This will allow the game to place bets on every number which is in the same row as the number you have placed your bet on.
101 Roulette also allows its players to enjoy an Autoplay function. This means that players can play several rounds with the same bet without any interruptions. Gamblers with their own strategies may not find this feature appealing but maybe it can turn out to be a lucky tactic for some players. For those who swear by the Martingale progression, there is a convenient double bet function which can make wagering easier.
Players can turn the Turbo Mode on, which will change the dynamics and motion of the game.
As always, you can change the settings of the game and disable the zoom-in of the wheel or the sounds of the game. This will allow you to personalise your roulette experience and make it more suited to your taste.
Summary
If you enjoy playing roulette and you are looking for a more thrilling and risky version, then you should try playing 101 Roulette. With great quality and options which make the gambling easier and more rewarding, players are guaranteed to get a kick out of Playtech's unconventional roulette game.
With outstanding graphics which make the entire experience more entertaining, online gamblers will be able to win money while playing at the convenience of their own homes. The game's providers have made sure that everything works smoothly and each and every player can play in their own unique style.
Despite the different look, this variation of roulette is quite easy to play and it can be really rewarding for players who enjoy making high-stake bets. With more betting choices which are quite unusual, players can try and see if the 101 Roulette will grant them the big win they are wishing for.