Players the whole world over are continuously captivated by roulette – it's among the most sophisticated and charming table games around.
But for all the talk of strategy, betting systems, bankroll management, and other important, tactical matters players need to be familiar with…
… how much is known about the lighter side of things?
While guides are important and certainly have their place, let's take a few moments to explore some of the game's wildest stories, its origins and development, and other pleasurable parts of roulette.
Origin Stories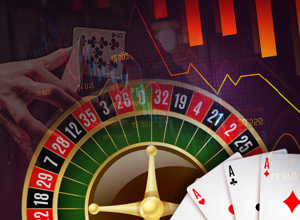 Of all the casino table games, roulette is among the eldest.
While there are certainly forms of gambling that go back even farther – cavemen likely wagered on footraces and combat; we know that betting was also popular among the Ancient Greeks as well as the Pharaohs; playing cards were used in China as early as 900 AD; a cave was even discovered in Utah that archeologists believe was used as a Native American casino as early as the 13th century!
But the roots of roulette can be traced back to Blaise Pascal: the great French mathematician, philosopher, theologian, and… gambler?
Not only did this Renaissance man (in every sense of the word) create the first roulette wheel (way back in 1655, while trying to build a perpetual motion machine), he also combined gambling and theology in what has since been called "Pascal's Wager:"
"Either G-d exists, or he does not exist, and since neither proposition can be proved, we must wager. If we wager that G-d exists and we are right, we win everything. If we wager that G-d exists and we are wrong, we lose nothing. You would be impudent to wager that G-d does not exist."
For this great thinker, even divinity was a matter of finding the best odds available!
Modern Roulette
Though Pascale invented the wheel, documentations proves that the modern game has been played in Paris as early as 1796.
The single 0 style was created in 1842… this provided the house with a significant edge, as well as saving the Kingdom of Monaco from financial ruin! It was designed by the twin brothers François and Louis Blanc for the casino in Monte Carlo.
The game became immensely popular, generating tremendous income for the Kingdom! It didn't hurt that France outlawed gambling at around this time, driving eager bettors to Monaco.
The casino there has offered the game continuously since the 1860s. It's now known as European roulette.
In the meantime, roulette migrated to the New World by way of New Orleans. There, a second zero was added to the wheel, further increasing the house edge. These days, this style is called American roulette.
The Legend of James Bond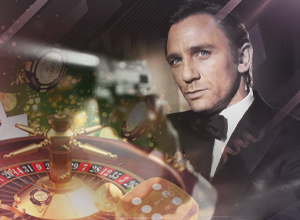 Many people associate high-stakes gambling with most famous (fictitious) secret agent of all time: Bond, James Bond. There are many good reasons for this – the fabulous success of the movie Casino Royale (both the 2006 blockbuster and the original 1967 classic), and 007's unforgettably debonair attitude at the tables, to name two.
But did you know that the legend extends even to Sean Connery himself, the most famous Bond of them all?
That's right! In 1963, still early in his tenure as 007, Mr. Connery found himself at the Casino de la Vallee in Saint-Vincent, Italy.
He bet on his favorite number: 17.
It didn't hit. So he repeated his bet.
Again, it didn't hit. So he repeated his bet a third time.
This time, he won! So what did Mr. Connery do?
He bet his winnings on 17 again. For the fourth time.
It hit again.
And again… Mr. Connery let it ride on 17.
And it hit. Again!
Five bets in a row, on the same number, culminating on three consecutive wins. What are the odds?
About one in 50,000!
That day, the great Scotsman walked out of the casino 17 million lira the richer. In 2020 money, that's over $200,000 US!
Not bad for five minutes' work.

Sign Up BONUS
100% up to
$1,000
Bovada Casino
Why Bovada Casino is ranked #1:
Up to $3000 welcome bonus upon first three deposits
Well-established US-friendly brand
Top quality casino games
Extra bonuses for Bitcoin depositors

ACCEPTED
PLAYERS FROM UNITED STATES: VIRGINIA ARE ACCEPTED AT THIS CASINO

Cashback BONUS
25% up to
∞
Fair Go Casino
Why Fair Go Casino is ranked #2:
Well-established brand
Prompt payments
24/7 customer support
Wide range of casino games

ACCEPTED
PLAYERS FROM UNITED STATES: VIRGINIA ARE ACCEPTED AT THIS CASINO

2nd Deposit BONUS
25% up to
€100
EmuCasino
Why EmuCasino is ranked #3:
Up to $300 bonus upon first three deposits
Great loyalty program
Superb loyalty program
Great selection of table games

ACCEPTED
PLAYERS FROM UNITED STATES: VIRGINIA ARE ACCEPTED AT THIS CASINO

Sign Up BONUS
250% up to
∞
BoVegas Casino
Why BoVegas Casino is ranked #4:
Accepts players from all over the world
Great daily bonuses
Fair bonus rules and requirements
Award-winning customer care team

ACCEPTED
PLAYERS FROM UNITED STATES: VIRGINIA ARE ACCEPTED AT THIS CASINO
Mythology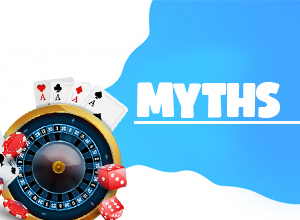 There are plenty of myths and scams out there. But how many of them involve Beelzebub?
Remember the twin brothers François and Louis Blanc, who came up with the brilliant advent of a single 0 on the roulette wheel?
Rumor has it that François sold his soul to the devil in order to 'learn the secrets of roulette.' The proof?
Add up all the numbers on the roulette wheel, the sum is 666. The number of the beast.
The Wildest Wins of All Time
When it comes to wild wins, every gambler has a story to tell.
Few, however, can hope to match that of Ashley Revell. Back in 2004, this Briton sold all his worldly possessions and bet the sum on a single spin of the wheel.
It must be said that there was some method to this madness: Revell had already agreed to have his story told by the British television program SkyOne… it is not known whether he was financially compensated for this, but it was certain that some amount of celebrity would follow.
Still, the fact remains: at the age of 32, Mr. Revell bet it all on red… and won! His $135,300 became $270,600. He has been an international celebrity ever since.
The Man Who Broke the Bank
Over a hundred years before Ashley Revell's coup at the wheel, Charlie Wells pulled off a roulette caper that is still being talked about. He is the man who broke the bank at Monte Carlo!
On 28 July, 1891, Wells began a five-day gambling streak that ranks among the most successful in recorded history.
He started with a bankroll of about $4,000, and ended with $500,000… in modern money, that's about $13 million, after starting with $400,000.
Wells claimed that he had devised a 'perfect system,' but never revealed exactly what it was. Since he died in disgrace and ruin, it's unlikely that this is the case.
Today, no one knows what truly happened – and that's the stuff legends are made of!