Playtech, one of the leading gaming providers in the industry, launched live dealer Quantum Roulette in late 2019. Envisioned as a landmark release that combines classic casino game and engaging nature of live dealer atmosphere with innovative technology and enticing winning potentials, Quantum Roulette raises the players' experience to a unique multimedia level.
Quantum Roulette is a standard European version of the game decorated with a Multipliers feature, which may propel Straight Up bets payouts from 50x up to 500x, in addition to random QuantumBoost trigger that adds supplementary 50x to Multiplier.
Such a versatile combination of iGaming engagement and incredible chances keeps all players in a constant state of immersing anticipation, which makes this game more than worthy of a try.

Sign Up BONUS
100% up to
$1,000
Bovada Casino
Why Bovada Casino is ranked #1:
Up to $3000 welcome bonus upon first three deposits
Well-established US-friendly brand
Top quality casino games
Extra bonuses for Bitcoin depositors

ACCEPTED
PLAYERS FROM UNITED STATES: VIRGINIA ARE ACCEPTED AT THIS CASINO

Cashback BONUS
25% up to
∞
Fair Go Casino
Why Fair Go Casino is ranked #2:
Well-established brand
Prompt payments
24/7 customer support
Wide range of casino games

ACCEPTED
PLAYERS FROM UNITED STATES: VIRGINIA ARE ACCEPTED AT THIS CASINO

Sign Up BONUS
100% up to
∞
EmuCasino
Why EmuCasino is ranked #3:
Up to $300 bonus upon first three deposits
Great loyalty program
Superb loyalty program
Great selection of table games

ACCEPTED
PLAYERS FROM UNITED STATES: VIRGINIA ARE ACCEPTED AT THIS CASINO

Sign Up BONUS
250% up to
∞
BoVegas Casino
Why BoVegas Casino is ranked #4:
Accepts players from all over the world
Great daily bonuses
Fair bonus rules and requirements
Award-winning customer care team

ACCEPTED
PLAYERS FROM UNITED STATES: VIRGINIA ARE ACCEPTED AT THIS CASINO
Specific Rules and Table Limits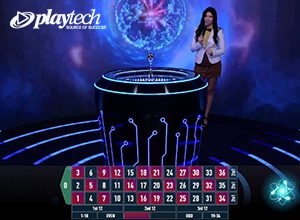 Quantum Roulette has European-style rules and a 2.6 percent house edge.
The game encompasses fully automated Cammargh Slingshot Wheel, which means there are no interactions between a dealer and the roulette wheel. The independent rotor powers the latter while the ball launches and spins by compressed air.
The game features all customary inside and outside bets — Straight Up, Split, Street, Corner, Basket, Line, Column, Dozens, and even money wagers (Red/Black, Even/Odd, Low/High) — with varying payouts and limits.
Furthermore…
…Playtech juiced up wagering experience with Special Bets that include Complete and Half-Complete ensemble bets, in addition to Neighbors Bets such as Voisins du Zero, Jeu Zero, Jeu 7/9, Tiers du Cylindre, Orphelins, and Finales en Plein.
Type Of Bet
Bet Payout
Bet Limits
Straight Up Bet
29:1
€0.20 – €25
Split Bet
17:1
€0.20 – €50
Street Bet
11:1
€0.20 – €75
Corner Bet
8:1
€0.20 – €100
Basket Bet
8:1
€0.20 – €100
Line Bet
5:1
€0.20 – €150
Column Bet
2:1
€0.20 – €500
Dozen Bet
2:1
€0.20 – €500
Even Money Bets
1:1
€0.20 – €500
Special Bets
Depending on the type of bet
Note: Currencies vary from casino to casino, but ratios remain the same.
The Multipliers are defined by a random number generator (RNG) once the betting has closed and before each spin. There can be up to five Multipliers in each roll. An RNG assigns both the number and multiplier value (for instance, number 36, 50x), while more than one Multiplier can be of the same value (e.g., two 200x and one 50x).
Quantum Boost is a complementary touch that may add 50x to any particular or all Multipliers. This extra kicker happens randomly during the game.
The Multipliers and Quantum Boost special events apply only to Straight Up bets.
Gaming Experience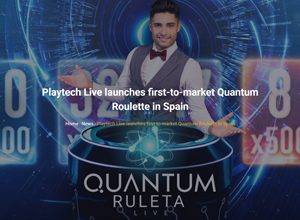 Quantum Roulette streams live from 91,500 sqft. Live Casino in Riga, Latvia. The purpose-made campus owned by Playtech accommodates the largest video wall in the industry, state-of-the-art cameras, advanced control and monitoring center, and tip-of-the-spear software and hardware solutions.
Players are engulfed in flashing studio presentations and engaging live dealers that more resemble presenters or MCs than conventional roulette croupiers. Splendid visuals, multi-camera angles, and dynamic sound effects create a highly immersive experience.
The user interface is clean and slick. All data are quite visible, and the game menu is easily accessible.
Analytical submenus offer plenty of statistical data on outcomes' trends, although they do not feature Multipliers/Boost history. The player's panel at the bottom of the screen is designed intuitively, and hosts betting layout and racetrack view beside other general controls.
Players have approximately twenty seconds to place their bets before each roll.
Special Features
Live dealer Quantum Roulette offers a plethora of iGaming action and a top-notch multimedia feeling. Standing tall among other live dealer games, it balances a couple of appealing traits.
Well-chosen roulette version with the best available house edge and myriad betting options, albeit with the lower payout on Straight Up bet than the usual 35:1.
Highly enticing Multipliers and Quantum Boost features may potentially push the initial winnings into the stratosphere; however, Straight Up bets only limitations annul impact of roulette betting strategies while pursuing those chances.
Trustworthy pedigree of provider assures for the RNG software certifications; sealed and full proof roulette wheel reduces any bias impact; the dealer has no role in spinning the wheel or launching the ball. These three elements should be enough for the seemingly fair gaming experience.
Super friendly and straightforward UI with extended and integrated game documentation, in addition to the first-rate live feed, ensure excellent gaming experience available both on desktop and mobile platforms.
Conclusion
Quantum Roulette is a must-see-at-least-once game for every roulette patron. Equally attractive to beginners and advanced patrons, the game has much to offer to those who are into live dealer games in the first place.
While Multipliers and Quantum Boost features are indeed alluring, they do necessitate for betting discipline and at least some level of basic knowledge about roulette playing systems.
Provided that punters approach it responsibly and prudently, Quantum Roulette surely delivers great fun, which is what gambling should be in the first place. As far as the outcomes go, they still do and always will depend solely on pure luck, as is the case with any version of this classic game.
To that end, we wish you the best of times and even better chances in making the most of your iGaming choices.